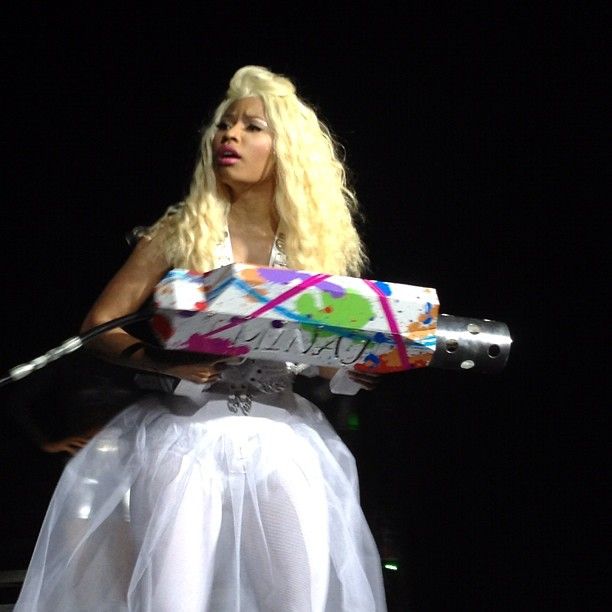 The drama came to a head tonight on Funkmaster Flex's Hot 97 show as Nicki Minaj called in guns a-blazing to discuss Sunday night's Summer Jam debacle.  Flex dropped a few bombs about not understanding why she's under Lil Wayne's spell and allowed him to control whether she would perform.  Nicki maintained that neither Flex nor Rosenberg should have disrespected her on a worldwide platform as she was the only woman on the 2012 Summer Jam bill....
The most telling exchange between the extremely heated discussion was Nicki expressing why she felt she was disrespected while Flex maintained it had nothing to do with disrespect.  Only opinion. And she should have performed anyway as the fans were the only people let down.
Nicki: "My fans at Summer Jam didn't appreciate his comments, nor did my fans watching the live stream appreciate those comments. This wasn't just about the 2000 people there. This was being live streamed to the world."
Flex: "I get it. Maybe that wasn't the best time to make that comment before you touch the stage. But that is what Rosenberg said and that's his opinion."
Nicki: "It's not about his opinion. I have opinions about DJs about Hot 97 and Hot 97. But I would never come on your stage about your fans before. I've traveled all around the world and people come with 1 agenda--and that's to have a good time. Not to have their favorite artist be ridiculed. When you invite someone to their home you treat them with respect."
 
Before the Barb flipped her wig even more, she responded to folks who said she was simply scared to go on stage after the diss:
"I am not a quitter," Nicki screamed.  "I don't back down from anything--including when people talk about me. Wayne gave me a valuable lesson last night about knowing their worth. After that disrespect, after a man goes on stage and disrespects me and calls my music bullshit and says this isn't real hip hop--I still was going on stage. SHAME ON ME. Wayne Tweeted before he called me and said Nic, we not doing that."
Flex maintained that the diss was not about women and she should have performed anyway. "I believe the show should have happened.."Wayne and Khaled and Wayne should have performed. Why couldn't you go against him and touch the stage?"
Nicki responded, "I don't go against the president of my label. before I had you or radio, I had Wayne. When Wayne says we as a Team ain't going on that stage, then I'm not going on that stage. I stand behind his decision. Because as a woman, it doesn't matter what people say about you, but when you put in work--I put in my work--those jokes shouldn't have been said…..Why aren't you addressing Wayne?"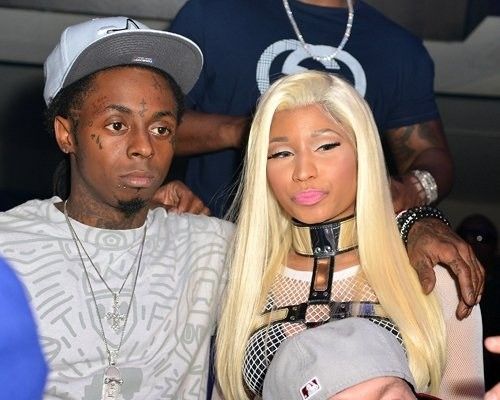 Flex said he's not scared of Wayne and Flex shed some light to the listeners on his personal relationship with Nicki that goes way back.  He said he never had to go through Wayne to get to her. "You always were independent and used to come up to the stations years ago. I've never known you to be a person to move under Lil Wayne. Why couldn't we resolve this from 4p when this first started to 9p--in 5 hours? That's the first time we've ever talked and Wayne over ruled you."
Nicki maintained: "For [Rosenberg] to single out the only female on the bill? That was some bitch ass shit. If you a man, then go up there and talk about a man. If all you do is take shots at women…First of all you don't know me."
"I'm not saying you went at me because I was a woman, I'm saying you shouldn't have dissed me BECAUSE I'm a woman. I'm the only female representing on the Summer Jam Stage. You don't see the big difference?"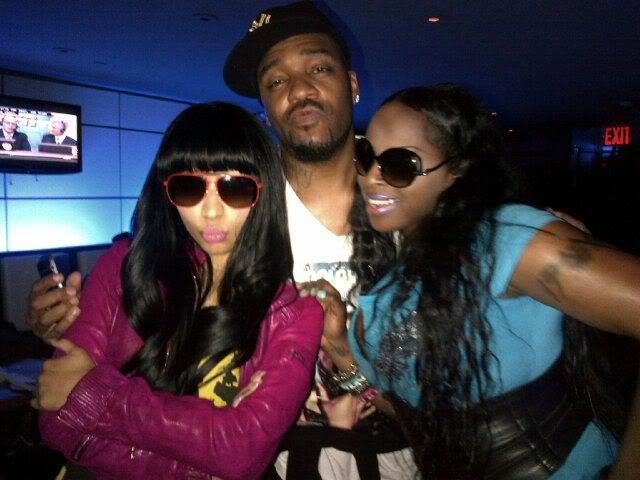 Flex asked, "Did Lil Wayne make the right decision in pulling Young Money off the stage?"  Nicki didn't say yes or no, but did spell out R-E-S-P-E-C-T.  But she did say she was happy that Foxy Brown was by her side as a sister all night.
Flex spoke on Rosenberg's behalf (why Nicki couldn't talk to Rosenberg directly is beyond me) saying he wasn't attacking her or her albums, but he simply had an opinion about not feeling the one record in comparison to the rest of them.
"Do you know where I've performed at?  Where I used to perform 4 nights a week. I had 200 people rolling with me.  There isn't a b*tch alive who God has created on this earth who could scare me out of performing.  I get money!"
She went on about being #1 in four countries.  And having 3.5 mill records sold total (both of her albums together and calculating in singles in some way she tried to explain).  She explained this is why she has to go beyond "the hood" and make pop records.  Even if people don't like it.
She also mentioned she'll be doing a free show for her fans this summer.  But Flex maintained Hot 97 may have been at fault last night--and egos were involved--but Young Money was at fault too.  And the people are who suffered since they didn't see Nicki, Khaled, and everyone else at Summer Jam.
And on that note...
Stay tuned for audio.  Thoughts?