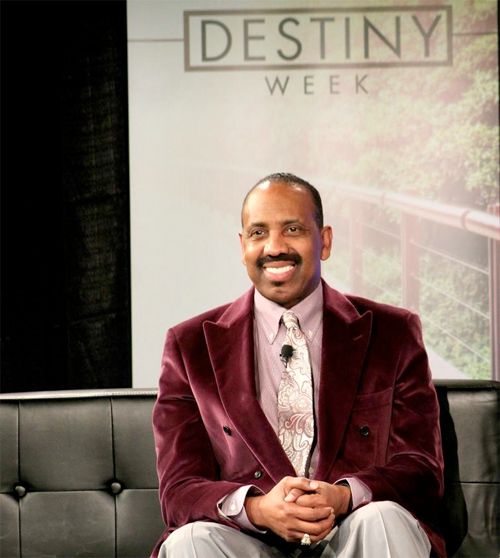 Detroit pastor Wayne T. Jackson is scheduled for a sitdown with Republican presidential hopeful Donald Trump tomorrow. But, it won't be like any of his other interviews. This one has been carefully scripted so that Donald doesn't say the wrong things as he's on a quest to gain some black votes. Get the deets on his leaked script inside...
Republican presidential hopeful Donald Trump is scheduled to stop in Detroit tomorrow to speak with prominent black pastor Wayne T. Jackson, who is the father of "Mr. Robinson" actor Brandon T. Jackson, at his church Great Faith Ministries as Trump shifts gears in his presidential campaign to gain new black voters. This is Trump's first appearance at a black church.
We're not sugar coating ish. Donald Trump is a racist and has proven this time and time again. He has delivered countless speeches that spew hate for people of color and for people who practice certain religions, and yet, folks still try to act as if their oblivious to the fact. So, to learn he's planning to be interviewed by a black pastor took us aback for a second.
Trump is known for flying off at the handle, saying the first idiotic thing that comes to his mind. But this sitdown with the Detroit pastor will be majorly different.
The New York Times got their hands on a leaked eight-page draft script that Trump will read from during his interview with Bishop Jackson. Every question Bishop Jackson wants to ask Donald has been given to the Trump campaign beforehand and his aides have devised answers that will respond to police killings, racial tension and the perception among many black voters that he and the Republican Party are racist, among other topics.
At first, Trump was only scheduled to speak privately with Bishop Jackson, but has since changed his mind and will address the congregation for five to 10 minutes after the interview. Trump will then reportedly visit neighborhoods with onetime campaign rival and Detroit native Ben Carson. *rolls eyes*
Below are a few highlights from Trump's preempted interview:
When asked about his vision for black Americans, the script suggests that Mr. Trump stay positive, advising that he use lines such as "If we are to make America great again, we must reduce, rather than highlight, issues of race in this country" and "I want to make race disappear as a factor in government and governance."

To a question submitted by Bishop Jackson about whether his campaign is racist, the script suggests that Mr. Trump avoid repeating the word, and instead speak about improving education and getting people off welfare and back to work. "The proof, as they say, will be in the pudding," Mr. Trump is advised to say. "Coming into a community is meaningless unless we offer an alternative to the horrible progressive agenda that has perpetuated a permanent underclass in America."

To the first question, "Are you a Christian and do you believe the Bible is an inspired word of God?" the scriptwriters have a response they hope will keep Mr. Trump from repeating previous stumbles when asked about his faith.

"As I went through my life, things got busy with business, but my family kept me grounded to the truth and the word of God," the script has Mr. Trump saying. "I treasure my relationship with my family, and through them, I have a strong faith enriched by an ever-wonderful God."
Bishop Jackson penned an open letter to his congregation advising them that the interview "is NOT a rally or an endorsement for Mr. Trump. This is an opportunity as a community to get answers to questions that seriously impact our daily lives and future." He also sent out a request to interview Democratic presidential hopeful Hillary Clinton to an interview. You can read his full letter here.
He also took to his Facebook to explain why he has decided to speak to Trump:
The interview is set to air in about a week on the Impact Network, Bishop Jackson's Christian cable TV channel.
Thoughts on this scripted interview?
Photo: Bishop Jackson's FB