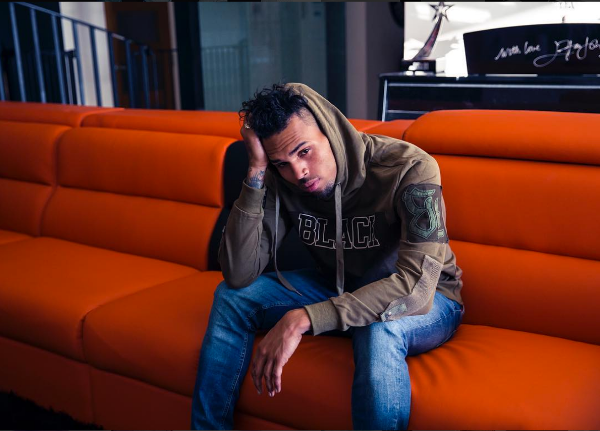 After Tuesday's long search and investigation at Chris Brown's home, he's now been formally arrested for felony assault with a deadly weapon.  Full story inside...
Less than a day after Baylee Curranfiled a police report saying Chris Brown pulled a gun on her in his home late Monday night/early Tuesday morning, cops obtained a search warrant for Breezy's Tarzana, CA home. Hours later, he was arrested.
Before the arrest, Chris refused to let the cops into his home without a warrant.  While holed up inside his home and refusing to come out until he saw a search warrant, Chris reportedly threw out his window a duffel bag with two guns inside.
On the live feed, Chris was seen eventually exiting his home and chatting with cops and officials.  The "Back To Sleep" singer arrested him not too long after.
While Chris maintains he didn't do anything wrong, Baylee says otherwise.  She's making her media rounds.  After talking to TMZ, she told "Extra":
"I saw a man who was showcasing the diamond bracelets, and the watches and the necklaces, and of course I saw one that was beautiful, so I was admiring it," she said. "It was a diamond cross necklace, and as I was admiring it, simply just standing over it, looking at it, didn't touch it, didn't pick it up, wasn't trying to take it [or] anything to that sort."
She continued, "A guy with dreads, I don't recall his name, came at me, cussing, yelling, calling me names, saying, 'Get away from the diamonds.'"

Soon after, Brown entered the scene, "Chris came in, pulled out his gun and said, 'I'm getting so sick of you people,' pointed the gun at me, [and told me] to get the f out of the house."
She grabbed her phone and ran out after refusing to sign a nondisclosure agreement.
"I fled down his driveway," she continued. "I went to the left side of the street, went up a couple houses, was running. That's when the neighbors heard the commotion and saw me out there and then called the police, and that is when I then called the police."
Here's where it gets crazier.  She said: "I saw a black jeep come down from Chris's driveway toward where I was, where the neighbor was. I went underneath the nearest vehicle... there I was, literally crawled underneath the car... hid behind the tires, and the jeep came up to the area of that vehicle, turned around and went back up the driveway."
She filed a police report at a local precinct, and says a friend was with her and serves as a witness:
"There are witnesses. I had my friend with me, my girlfriend... she actually fled with me, went running down the street, was there when the cops came, saw the gun, saw the threats. I'm sure you can ask the jewelry man, he was there. I'm sure Chris's friends won't vouch for me, of course."
As for whether she's doing this for publicity, she says:
 
"I don't lie, I would never lie. Why, for what? I don't need the publicity. I'm already kind of well-known being Miss California Regional, modeling, upcoming actress, so if I was doing this for fame or something of that sort why would I do it this way?"

Oh.
Chris is currently back in jail after serving 108 days in L.A. county jail back in 2014.
Photo: Instagram