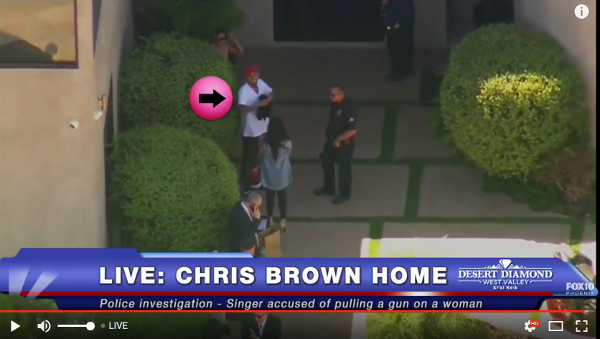 Chris Brown is now outside of his home speaking to cops and officials.  Get the live stream inside...
Chris Brown's lawyer Mark Geragos arrived to Chris' home as cops were outside attempting to enter and speak to Chris.  Chris refused to let the cops in without a warrant.  It's unclear if he's been questioned about Baylee Curran's claims that Chris pointed a gun at her in a threatening way late last night at his home.
The live stream is currently showing what's unfolding:
Many of Chris' entourage were seen exiting the house and getting patted down by cops.  Chris was also patted down when he exited.
The Fox 10 Phoenix "reporters" speaking on the live stream weren't aware that was actually Chris in the white shirt and red hat standing right outside his front door speaking to officials. This, after saying for the last 30+ minutes Chris has not come out of the house.
As for his demeanor -- his body language seems to be more on the relaxed side and he's waved to the cameras a few times.
Ray J, who was there at Breezy's house last night according to TMZ, is calling the claims false.  he himself was cuffed when he left Chris' house (and after the 9-1-1 call was made by Baylee) and released after showing ID.  The cops kept his car "for evidence" and he Uber'd home.
Swaggy P also chimed in with jokes. He lives down the block from Breezy, and he told him to move out the neighborhood because he's tired of the hoopla. The block is hot. Ha.