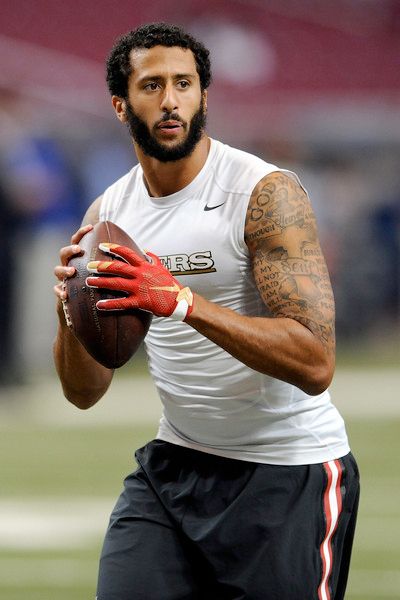 Colin Kaepernick sitting down during the National Anthem has gained national attention. And now, several sports figures are blasting the NFL QB for it. Even his biological mother is speaking out. But, NFL legend Jim Brown approves. Get the latest inside…
San Francisco 49ers QB Colin Kaepernick decided he would sit out on the National Anthem during Friday's game against the Green Bay Packers. His reason? He said he wasn't going to show pride for a country that oppresses black people and people of color.
Now, everyone is weighing in on his decision, including several sports figures.
"I don't commend him for sitting and not honoring this country and our flag." -- @TikiBarber on @Kaepernick7pic.twitter.com/8JeU9WKQZf

— CBS This Morning (@CBSThisMorning) August 29, 2016
Former NFL star Tiki Barber (of ALL people) dropped his 2 cents on what he thought about Colin's silent protest. In an interview with "CBS This Morning," Tiki said he commends Colin for raising awareness to the issues in this country, but he still feels he should stand for the National Anthem.
"I agree with his desire to continue the narrative," Tiki said. "There are issues in this country. That, you have to commend him for. But I don't commend him for sitting and not honoring this country and our flag."
Amazing how Tiki can criticize Colin for his decision to sit during the National Anthem considering all of his questionable public antics, such as leaving his pregnant wife of 13-years for a blonde white 23-year-old woman. But, that's none of our business.
Former 49ers wide receiver Jerry Rice also weighed in on Colin's decision to sit out on the National Anthem. Unfortunately, he hit Colin with the "All Lives Matter" slogan and told him he shouldn't disrespect the American flag.
Check it:
All lives matter. So much going on in this world today.Can we all just get along! Colin,I respect your stance but don't disrespect the Flag.

— Jerry Rice (@JerryRice) August 30, 2016
Sighs....
NBC sports analyst Rodney Harrison even went as far as saying Colin can't understand what a black man in America goes through because he's NOT BLACK. Someone should have tipped him off earlier that Colin is in fact biracial.
During a chat on a local sports radio show in Houston, Rodney said:
"I tell you this, I'm a black man. And Colin Kaepernick, he's not black. He cannot understand what I face and what other young black men and black people face, or people of color face, on a every single (day) basis. When you walk in a grocery store, and you might have $2,000 or $3,000 in your pocket and you go up in to a Foot Locker and they're looking at you like you about to steal something."
So because you THINK he's not black and the fact that he's rich, he can't stand up against oppression? Sir, have several seats. People of any and all races should be standing up against social injustices.
He then added,
"I'm not saying that he has to be black. I said his heart is in the right place, but even with what he's doing, he still doesn't understand that we face as a black man or people of color, that's what I'm saying."
Following his comments and Twitter ripping him a new one, he soon apologized for his comments and revealed he didn't know Colin was black. Whatevs.
Peep his tweets below:
I never intended to offend anyone , I was trying to speak about my experiences as a African American.

— Rodney Harrison (@Rodney_Harrison) August 30, 2016
I apologize to anyone that I offended , wasn't meant to be hurtful to anyone. God bless

— Rodney Harrison (@Rodney_Harrison) August 30, 2016
Last point I want people to know. I never even knew he was mixed.

— Rodney Harrison (@Rodney_Harrison) August 30, 2016
I should not have called Colin Kaepernick's race into question during this morning's radio interview. It was a mistake and I apologize.

— Rodney Harrison (@Rodney_Harrison) August 30, 2016
Another person who should have kept her mouth closed about Colin's refusal to stand -- his own mother.
Heidi Russo is Colin's biological mother who gave him up for adoption when he was a baby and didn't want ANYTHING to do with him until he went to the Super Bowl in 2011. She reached out to the QB via Twitter hoping she could finally meet him, but Colin didn't want anything to do with her. (FYI – His adoptive parents previously spoke out telling the media they tried to keep an open line of communication between Heidi and Colin, but she eventually cut ties with Colin as a child).
Now, she wants to be a "parent" via Twitter.
Here's what she said:
@Kaepernick7 There's ways to make change w/o disrespecting & bringing shame to the very country & family who afforded you so many blessings.

— Heidi Russo (@Heidirn1) August 27, 2016
@Kaepernick7 The path less traveled doesn't need to be one of destruction. #beenthere#besmarter#berespectful

— Heidi Russo (@Heidirn1) August 27, 2016
Sigh.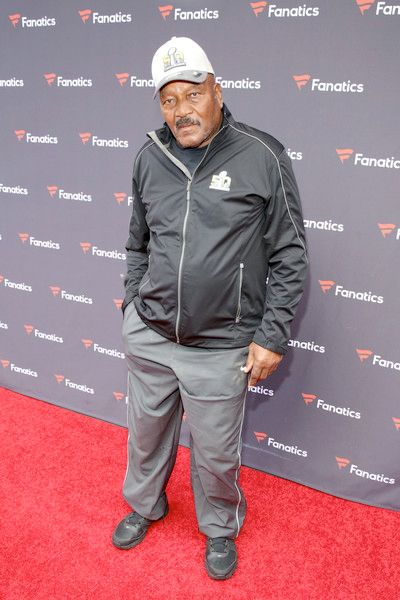 Meanwhile, NFL Hall of Famer Jim Brown said he stands with Colin "100 percent." For an appearance on NFL Total Access, the former Cleveland Brown had this to say about Colin's actions:
"I listened to him and he makes all the sense in the world. He's within his rights and he's telling the truth as he sees it," Brown explained. "I am with him 100 percent. ... Now if you ask me 'Would I do that?' No I won't, because I see it a little differently. I'm an American citizen, I pay my taxes, I want my equal rights but this is my country, and consequently I don't want to open up for ISIS or anybody that will take away what we've already gained."
These two tweets pretty much sums up everything we want to say about the situation:
Colin Kaepernick says America is not great, people tell him to leave. Donald Trump says America is not great, may become president.

— Allen Etzler (@GolfweekEtzler) August 27, 2016
That is white privilege in a nutshell folks.

— Allen Etzler (@GolfweekEtzler) August 27, 2016
And there you have it. Thoughts?
Photos: Getty