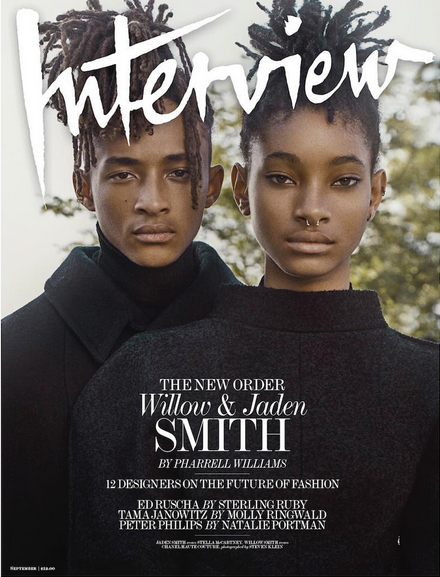 Siblings Jaden and Willow Smith team up for their first ever cover together for INTERVIEW magazine's newest issue. Find out what the "cool kids" had to say about their parent's influence, the power of social media and more inside….
Celebrity siblings Jaden and Willow Smith have covered more than enough magazine covers solo. But for their most recent feature, the celebuspawns joined forces to cover INTERVIEW magazine's September 2016 issue. And they also put their modeling skills to work in a new spread. Both of the Smith kids are fashion fanatics and have fronted a few fashion campaigns, so there's no surprise that they let their artistic expression ooze through each shot in the pictorials.
For the cover story, the 18-year-old actor/rapper and 15-year-old actress/singer chatted up their interviewer, superproducer Pharrell Williams, about their parents Will and Jada Pinkett Smith being their biggest inspirations and the force that drives their independence. Some would call them wise for their age, and they credit it all to good parenting.
The twosome also talked about the power of social media and how they plan to use their platforms to change the world in a positive way.
Peep a few highlights from the cover story below:
PHARRELL: I love it. The positive path and the trajectory that you guys are on, where does that come from? Who are your biggest inspirations?

WILLOW: My parents. Growing up, all I saw was my parents trying to be the best people they could be, and people coming to them for wisdom, coming to them for guidance, and them not putting themselves on a pedestal, but literally being face-to-face with these people and saying, "I'm no better than you, but the fact that you're coming to me to reach some sort of enlightenment or to shine a light on something, that makes me feel love and gratitude for you." They always give back what people give to them. And sometimes they keep giving and giving and giving. And some people don't feel like they need to give anything back because it's like, "Oh, if you're famous, you can just keep giving, and it doesn't matter." It's not just about money. It's not just about giving people gifts or whatever. What my parents have given to me is not anything that has to do with money or success or anything that society says people should be focusing on—it's something spiritual that only certain people can grasp and accept. And that's how I act and move in the world today.

JADEN: I 100 percent agree with Willow on that one. My parents are definitely my biggest role models. And that's where me and Willow both pull all of our inspiration from to change the world. It all comes from a concept of affecting the world in a positive way and leaving it better than it was than when we came. I feel like that enters into all types of different areas because there are so many different outlets that life has to offer for us. That goes into technology, into music. That goes into science, into spirituality, into education. Where me and Willow come from, a lot of it is trying to make society more efficient, so that kids don't cry, like, "Why do I have to go to school?" Instead, kids are like, "Yeah! I'm so glad to go to school! I'm a better person than I was yesterday, and I can help people."

PHARRELL: Do you guys ever feel any generational divide when you have a conversation with older folks?

WILLOW: Oh, definitely. It seems like they don't understand our thought process. Or, like, things have happened in the past that they're still mad about. We want to accept them and move forward. I mean, I can definitely see things that have happened in the past that they're holding on to and things that are happening right now that bog them down, but this generation wants to transcend them.

PHARRELL: I love that there are pros and cons to all of it [social media]. I feel like your generation understands that. Some of them abuse it. And some just purely use it.

WILLOW: And then there's people, like me and Jaden, who want to utilize social media to elevate the consciousness of those people who feel like all they want from social media is to be famous. [laughs] Like, you can actually be a voice. You can actually say something that's inspiring and not just make people feel like you need to buy things and be a certain way.

JADEN: It's good to be happy and tell us how cool your life is and how awesome you are on social media. That's great because it inspires other people to be happy, too. But a lot of times, people are trying to be happy in the wrong ways—with money or with different things that are not true happiness. It's leading people down a rabbit hole that actually doesn't exist. So people think like, "Yo, once I get this money and these cars and stuff, I'ma be so happy." But that's not true. And I feel like that's why it's very important to educate people on different things while you are actually on social media.

PHARRELL: So how did your interest in fashion begin? I know it's a really lame question. But I'm sure people want to know at what point you recognized that you wanted to do it.

WILLOW: Me and Jaden, when we were younger ... [laughs] Ooh! We would wear the craziest things. Jaden would only wear his Spider-Man costume. I would freaking mismatch every single shirt and pants in my closet. We would just be so rambunctious with our clothing choices. And when we were old enough to start dressing ourselves, my mom was like, "Are you sure you want to go out like that?" And me and Jaden would be like, "You know what? Yes." And she'd totally accept it. I feel like that's where most of our confidence comes from. Because we weren't told, "Oh, you don't look good in that. You look crazy. People are gonna think this about you." Like, obviously, that was going to be happening regardless, but it wasn't like that ruled what we did or the choices that we made.

JADEN: Nobody knows that Willow and I were much, much cooler before. Like, before people were looking at the things that we were doing, we were so much more, like, method with fashion. We really went all the way. We went the extra mile on everything because there was no one looking at us. We've been through the roof, with ludicrous fashion ideas since we were extremely young.

PHARRELL: Well, it led to being a Chanel ambassador and the face of Vuitton, no?

WILLOW: Yeah, it really did. [laughs]

JADEN: We're so blessed! And we're so, so proud. And thankful.
We love their stance on social media and how they're working to change the perception of being "Instagram famous." You can read their full interview here.
Check out their brother-sister spread below: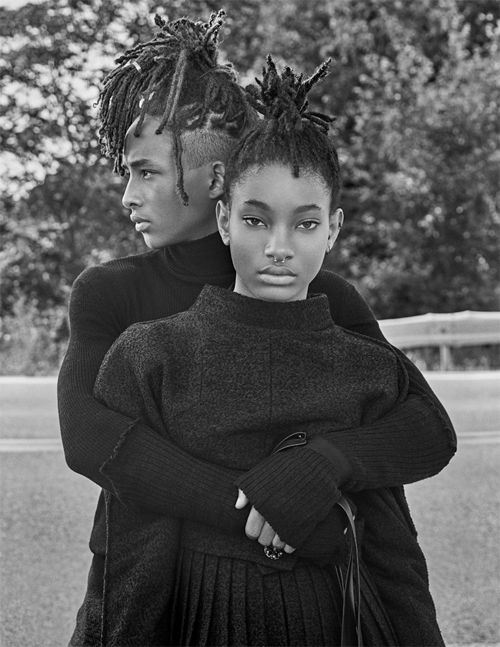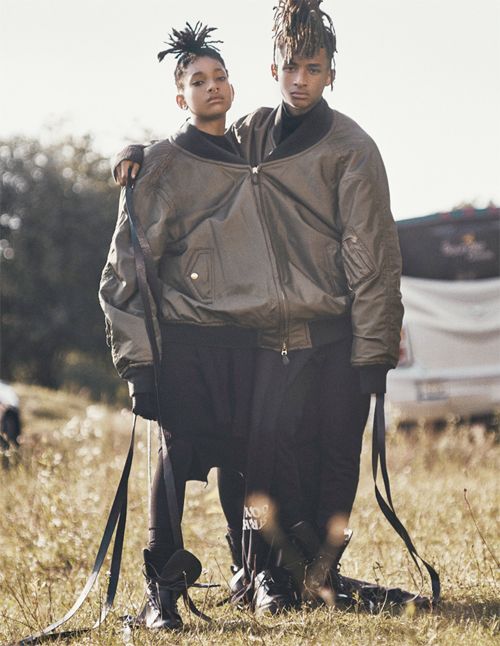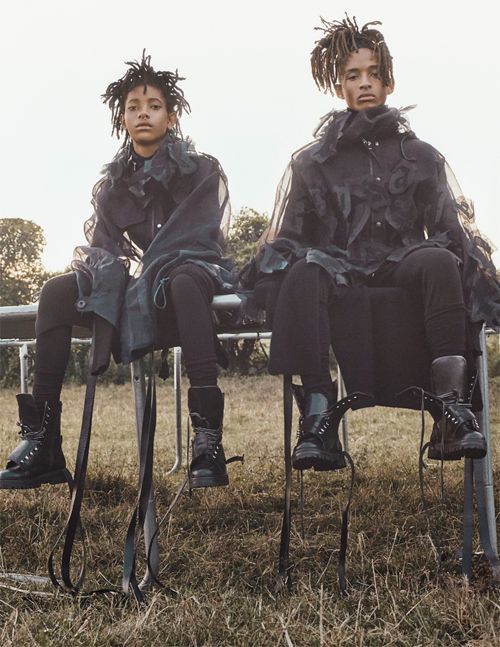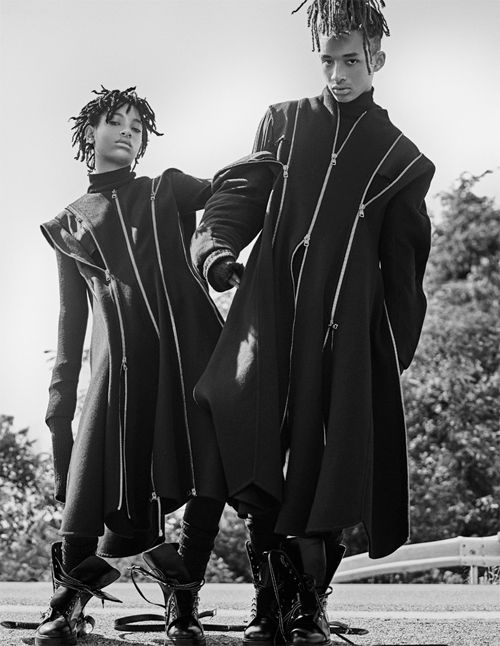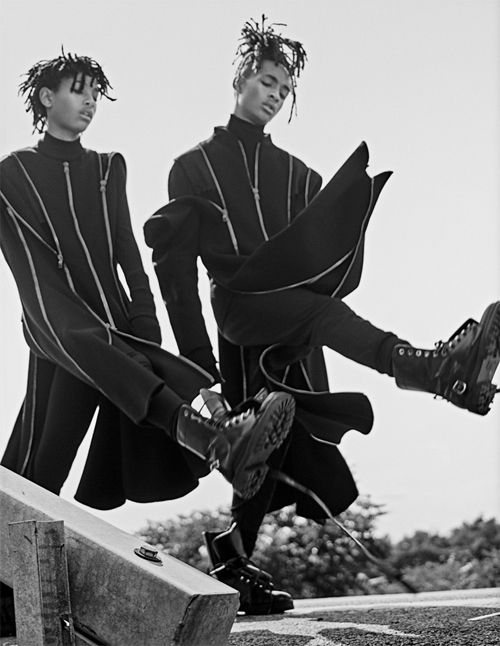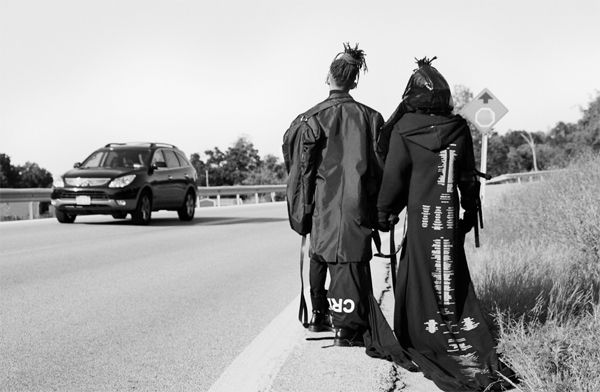 Slaying this modeling game effortlessly.  Nice!
Photos: Steven Klein via Interview