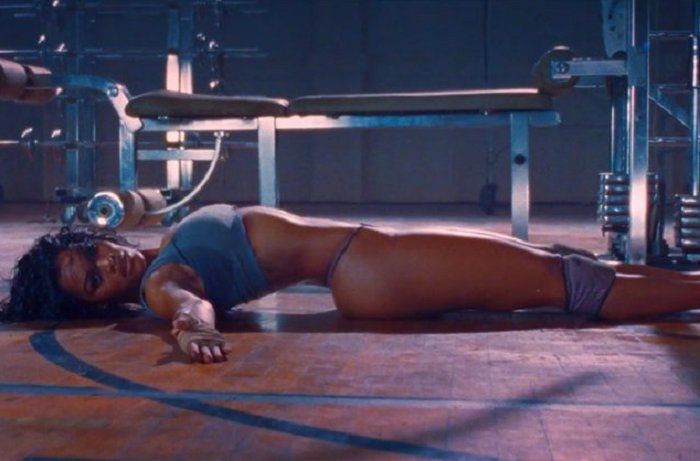 Grab all the oil and gym clothes you can find.  You're gonna need them if you want to even attempt the slay Teyana Taylor just exhibited.  Check out Kanye West's new "Flashdance" inspired "Fade" video featuring the ridiculously sexy chick (and her whole fam) inside...
This aint your mama's "Flashdance."
Kanye West dropped a surprise video during tonight's MTV VMAs.  It's the self-directed visuals for his song "Fade" off his The Life of Pablo album.
He tapped the ultimate milf, G.O.O.D. Music's own artist Teyana Taylor, to be the main feature.  And if you're familiar with how ridiculously hot her body is, then you know why.
With sweat and oil dripping everywhere, singer/dancer/rapper/actress Teyana gave her thong leotard the workout of life throughout the vid.  And when her fiancé Iman Shumpert and their baby Iman Jr. popped up....with what looked like a real life snapchat filter over her face....everybody lost.their.minds.
Get the full video below.  (You can also see it over on Tidal.)
Teyana Taylor (@TEYANATAYLOR) is ICONIC and this is only the beginning for her. https://t.co/9jJ3gBUyP6#FADE@kanyewest

— TRAPCRY (@trapcry) August 29, 2016
Not sure how this video got past the censors with all the booty action involved, but we're so glad it did.
Iman responded to trending on Twitter saying:
You are all very welcome. #teyanataylor shouts to Ye

— Iman Shumpert I (@imanshumpert) August 29, 2016And these folks summed it up:
"Maybe" singer Teyana said about the video:
Then these responses had us cackling:
Can't slander Iman Shumpert's rhymes no more. He got a ring this year and Teyana Taylor. He won at life.....

— Charlamagne Tha God (@cthagod) August 29, 2016
Watching Teyana Taylor slay the VMAs and simultaneously hoping my man isn't watching it this year. pic.twitter.com/2ZEELIUsKL

— Skye Townsend (@SkyeTownsend) August 29, 2016
Teyana Taylor got me like pic.twitter.com/z3kxk6iSNW

— Joshie (@20andmean) August 29, 2016
Ion understand that video but I'm all here for Teyana Taylor doing whatever it is that she was doing... pic.twitter.com/hTmPmb3mhC

— BK (@bk17__) August 29, 2016
when Iman Shumpert gets back to Cavs training camp after the fade video https://t.co/TYqMzYC4uB

— christian (@Clutchmore) August 29, 2016
By the way, Teyana had a baby less than a year ago. Sheesh.