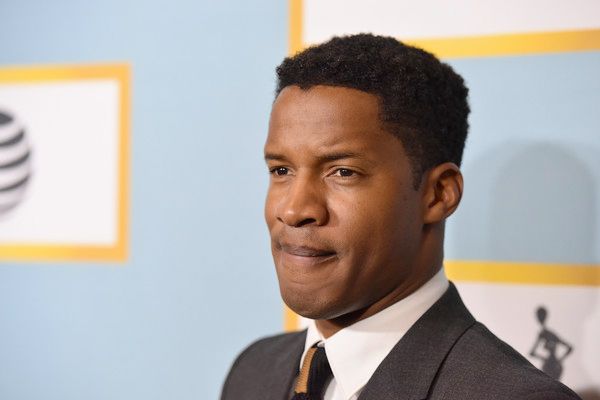 Nate Parker gets transparent in a new interview with EBONY where he opens up about being a "dog" back in college, the male privilege he was oblivious to and how he never understood what the word "consent" meant when he was 19-years-old. Peep the highlights inside….
Over the last month or so, Nate Parker has been engulfed in controversy over a 17-year-old rape case that resurfaced when he started promoting his new film Birth of a Nation. Nate and his friend Jean Celestine were accused of raping a woman at Penn State back in 1999. Nate was cleared of the charges in 2001. His friend was first found guilty, but later won an appeal and was cleared of any wrongdoing.
While he maintained he never raped the woman, transcripts of the court testimony from the parties involved have many believing otherwise.  The definition of consent appeared to be misunderstood 17-years-ago, and Nate seemingly hadn't learned anything from the incident based on his interviews in 2016.
He first called up Deadline and Variety to give interviews about the re-surfaced case, but it only backfired. The American Film Institute cancelled a screening of his slave revolt film about Nat Turner and a Q&A session last week. Following AFI pulling a screening, the Toronto International Film Festival pulled a screening of the film as well.  It's unclear about if or when the screenings would be postponed.
Outside of a personal letter he wrote on his Facebook page expressing how much sorrow he felt after learning the woman who accused him of rape had committed suicide, the 36-year-old actor (who wrote, produced and directed his new film) has remained mum about all of the controversy.  That is, up until Friday when he appeared at the Merge Summit in L.A. to give his first interview.
After the screening, he took center stage to address the controversy head on as he was met with a standing ovation from the audience. He said:
"I think it's very difficult to talk about injustice and not deal with what's happening right now," the 36-year-old actor and director told the audience. "When I was first met with the news that this part of my past had come up, my knee-jerk reaction was selfish. I wasn't thinking about even the potential hurt of others; I was thinking about myself."
In a twelve-minute speech, he talked about educating himself on male culture and toxic masculinity and why he's not upset that the rape case had resurfaced.
"This is happening for a very specific reason," he said. "To be honest, my privilege as a male, I never thought about it. I'm walking around daring someone to say something or do something that I define is racist or holding us back, but never really thinking about male culture and the destructive effect it's having on our community."
After the screening, he sat down with EBONY magazine's Britni Danielle to give a transparent, raw and real interview about rape culture, toxic male culture, educating himself on terms like "consent," and what he'd tell his 19-year-old self.  He says it's time to face his past, and we agree.
Below are the highlights:
EBONY.com: You started out tonight addressing the controversy, and you talked a lot about male culture and toxic masculinity. So I want to kind of compare. What, at 19, did you know about consent?

Nate Parker: To be honest, not very much. It wasn't a conversation people were having. When I think about 1999, I think about being a 19-year-old kid, and I think about my attitude and behavior just toward women with respect objectifying them. I never thought about consent as a definition, especially as I do now. I think the definitions of so many things have changed.

EBONY.com: So how does it differ for you?

Nate Parker: You mean like where I am right now?

EBONY.com: Yeah, as 36-year-old Nate.

Nate Parker: Put it this way, when you're 19, a threesome is normal. It's fun. When you're 19, getting a girl to say yes, or being a dog, or being a player, cheating. Consent is all about–for me, back then–if you can get a girl to say yes, you win.

EBONY.com: Yes to, like, hanging out? Or yes to, like, sex?

Nate Parker: If I can be just honest about it, just being down. Back then, when I was young and we were out being dogs it was about is she down? You think she down?

EBONY.com: Was that a question you would actually pose to her?

Nate Parker: No.

EBONY.com: So it was kinda like an assumption you were working on?

Nate Parker: Back then, it felt like…I'll say this: at 19, if a woman said no, no meant no. If she didn't say anything and she was open, and she was down, it was like how far can I go? If I touch her breast and she's down for me to touch her breast, cool. If I touch her lower, and she's down and she's not stopping me, cool. I'm going to kiss her or whatever. It was simply if a woman said no or pushed you away that was non-consent.

Let me be the first to say, I can't remember ever having a conversation about the definition of consent when I was a kid. I knew that no meant no, but that's it. But, if she's down, if she's not saying no, if she's engaged–and I'm not talking about, just being clear, any specific situation, I'm just talking about in general. I think that's a tough question, because the 2016 lens, even now in a relationship, I feel like I'm way more attentive and curious as to what my wife wants, if she feels like it, her body language. I'll ask my wife.

EBONY.com: You mentioned that your initial comments about the resurrection of this incident were self-centered, and from an emotional place on your behalf. So do you understand why people are struggling with…

Nate Parker: Absolutely! I understand now, but I was speaking from a standpoint of ignorance.

EBONY.com: Two weeks ago, you mean?

Nate Parker: Yeah. Well, when you don't know, you don't know. It's like, if I don't know how to swim and two weeks later I know how to swim, I know how to swim. Honestly, when I started reading them comments I had to call some people and say, What did I do wrong? What did I say wrong?

I called a couple of sisters that know that are in the space that talk about the feminist movement and toxic masculinity, and just asked questions. What did I do wrong? Because I was thinking about myself. And what I realized is that I never took a moment to think about the woman. I didn't think about her then, and I didn't think about her when I was saying those statements, which was wrong and insensitive.

I just really wanted to know more about what I was talking about. People were saying, why isn't he speaking soon? Cuz I still didn't know nothing. I don't want…this ain't the hype for me.

EBONY.com: So how does it feel when people say, "Nate Parker is a rapist?" Not racist, obviously, but rapist. And…what do you do with that?

Nate Parker: I don't know how to respond…if you're asking me about…

EBONY.com: I'm asking you how does that feel to have that…

Nate Parker: I'll say this: I don't want it to be about me. If you're asking me about a particular event, that's one thing. But I can see that there are a lot of people that have been hurt, a lot of people that are survivors. I'm finding out people in my own circle that are survivors that I didn't even know. There are people on my film that are survivors that carry that pain, and I had to call and talk to them all, like, how you feel about what's happening? What do I need me to do? What do I need to get?

All I can do is seek the information that'll make me stronger, that'll help me overcome my toxic masculinity, my male privilege, because that's something you never think about. You don't think about other people. It's the same thing with White Supremacy. Trying to convince someone that they are a racist or they have White Privilege–if it's in the air they breathe and the culture supports them, sometimes they never have to think about it at all. I recognize as a man there's a lot of things that I don't have to think about. But I'm thinking about them now.

People may say that, "Oh, now is good timing." I don't know what to say to them except I'm trying. I'm trying to transform behaviors and ideas that have never been challenged in certain ways in my life. I'm not the kid that I was at 19.

EBONY.com: So, how would 36-year-old Nate classify that particular incident with you, Jean [Celestin], and the girl?

Nate Parker: I'll say this, I think that they are more things than the law. I think there is having a behavior that is disrespectful to women that goes unchecked, where your manhood is defined by sexual conquests, where you trade stories with your friends and no one checks anyone. At 19, that was normal. As a 36-year-old man, if I looked at my 19-year-old self as my son, if I could have grabbed him earlier before this incident, or even just going to college. Because for me, it's about this incident, but it's about a culture that I never took the time to try to understand. I never examined my role in male culture, in hyper masculinity. I never examined it, nobody ever called me on it.

So if I'm 36 and I have my 19-year-old self, I'm pulling him to the side, and saying, "Listen bruh, throwing on your Timbs and your fitted hat and strolling campus trying to get a girl to say yes, or going to the club hoping you bring a girl home, that's not the way to go about healthy relationships. You need to step back. You need to think about how that affects you, how it affects them, how it affects the women in your life."

The crazy thing is a lot of people–a lot of men, if I'm just speaking for myself–don't really start thinking about the effect of hyper-masculinity and false definitions of what it means to be a man until you get married or until you have kids. Because then all of sudden you have something to protect. In all actuality, we got to do better about preparing our men for their interactions with women.

EBONY.com: And I think consent is a big issue. You have a daughter who just went to college and sexual culture on campus, and drinking culture…what kind of conversation did you have with her going off to college? And have you talked to her about this?

Nate Parker: I have talked to her about it all. I mean there's a 1999 lens and then there's a 2016 lens, and I think there's a hyper-sensitivity–as there should be–to what's happening around campuses, what's happening with this behavior, that because if it's not addressed it's perpetuated. I was talking to a young lady in my cast who said, "When women go to college there's this mentality that boys will be boys. When women go to college there's this idea of, well don't get raped."
You can read the rest of his interview here.
Does this interview change your opinion about him?
Photo: Getty