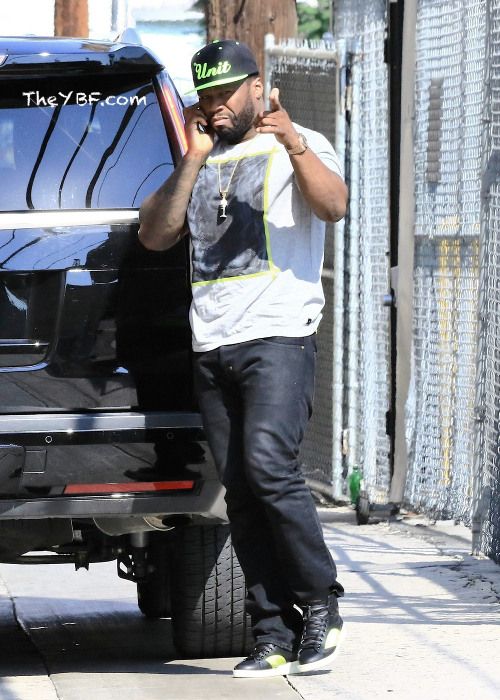 It's official! A TV series about the Black Mafia Family is in the works and 50 Cent is the one who sealed the deal. Get the letter B.M.F. honcho Big Meech sent to Fif from behind bars and deets on Questlove's new partnership with Pandora inside….
Back in 2014, 50 Cent hinted at producing a series about the Black Mafia Family, a powerful drug trafficking organization originally based in Detroit back in the 80s. A few months ago, Fif mentioned he would be bringing the series to life with film producer Randall Emmett.
And now, it's official.
The "Power" executive producer and star (above, arriving to "Jimmy Kimmel") got his blessing from the B.M.F. honcho Demetrius "Big Meech" Flenory to do a television series about his life and everything that went on behind-the-scenes with the Black Mafia Family.
The B.M.F. organization was tightly connected to Hip Hop with their BMF Entertainment imprint and several rappers, including Jeezy, have mentioned the organization in their rhymes (with their co-sign).
It all came crumbling down in 2005 when several members of the organization were arrested in a massive drug raid orchestrated by the DEA.  Meech and his brother Terry, aka "Southwest T", were sentenced in 2008.
Big Meech, who's currently serving a 30-year jail sentence, penned a letter to Fif giving him his blessing to produce the series following the success of "Power."
Here's what he wrote: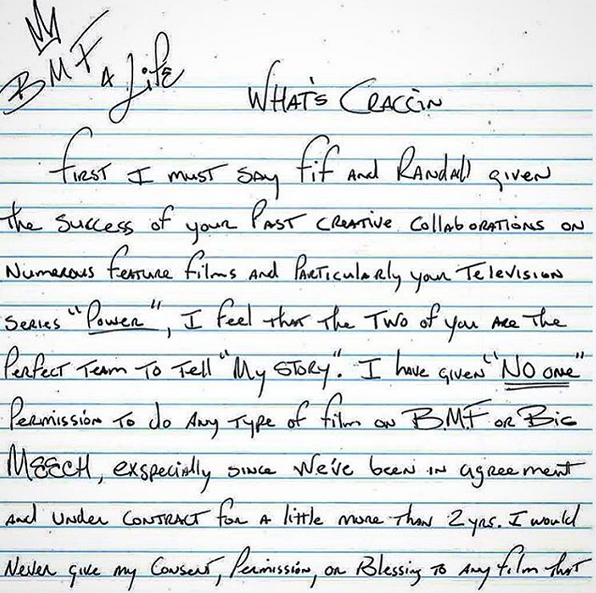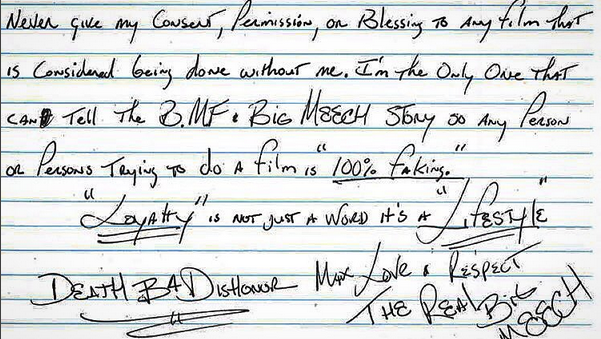 Fif captioned, "It don't get realer then this,Now watch me work. I get the job done, you think I'm playing out here. #EFFENVODKA #FRIGO." The NYC rapper wasted no time sitting down with STARZ execs and it appears they have also given him the greenlight.
In another IG post, he posted up a picture at the STARZ headquarters with the caption, "I had a meeting on The BMF series I get a green light fast, I think I'm @willpowerpacker out this b!tch. LOL #EFFENVODKA #FRIGO"
Who's here for it?
In music news....
The Roots drummer Questlove just made a major music move!
He is the first Artist Ambassador for Pandora and he's been tapped to be a strategic advisor for the music platform. In this role he will work closely with the company providing strategic advice and support for artist initiatives and music product strategy.
And there's more.
Along with those new titles, he's also set to debut a brand new show. Get those coins Quest!
"Questlove Supreme" is a three-hour weekly show that will take listeners through the global musical landscape.  It will feature adventurous music selections, compelling conversations and revealing interviews with music lovers from the entertainment industry and beyond, all curated by Quest himself.
"I see in Pandora both a deep respect for the craft of music and a commitment to the musicians that make it their living," Questlove said via press release. "When Tim introduced me to the Music Genome Project, and explained its origin and how he and his team developed it, I was blown away. Pandora is a company born of a musician's experience, and I'm very excited to join them in their mission to create a healthy and vibrant industry for artists and fans alike."
The series is set to premiere on Questlove's new Pandora station starting September 7th at 1pm EST and will replay for 48 hours each week. Will you be tuning in?
EXTRAS:
1. "Survivor's Remorse" has been renewed for the fourth season. Woot! STORY
2. Faith Evans won a lawsuit that tried to prevent her from performing at the Bad Boy Family Reunion concert in Atlanta next month. STORY
Photos: Pacific Coast News/50's IG