Steph and Ayesha Curry gifted their daughters Riley and Ryan Curry with the coolest playhouse ever! Go inside to see the Curry girls' new pony pad inside….
When Riley Curry steps in front of the camera, you KNOW cuteness will ensue.
NBA champion Steph Curry and his wife Ayesha Curry surprised their daughters Riley and Ryan with the coolest playhouse ever! And our inner child is so jealous right now!
How adorable is this family?! We can't wait to see the finished playhouse! #PlayhouseMasterspic.twitter.com/UtGrlFLsVl

— TLC Network (@TLC) August 24, 2016
To kick off TLC's new series "Playhouse Masters," Steph and Ayesha gifted their daughters an over-the-top two-story Spanish–style pony playhouse that features a horse swing, a dog house, and a super cool ball pit and slide.  Basically, an apartment of their own that's bigger than most NYC abodes.
For the big reveal, the Curry girls were the usual adorable selves, all styling in matching floral dresses, anxiously waiting in the backyard of their Bay Area home. The look on Riley's face when she sees the playhouse for the first time is PRICELESS.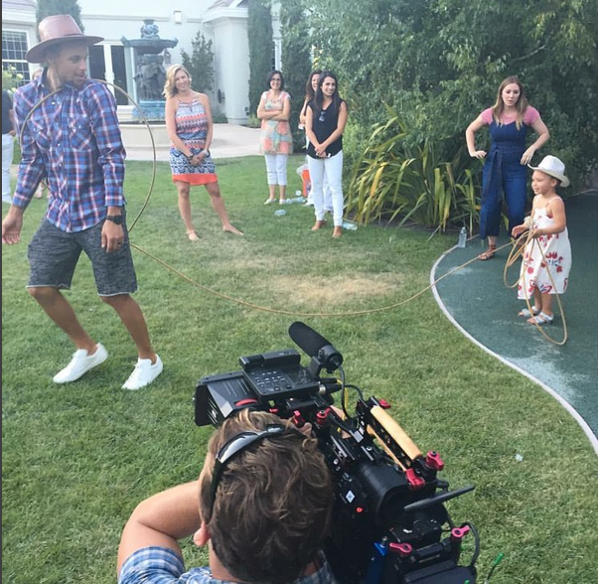 Mom and dad were just as surprised as the girls when they saw the playhouse for the first time."Oh my goodness! Are y'all serious?," Steph siad. Ayesha couldn't believe it either.
Cutie Riley was on hand every step of the way to guide Tyson and Audy Leavitt of Charmed Playhouses on what her dream playhouse would look like. And they totally nailed it.
Peep clips from last night's episode below: 
Adorbs!
Photos: Ayesha's Twitter/TLC's Twitter/@charmedplayhouses