President Obama is in Baton Rouge, Louisiana today surveying the historic flooding that has damaged more almost 70,000 homes and killed at least 13 people. He's also having a sit down with Alton Sterling's family. More inside...
With the flood damage still front and center in the city of Baton Rouge, President Obama jetted down to Louisiana today to survey the damage for himself.
He met with residents as they showed him the damage first hand. Many neighborhoods are lined with furniture, carpeting, and the possessions of the residents that they had to throw out. Many of the residents who lost everything do not have flood insurance as Baton Rouge -- as opposed to New Orleans -- is not very prone to flooding.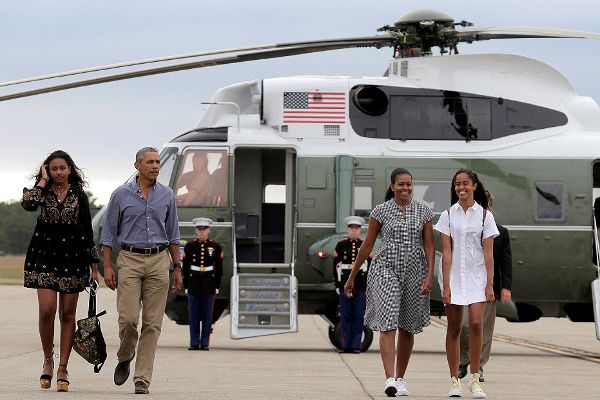 Critics say the President (spotted above arriving back in D.C. recently with the fam) should have cut his vacation to Martha's Vineyard short. Of course, Donald Trump is the ring leader of the critics as he went to the city and handed out play doh while getting plenty of photos taken. The Louisiana governor, though, told the President he preferred he waited a few weeks to come after the flood because the city. He said Baton Rouge simply did not have the resources to spare at that time and they could not protect POTUS with guards properly, as all states do when POTUS is in their area.
The President, unlike Trump, obliged.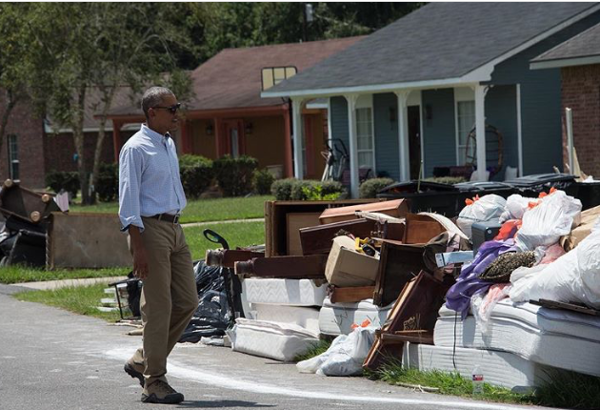 President O. spoke to residents in the East Baton Rouge community saying:
"What I want the people of Louisiana to know is this—you're not alone.

I directed the federal government to mobilize and do everything we can to help....More than 100,000 people have applied for federal assistance...as of today, federal support has now reached 127 million dollars."
You can help by visiting VolunteerLouisiana.gov.
More of President O. in B.R.:
A delicate mix of compassion and politics as President Obama heads to Louisiana floods https://t.co/UOHlzLNCWUpic.twitter.com/2VQZPKTwmU

— NYT Politics (@nytpolitics) August 23, 2016
In driveway of flooded LA home, @POTUS says fed govt will be here for the long haul to help ppl rebuild. pic.twitter.com/UAzRRKknem

— Josh Earnest (@PressSec) August 23, 2016
President Obama arrives in flood-ravaged Baton Rouge, Louisiana https://t.co/JcPlXmpXBthttps://t.co/5m2wJ3qJdd

— CNN (@CNN) August 23, 2016
GOP Rep. Garret Graves is touring flood-ravaged Louisiana with President Obama https://t.co/SYCBgzTCxIhttps://t.co/Xsl0uaBSOG

— CNN Politics (@CNNPolitics) August 23, 2016
President Obama records a birthday greeting for the daughter of a flood-affected homeowner. #LouisianaFloodpic.twitter.com/uRM6vD0SFI

— Nerdy Wonka (@NerdyWonka) August 23, 2016
Check out his full speech to the community below:
Prior to departure from Baton Rouge Metropolitan Airport, the President met with the family of Alton Sterling as well as the families of deceased and injured officers of the Baton Rouge Police Department and East Baton Rouge Sheriff's Office.
Photos: AP/Reuters