Doting dad The Game got all misty eyed before hitting the skate rink to celebrate his daughter Cali Dream's 6th birthday. Peep the party flicks, plus pregnancy hot shots from Angela Simmons inside…
She's growing so fast!
Rapper The Game tapped into his emotional side while wishing his baby girl Cali Dream a Happy Birthday on social media. Like most parents, it's bittersweet watching your kids grow up right before your eyes. And the west coast rapper wa sin his feelings about his now 6-year-old daughter.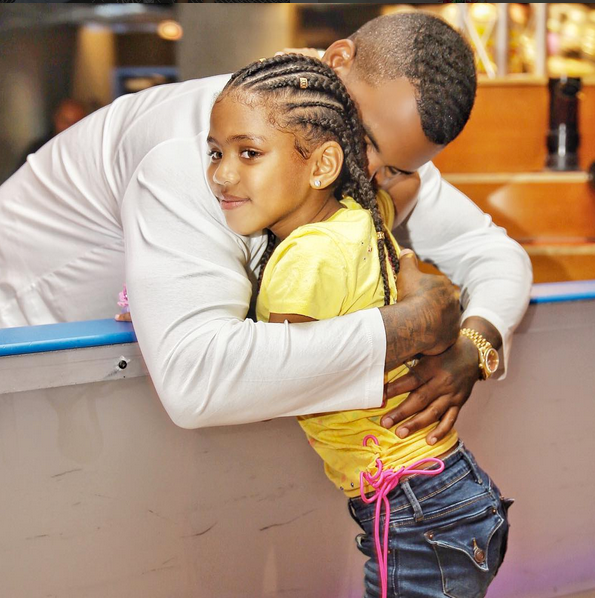 In an Instagram caption, he affectionately wrote:
Happy 6th Birthday to the most precious person I have ever known in my life. "CALI, before you: I never knew what the meaning of LIFE was. From the day that you were born... I made it my life's mission to be everything needed to ensure you live a life only a queen should live. You mean the world to me.. & when I say the world... I mean I would trade everything in it, if it meant that I could be your father for another 3 lifetimes after this one. You are such a jewel Cali. You are everything I wished my daughter would be & more ! You're beautiful, smart, funny & you really just light up my life... Especially when times get dark. I personally do not know what my life would be without you so I try my hardest to not even think about it... & I definitely don't remember how it was before you... Matter fact, "ain't no life before her bihhhhh" (& say that like you mean it if you're reading this). Cali, you are the BOMB little sister to your brothers & just so sweet to anyone you encounter & that's why everyone just adores your little self so much..... From the 1st day I met you til now, I have loved you & allowed the WORLD to watch you grow with me. Where did the time go ... My baby is soooooo BIG now... 1st grade, reading on an 8th grade level you can dance better than ya mama, your nose is cuter than ya dads... You skate like Lauren London in "ATL".... you're funnier than the midget from "Soul Plane" & you eat a box of strawberry "Pop Tarts" faster than any person on earth lol...... Cali, you are EVERYTHING to me & saying that I would not be able to truly appreciate this world without you is an understatement.... & yes my baby knows what understatement means & can spell it...... Her mama a school teacher But on the real, this my baby y'all. & y'all know damn well AINT NO ME WITHOUT HER. So if you don't already, go on over to her page & FOLLOW IT @littlemisscalidream as well as wish the LOVE OF MY LIFE a "HAPPY 6TH BIRTHDAY". She deserves that & everything else beautiful in this world & the next...... I LOVE YOU more than LIFE princess & I will ALWAYS be right here, just shadowing your life, making sure it's perfect for you - DADDY
Aww! How sweet!
To celebrate his daughter's 6th birthday, Game and her mother Tiffney Cambridge rented out a skate rink for Cali and her closest friends:
Cali, rocking her custom made skates, and her mini squad stopped to snap it up on the floor.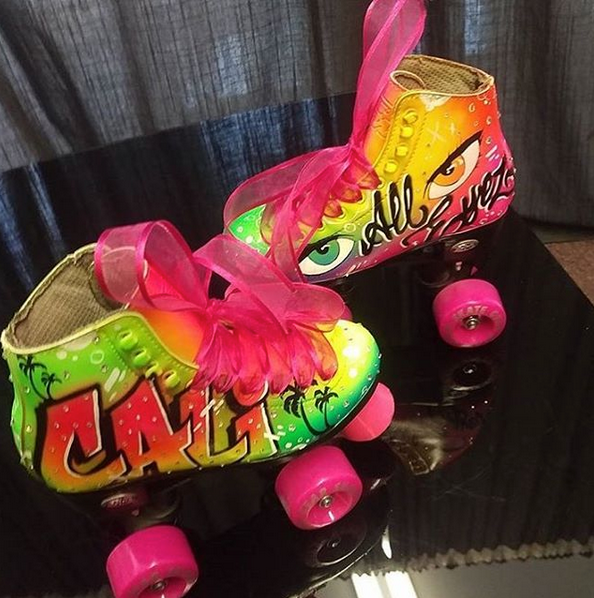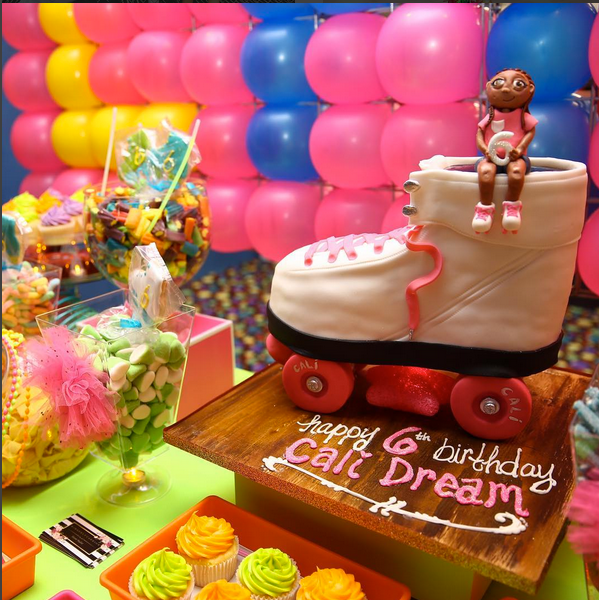 Keeping with the skater theme, Cali was gifted a huge roller skate cake with cupcakes and other goodies for her party guests.  Cute!
Speaking of guests....
Diddy's ex-Kim Porter and her twindaughters Jesse& D'Lila came out to celebrate with the YBF kid.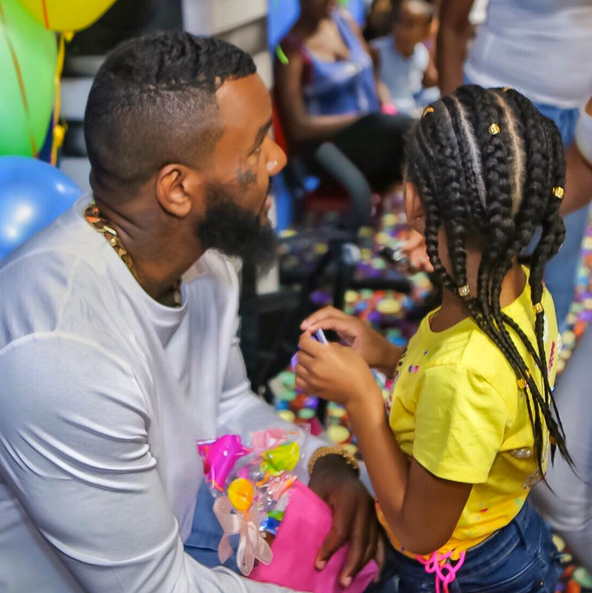 Before the party, Cali and her dad had some photoshoot fun:
He said, "That look you give your daddy when he tells you "you not even all that cute" #iWasJustPlayingDang #lol #HappyBdayCaliDream" Ha! She has that side-eye nailed!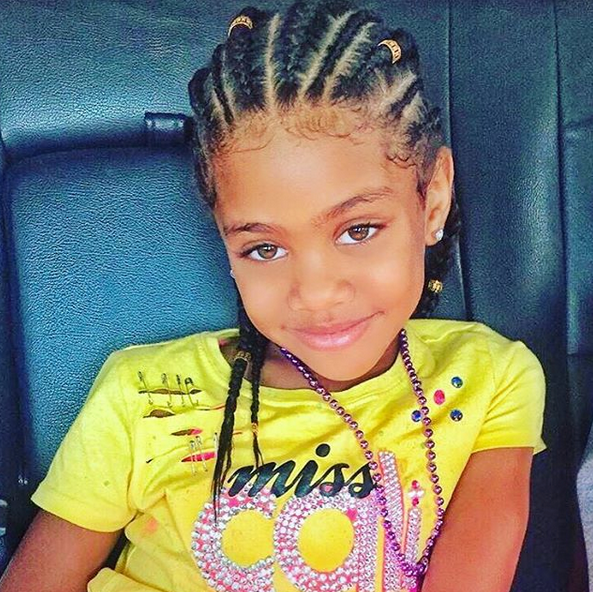 Adorbs. Happy Birthday Cali!
Check out this cute video of Cali struggling to pull one of her front teeth out days before her party:
In a new photoshoot....
And the pregnancy pics keep on coming!
"Growing Up Hip Hop" star Angela Simmons is embracing every moment of pregnancy with several photoshoots. And here's her latest.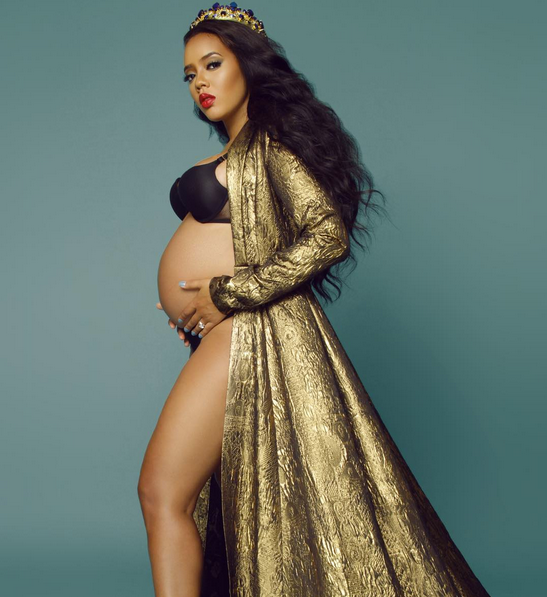 The fashion designer shows off her growing belly while posing it up in black undergarments topped with a long gold Stello coat/dress accented with a train. She topped her look off with a Vauje Jewelry crown (of course) and Saint Laurent heels.
In another set of shots, Angela models a red Thomas Wylde dress accessorizing her look with Jason Arasheben jewels: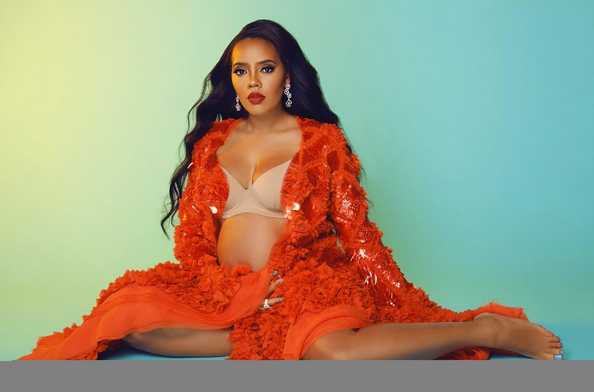 Gorge.
Photos: Game's IG/Tiffney's IG/Kim's IG