You may have already heard about Cam Newton's stance on whether it's racism that causes folks to go in on him.  But there's 11 more things we learned from the sexy QB's GQ cover story that may make you irked just a LITTLE less by....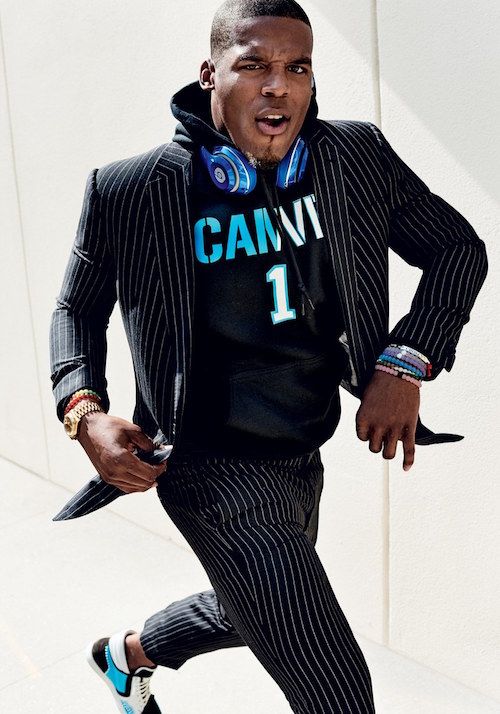 It's only right fashion lover...who is pretty much the Russell Westbrook of the NFL with his outlandish threads he rocks....Cam Newton is the GQ magazine September 2016 cover star.
He modeled tons of looks and chatted with GQ over dinner.  Here's 11 things we learned:
1.  He's aware he's a sore loser, esp. after the this year's Superbowl loss, and he's not changing ish about it.  "I had so much emotion," he says now, trying to explain. "A lot of emotion. We play the game to win. And we didn't." He's past it now without regretting it exactly: "I could care less. You know, what a person says to me, says about me—if it's not coming out of Chosen's mouth.… That's what the birth of my son does. Like, what do I gain? Now I have purpose in this world. Whether a mean tweet, a mean [person] saying, 'Hey, you're supposed to do it like this'—if my son ain't saying it, then it don't matter to me."
2.  He got his nickname from winning at everything. "When people see me play, they see the antics of, like, a heroism, you know. Superman—" Here he does the gesture, his two giant hands parting an imaginary business suit to reveal the logo underneath. "A taunt. Or whatever you may call it. And I've always been called Superman. Or Super Cam....Every team that I've ever been on past high school, they won a national championship."

3.  He's upped his sophistication level and is now about that cigar and white wine life. Later, we walk into a cigar store around the corner from the restaurant. He started smoking cigars two years ago, he says; after the Super Bowl loss he started drinking white wine, too, mostly Chardonnays. Part of discipline is knowing when to change things up.
4.  He agrees with the lady who wrote him that disrespectful and scolding letter about him not marrying his baby's mother. "What do you want me to do, write another letter back to her? No. And she's preaching to the choir. When she mentions those things, those are all things that I've thought about. With my father being a preacher, you don't think I've had this discussion before?" "What, are you gonna hate me for it? I'm not perfect. I'm not presuming to be. Nor am I expecting somebody else to be perfect. We all make mistakes. We all have things that we would not want others to know. But in my case, everybody knows everything."

5.  He blames his previous teammates for the Panthers' losing 2014-2015 season. "You had certain guys that didn't know how to win that would make bonehead mistakes." But people wanted to blame the towel, or whatever Cam had on that day. "If you're losing, it's like, Oh, my God, they're losing because he's wearing, you know, white shoes! Everybody else is wearing orange! Only thing changed was that our record was pretty bad."

6.  His full statement about why he thinks all the criticism he gets is NOT racism:"I don't think of it like that.  It's not racism. Everybody's entitled to their own opinion." "I'll let you be the judge. I don't look at it like that. I look at it like some people have certain beliefs, and I have my own belief, and we can agree to disagree on certain things. But this is what makes sports so amazing, that we can start a discussion around a table, in the newspaper, in the magazines, that will get people's attention. And that's what sports does." "I don't want this to be about race, because it's not. It's not. Like, we're beyond that. As a nation." "Yeah. I mean, you bring it to people's attention. But after that, that's it."

Even the writer was taken aback by his explanation, so the writer offered up this context:
I want to be clear about a few things here. We'd met maybe 25 minutes prior—one of those situations where we're both trying to talk about a lot of things in a relatively short amount of time. It's amazing, the scale and duration of what Cam's endured from the football public; it's why I wanted to ask him about it. But faced with a national-magazine writer and a switched-on tape recorder, you too might say something other than what you really thought, if that thought seemed like a dangerous, potentially uncontrollable thing to share with a stranger. With a person whose motivations you couldn't be sure of. Maybe today he woke up and felt like being just a quarterback, not a black quarterback. Maybe he feels fatigue at having to have this conversation with any random reporter who thinks he's entitled to his thoughts on this subject. Maybe losing the Super Bowl, and hearing all the criticism of Cam Newton that poured out afterward, left him in a place where he just wanted to retreat, at least in front of a reporter, and for once in his life just not be responsible for explaining away the cruel and insinuating things that other people say about him. Maybe he just didn't feel like participating in the whole economy of outrage that surrounds him today.
7.  He doesn't wear hoodies as a political statement:"For what it's worth, I really wear hoodies. Like, that's a fact...I know why I do certain things, and it's because how it makes me feel. I'm comfortable in a lot of things that I wear, and wearing a hoodie happens to be one of those things."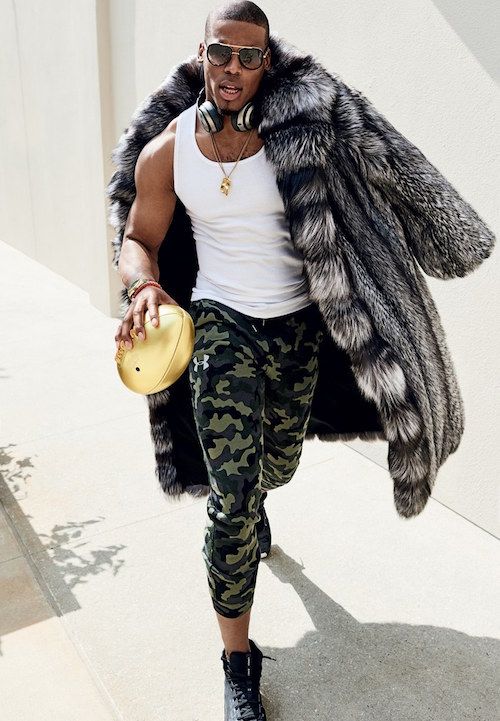 8.   He doesn't have an opinion about Trump, at least not one he wants to share: "I don't. I think he's an unbelievable businessperson. That's probably it. But outside of my personal belief, that's just, you know, my personal belief."
9.  Or that controversial bathroom law in North Carolina:"Um…that's too personal. You know, I gain nothing by answering it. I love people too much to care about those type of things. "I went to school to study sociology. You know, and that's something that really gets my attention. I don't look at things through color lenses. I don't look at things through genetic images or whatever. Their sex. I just love the different type of vibes people bring. I try to alleviate any type of bad energy. But I could care less. I love a person because of who they are. And that's who I am. So whatever you are personally, I don't care. You know, if you a good person, you a good person. No matter what anything, from religion to politically to, you know, sex preferences— Man, in my circle, and especially growing up in Atlanta, you see everything!"
10.  He says he's been watching ESPN's O. J. Simpson documentary. "That's been unbelievable. Just compelling to just see a person of his magnitude. And not just him, because the show doesn't just talk about him. It talks about everything around him, from the socio-economic problems that we had to everything. And it's just a day back in the history, and to keep people hip to what or where we came from."
11.  He plans to let his son Chosen play football, despite all the talk of concussions and brain damage: "Of course. Why wouldn't they let them play football? But they don't talk about the joy it brings! Super Bowl Sunday trumps every TV rating known to man."
You can get Cam's full cover story and all his designer deets HERE.  Check out more visuals below:
Photos: Mario Testino for GQ