LeBron James just put thousands of smiles on some kiddies' faces after gifting them with a free trip to an amusement park. Meanwhile, King James will be guest-starring on Jesse Williams' podcast streaming on Bron's new digital platform. More inside…
LeBron James continues to give back to the kiddies in his hometown.
After signing a $100 million three-year contract with the Cleveland Cavaliers, King James treated 5,000 kids, who are part of James' Wheels for Education and the Akron I Promise Network, and their families to a free trip at Cedar Point amusement park. Donations from Chase Bank and Cedar Point also helped seal the deal.
According to Ohio.com:
The trip to Cedar Point — now in its second year — marks the beginning of a partnership between James and a new third-grade class to encourage the youngsters to work hard and stay in school.

The young students eventually graduate into the Akron I Promise initiative, which provides Akron school kids mentoring and encouragement to continue to work toward good grades and attend classes.

At last year's event, James announced a new carrot for those kids — a full scholarship to the University of Akron after they graduate high school.
Free college? NICE! The kids also got a chance to attend a talk with King James at the amusement park. Sweet!
LeBron is creating the blueprint for other athletes to step up to the plate and give back to their communities. And we're here for it all!
In other LeBron news…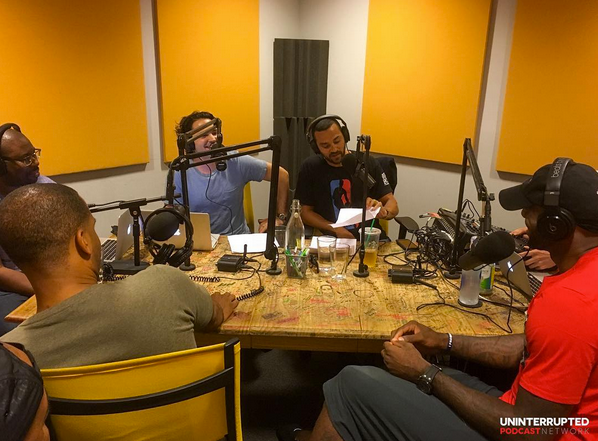 "Grey's Anatomy" star Jesse Williams and his co-host Stefan Marolachakis are moving their "Open Run" podcast to LeBron's newly launched digital network, Uninterrupted. And King James has been tapped at as their first guest.  Gotta love those business moves.  On both ends.
King James isn't the only one joining in on the conversation. NBA ballers Chris Paul, Dwyane Wade and Carmelo Anthony stopped by to chop it up about relationships. You can take a listen to their round table discussion here.
Photo: Getty/@uninterrupted