Nate Parker just learned the woman who accused him of rape 17 years ago committed suicide a few years ago. Now, he's expressing the sorrow he feels in an open letter. He wants the world to know, so we are reporting it here.  The woman's brother is also speaking out. Get it all inside…
A 17-year-old rape case and news of a suicide has cast a shadow on one of this year's most highly anticipated films, Birth of a Nation. The slave revolt film about Nat Turner became a sensation after Fox Searchlight won the bidding war for rights of the film for a record-breaking $17.5 million.
Nate Parker, who wrote, produced, directed and starred in, stepped into the light of the case himself by calling up media outlets to address the rape case that was brought against him and his roommate Jean Celestin (the co-writer of "The Birth of a Nation").  It occurred in 1999 while they were wrestlers at Penn State University.
On the night of the alleged rape, court documents reveal there was a third person in the apartment. Jean's friend Tamerlane Kangas said after partying with the woman all night at her apartment, they all went back to Nate's apartment.  He claims she was the only one who had a drink at her place.  In his testimony that he and Jean walked in on Nate having sex with the young woman and that Nate waved/gestured for them to join in. Jean obliged, however Tamerlane decided to leave the apartment. Whether or not the woman was fully conscious at the time is seemingly a point of contention.  You can read his full testimony here.
Nate was acquitted in 2001.  He had previously had consensual sex with the victim prior to the incident, and some believe this had an impact on the case. Meanwhile, Jean was found guilty of sexual assault. Several years later, Jean was granted a new trial in 2005, but the case never made it back to court after the victim decided not to testify again, according to Variety.
Both men were suspended from the wrestling team and Nate transferred to a different college in Oklahoma. They both claim the sexual encounter was consensual, while the victim said other wise. She made claims that she was stalked and harassed by Nate and Jean after she reported the incident. After the trial, the victim dropped out of college and received $17,500 in a settlement with Penn State.
After Nate himself called up Variety and Deadline to conduct interviews last week, the brother of the alleged victim came forward to reveal his sister had committed suicide in 2012 at the age of 30 after overdosing on sleeping pills while in a rehabilitation facility. Her brother believes the sexual assault was the event that changed her life forever.
"She became detached from reality," the woman's brother, Johnny, told Variety, asking not to use his last name to honor his sister's wishes to remain anonymous. "The progression was very quick and she took her life."
Her brother said she struggled to find happiness after leaving college, eventually getting into a committed relationship and having a baby.
"She was trying to find happiness," Johnny said. "She moved around frequently and tried to hold a job. She had a boyfriend. She gave birth to a young boy. That brought her a good bit of happiness. I think the ghosts continued to haunt her."
Since learning about her death, Nate decided to publicly address her suicide to reveal how much sorrow he feels.
In a Facebook post, he wrote: "I myself just learned that the young woman ended her own life several years ago and I am filled with profound sorrow. I can't tell you how hard it is to hear this news."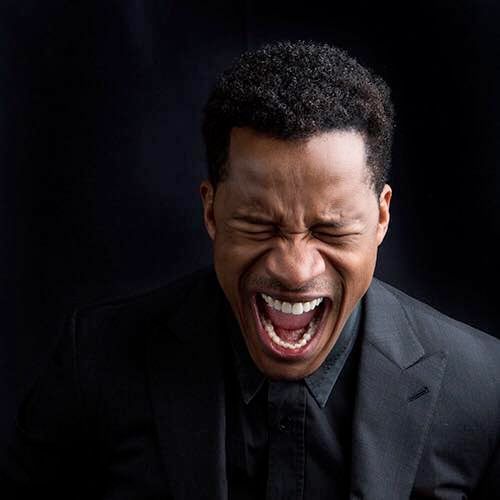 Nate has yet to admit to the rape, saying he's innocent. He continued,
"While I maintain my innocence that the encounter was unambiguously consensual, there are things more important than the law… I cannot change what has happened. I cannot bring this young woman who was someone else's daughter, someone's sister and someone's mother back to life…"
He said the letter was not an attempt to solve the situation, but merely a response to the moment.
You can read his full letter below: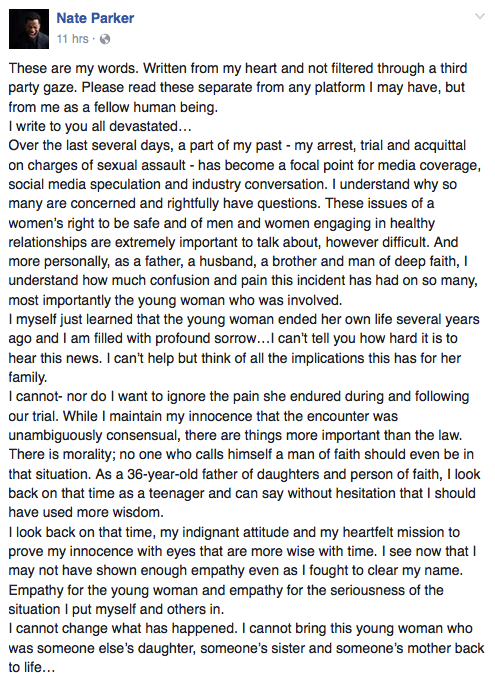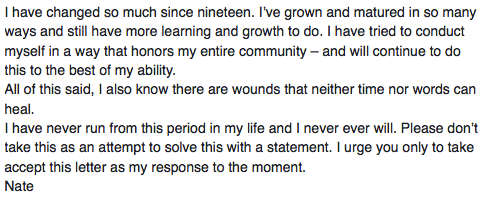 In an email to Deadline, Jean responded to the controversy writing:"This was something that I experienced as a college student 17 years ago and was fully exonerated of. I have since moved on and been focusing on my family and writing career. I have several exciting book and film projects that I am working on and that I am looking forward to."
Fox Searchlight also responded saying they support Nate. The statement reads,"Fox Searchlight is aware of the incident that occurred while Nate Parker was at Penn State. We also know that he was found innocent and cleared of all charges. We stand behind Nate and are proud to help bring this important and powerful story to the screen."
The studio has yet to respond to the newest developments.
"The Real" host Loni Love chimed in saying:
Studios will start doing background checks before investing in new filmmakers... This Nate Parker case will set precedent ...

— Loni Love (@LoniLove) August 17, 2016
Thoughts?
Photos: Getty/Facebook