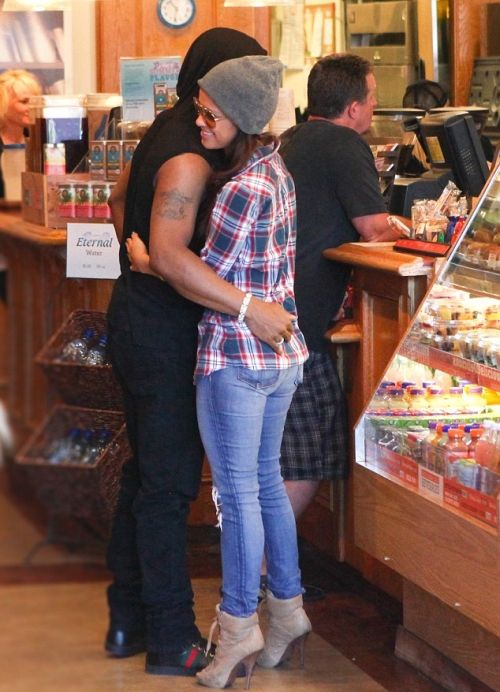 Well isn't this...special.  After claiming to not be romantically involved with Eddie Murphy after THESE PICS from their first hand-holding coffee run came out last week, Rocsi was spotted once again cuddled up with Mr. Murphy yesterday in L.A.
Proof is in the pics inside...
For the second weekend in a row, 28-year-old Rocsi jetted across the country from NYC to L.A. to be with her apparent new boo 51-year-old Eddie Murphy after her emotional week of taping "106 & Park."  (Friday shows are taped on Thursday by the way.)
It looks like the BET host was getting a shoulder to cuddle on after her and Terrence's big announcement that they're leaving the network's flagship show.  Both Rocsi & Shrek actor Eddie Murphy were spotted in a sweet embrace inside an L.A. coffee shop:
After last week's pics of the twosome leaving a coffee shop hand-in-hand surfaced, Rocsi told The YBF that they weren't a new couple but they were, and we quote, "just getting coffee."
If you say so.  Do you boo....
And if you're wondering how Rocsi keeps her cute slim and curvy body looking right, she recently dished to Hollywood Life about Zumba and her diet saying:
"I try to work out three to four times a week. I have a trainer, I go to aerobics classes all the time. I enjoy staying fit and it's something I like to keep doing."

"Zumba is so much fun, you don't even realize that you're moving.  I'm now a certified master. I went in and got licensed for it. It took eight hours and now I can teach. I can stay fit in a fun way."
All that working out definitely pays off.
Pics via REX Images