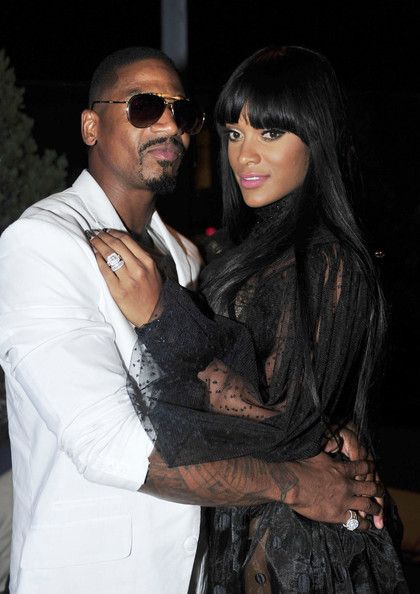 All the fighting between Stevie J and Joseline has come to a head (again).  And now he's outing her worse than he ever has.  Find out the tea he spilled today in court inside...
Chile....Stevie just exposed his non-wife Joseline Hernandez in the worst way. 
While attempting to extend the restraining order he got last month against the Puerto Rican Princess, the "Love & Hip Hop: Atlanta" reality star headed to court today.  The documents show chick may not be Puerto Rican afterall....or 29 like she claimed.  He maintains the two were NEVER legally married (no surprise there).
Oh, and he's still set on thinking that baby she's allegedly carrying isn't his.
Thanks to the new cast member on the show, Joseline's former co-worker at the strip club, we learned earlier this season her government name is Shenellica.
TMZ reports:
In his docs Stevie points out Joseline's real name is Shenellica Juneann Bettencourt ... she's 39 years old (not 29) ... isn't even from Puerto Rico ... might STILL be married to someone else ... and the baby in her belly probably isn't his.
The judge denied the request because Stevie's complaints had nothing to do with the price of tea in China.
When Stevie left court today, he told paparazzi he still wants a DNA test on the baby and he wants Joseline to stop talking negatively about his children.
On the recent reunion show, we saw Joseline & Stevie hash it out over whether or not the baby is his.  Joseline was offended, and things didn't end well.
Stevie commented just a few minutes ago on Twitter saying, "When I do things it's a purpose for em'...."
Oh, ok.
Photo: Getty