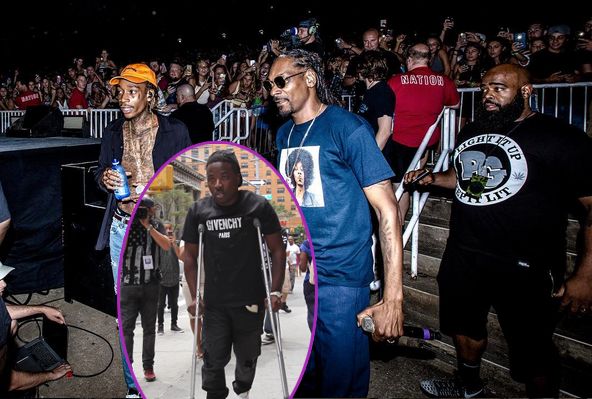 Wiz Khalifa and Snoop Dogg's tour stop in NY resulted in 43 people getting arrested for underage drinking. Meanwhile, Troy Ave just pulled the trigger on a new lawsuit against Live Nation and Irving Plaza for that controversial shooting at a T.I. concert. Deets inside…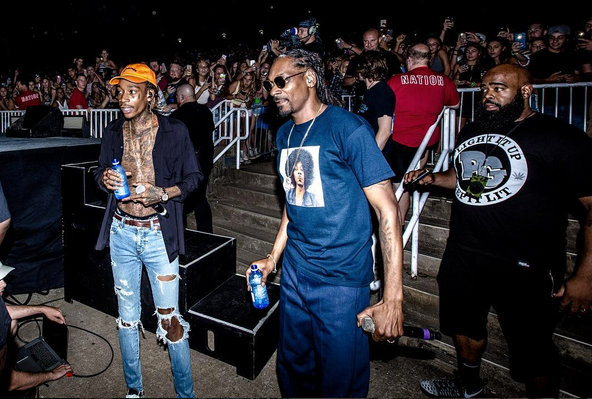 Wiz Khalifa and Snoop Dogg's "The High Road Tour" is bound to be one for the books.
Last week, a railing collapsed in New Jersey, injuring 40 concertgoers while the Mary Jane lovers were on stage. On Sunday night, 43 people were thrown in jail for underage drinking during their set at the Saratoga Performing Arts Center in Saratoga Springs, New York.
Here's what we know….
A handful of kids got wasted during a tailgate hours before the show. 11-13 underage concertgoers got so twisted they ended up in the hospital for alcohol poisoning. In fact, about 35 people total were treated for alcohol poisoning.
TMZ reports an 18-year-old was so tore up he fell face first, injuring his nose and mouth. Ouch!
The Times Union reports in addition to the arrests, fake licenses were recovered from Connecticut, Delaware, Illinois, Maine, Maryland, New Jersey, Ohio, Pennsylvania, Rhode Island and South Carolina. Not only that, an additional 24 fraudulent documents were recovered within the venue as well. Now, a follow up investigation has been launched to get to the bottom of the fake IDs.
It's being reported that the concert was understaffed with security with a total of 14 police officers monitoring the 14,000 concertgoers. Yikes!
Hope those involved are OK. This tour is bringing all types of foolery.
Tonight, Wiz and Snoop bring the "High Road" to the First Niagara Pavilion Burgettstown, Pennsylvania. Let's hope everything goes well.
In other legal woes...
Rapper Troy Ave, who's currently out on bail on attempted murder and criminal possession of a weapon charges, has lawyered up and is now suing Live Nation and Irving Plaza in NYC after a shooting rang out during a T.I. concert back in May.
Troy (government name Ronald Collins) is suing the companies for failing to search VIP entrants for guns, which led to the death of his longtime friend/bodyguard, Ronald McPhatter, according to NY Daily News.
Troy was arrested and charged after video surveillance surfaced showing him firing a weapon inside the venue. He was also shot in the leg during the mayhem. He's out on a $500,000 bail.
On Monday, Troy (pictured above) joined by his lawyer Scott Leemon for a press conference in front of Irving Plaza where he announced he's fighting to get his life back.  e arrivd on crutches and his ankle monitor was visible. 
"I'm going through a lot," he said."I just want to get my life back."
The lawsuit was filed in Brooklyn Supreme Court on Monday. No dollar amount was listed, but it did point out that the Brooklyn rapper had been harmed both physically and financially.
Troy's lawyer added, "He is the victim here. He did not bring a gun into this place. And we are seeking redress for the negligence."
While guns were recovered from his van during a search, the 30-year-old rapper and his lawyers are adamant Troy did NOT bring a weapon inside the venue. It's being reported the rapper wrestled the weapon away from another man and fired at him. They claim the other man is responsible for Ronald McPhatter's killing.
While he awaits his day in court, Troy has been ordered to wear an electronic monitoring bracelet and can not leave the state of New York. A judge has also ordered Troy to stay of performance venues, clubs, bars, arenas and similar locations until he has his day in court.
A few weeks ago, Troy paid tribute to his late friend on Instagram:
Damn homie.
Photos: Wiz's IG/Splash