Amber Rose and Kelis are clapping back at Internet trolls over their foolery. Go inside for deets on Amber blasting "ignorant f*cks" over calling her son Sebastian gay for wearing her wig and Kelis checking a fan for attacking her fuzzy twists inside…
Since when does a child wearing a wig makes him gay? That's what Amber Rose is trying to figure out.
The late night talk show host posted a cute picture of her 3-year-old son Sebastian Thomaz playing with one of her new two-strand twist wigs pretending to be a "spooky zombie." (FYI – She wore this wig during the taping of a new episode for her talk show).
But ish quickly went left when her comments section on Instagram was flooded with negative comments, accusing the "How To Be A Bad B*tch" author of turning her son gay!
The comments were judgmental and unnecessary about a baby. One person said, "Wouldn't be surprised if he eventually comes out as gay." And another said, "He already talks a little 'sweet.' All bad."
Amber went into mama bear mode and popped off at the trolls, saying:
After letting out some of her frustrations on Instagram, she then turned to SnapChat to challenge her followers to an experiment. "I posted a picture of Sebastian playing with my wig earlier and all the comments are saying that my son is gay. He's three," she said.
She told everyone who had something to say to put a wig on their boyfriend or grandfather and see if they turn gay by simply wearing a wig. Check it below:
People really need to grow up!
In other celebrity clapbacks...
Singer-turned-chef Kelis found herself being attacked over her fuzzy two-strand twists after posting up a video where she's cooking with her baby boy Shepherd.
Apparently, some random chick had something to say about her unkept 'do so Kelis decided to respond. The initial comment is nowhere to be found in the comments section, so the commenter (or Kelis) likely deleted it.
She wrote: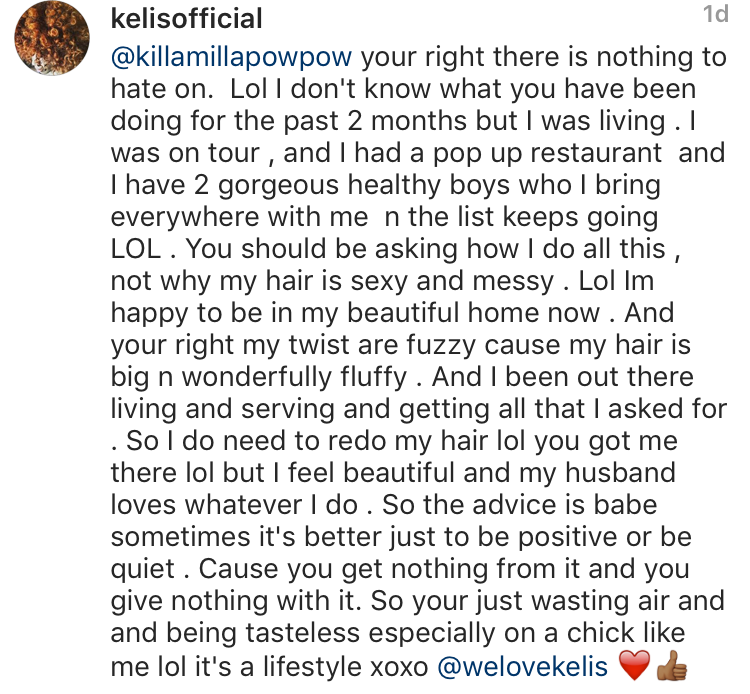 Bloop!
We're not surprised as Kelis often responds to fans in her comment section.
The girl then decided to apologize for her trolling ways: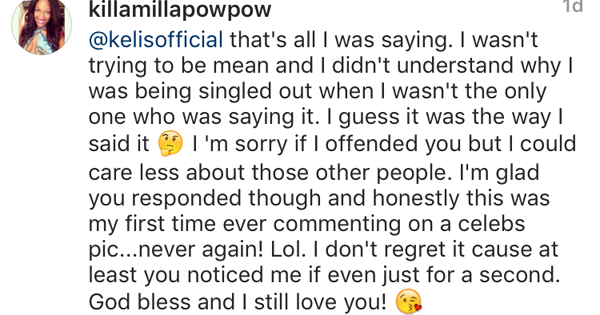 We're not surprised Kelis checked the young lady as she often responds to fans in her comment section. Now she knows not to come for her anymore, especially when she's being a multitasking mama!
Photos: Amber's IG