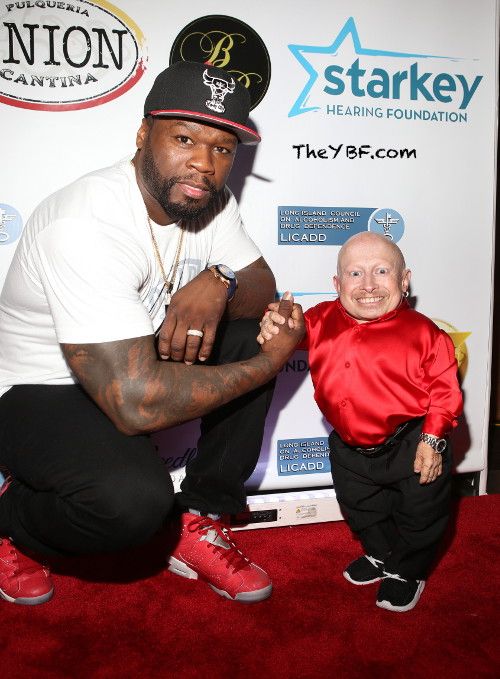 50 Cent is blasting "Power" creator Courtney Kemp on social media over his upcoming eggplant scene. Find out what he said and get the latest on the 40+ concertgoers who were injured at Wiz Khalifa and Snoop Dogg's concert after a railing collapsed inside…
"Power" star and producer 50 Cent (above at the 'A Night Under the Stars' charity benefit with actor Verne Troyer) is blasting the show's creator Courtney Kemp on social media. The reason? Apparently, he's "upset" about an upcoming scene where his eggplant makes an appearance.
Channeling his villain character Kanan, Fif took to his Instagram page after previewing episode 4 of the hit STARZ show. And he's feeling some type of way about his eggplant being shown. OH?
He said, "Man I just saw episode 4, of POWER Courtney I'm a kill you, this is not funny . I think I just saw my [eggplant emoji] in a scene. What the f*ck Courtney call my phone NOW!!!"
It appears to just be a PR stunt to promote tonight's new episode. We're sure he approved the scene before it was added in the episode being that he's an executive producer and all.
So yeah, if you're trying to get a glimpse at Fif's eggplant, be sure to tune in to "Power" tonight at 9pm EST on STARZ.
In other rapper news...
Rappers Wiz Khalifa and Snoop Dogg have kicked off their summer "High Road Tour" where they made a stop in Camden, New Jersey on Friday night.
After the Mary Jane lovers hit the stage at the BB&T Pavilion, a railing collapsed causing dozens of people to fall several feet to the concrete below (peep the clip above). 40 people were injured from the fall and one person was critically injured. After the railing collapsed, Wiz and Snoop were quickly ushered off the stage.
The good news is, everyone is OK!
According to NBC News, about 20 people were transported to Cooper University Hospital in Camden, including a patient in critical but stable condition. Luckily, by Saturday afternoon, all the patients had been released from the hospital, including patients treated at other hospitals in Camden.
Live Nation issued a statement revealing some of its employees were among the injured. The statement reads:
"Live Nation is closely following the recovery of the injured fans and employees as well as actively working with authorities and structural engineers to determine the cause of the collapse."
Wiz and Snoop offered up well wishes for those who were injured tweeting:
Hope everyone from last night is alright. That shit was crazy.

— Wiz Khalifa (@wizkhalifa) August 6, 2016
prayers out to my fans. wishn u all a quick recovery. Love

— Snoop Dogg (@SnoopDogg) August 6, 2016
Glad everyone is OK!
Tonight, Wiz and Snoop will hit the stage at the Saratoga Performing Arts Center (SPAC) in Saratoga Springs, New York.
Photos: WENN