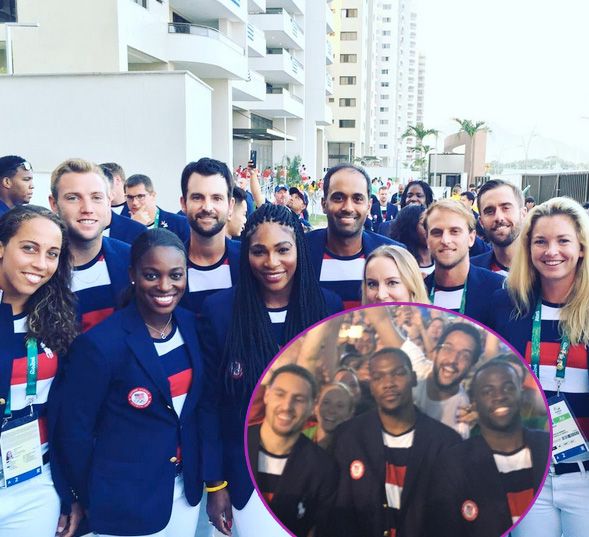 The Rio 2016 Olympics have officially kicked off! Go inside to peep pics from the last night's opening ceremony were we spotted Serena Williams, Carmelo Anthony, Kevin Durant, Draymond Green, Klay Thompson and more styling in their Polo threads….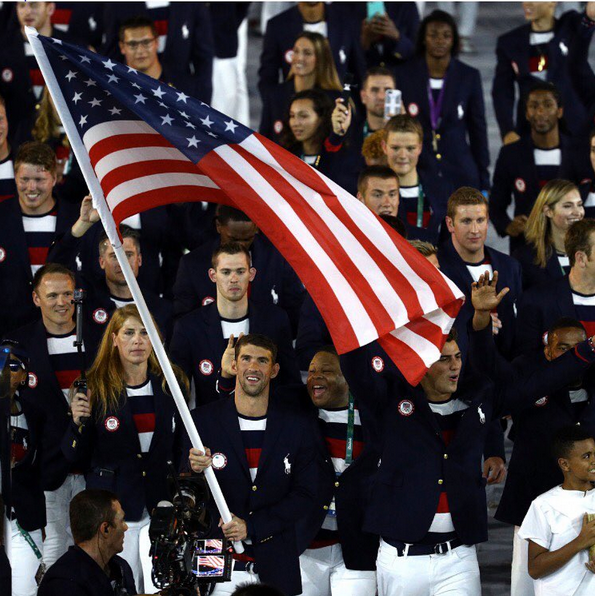 Let the games begin!
The 2016 Rio Olympics are finally here after years of planning, training and headlines. Last night, the opening ceremony kicked off with a vibrant and festive show on Brazilian culture to the tune of a Samba beat.
Athletes from all over the world flooded Maracana Stadium in Rio de Janeiro to usher in the Summer Games. And we're excited to see our YBF celebs take the gold for the US of A. Team USA is 554 strong, the largest delegation to ever represent the nation.
Team USA rocked their custom Polo uniforms, created by Ralph Lauren, which are inspired by a "Rio Resort" vibe. And they were all made in the USA! Nice.
Here's a breakdown of their uniforms: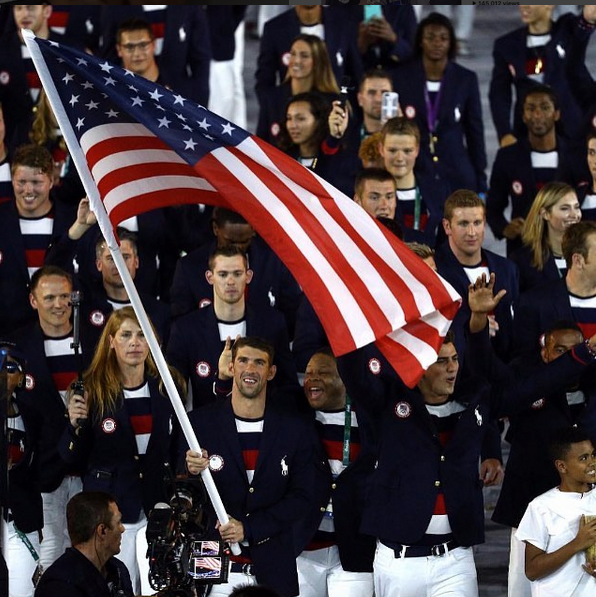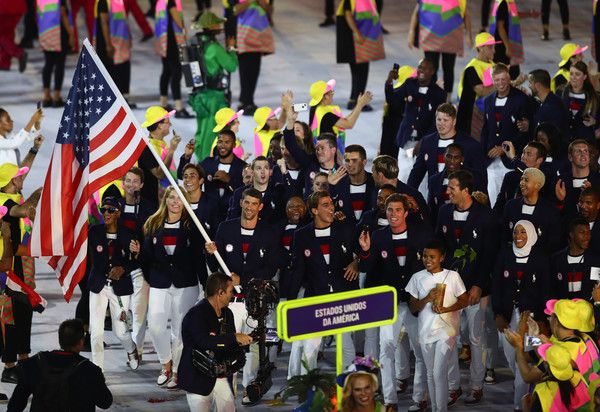 Tennis champ Serena Williams debuted new box braids for her Olympic run. She was busy making her rounds, snapping it up with her Team USA tennis teammates, including Sloane Stephens and Madison Keys, and more: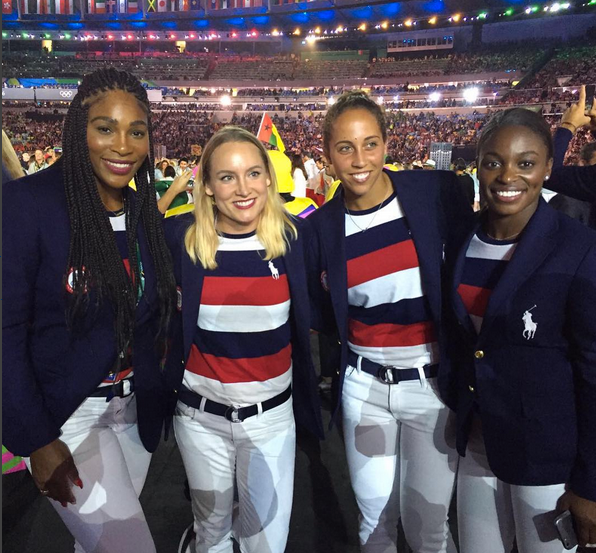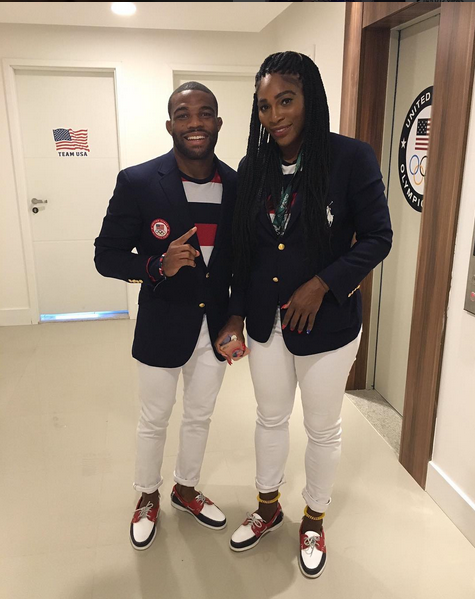 Before marching out, the 22-time Grand Slam winner linked up with Olympic wrestler Jordan Burroughs backstage for a photo-op. Are those mosquito bracelets on Rena's ankles? Looks like she's prepared to fight off the Zika virus. Not mad.
Team USA basketball players were cutting up in the stands as the ceremony went on:
Kevin Durant, Draymond Green and Klay Thompson had some fun snapping pics and Swith fans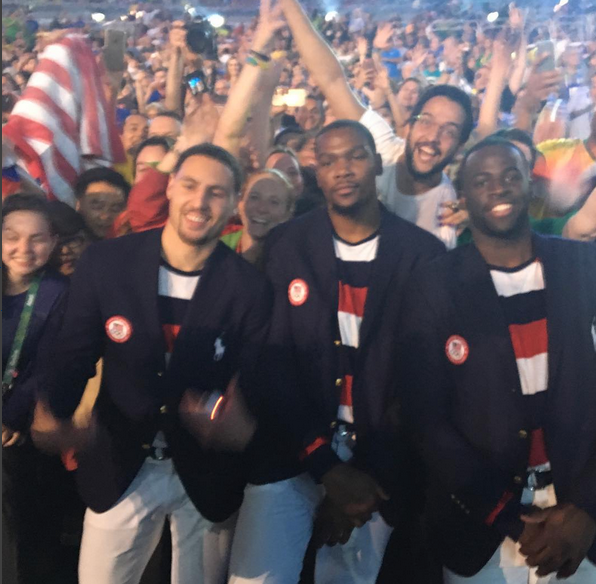 On Instagram, Klay expressed how appreciative he is that he got the chance to compete in this year's Olympic games writing, "Beyond grateful what a night @olympics." Looking good Klay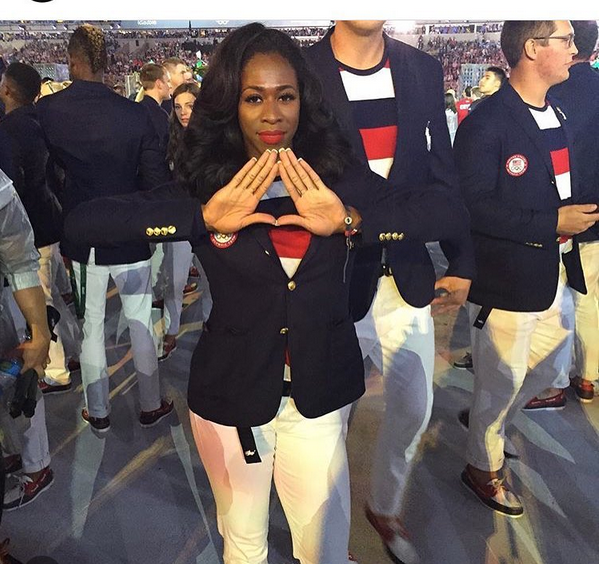 Track and field Olympic runner Francena McCorory was in the mix, throwing up the Delta sign.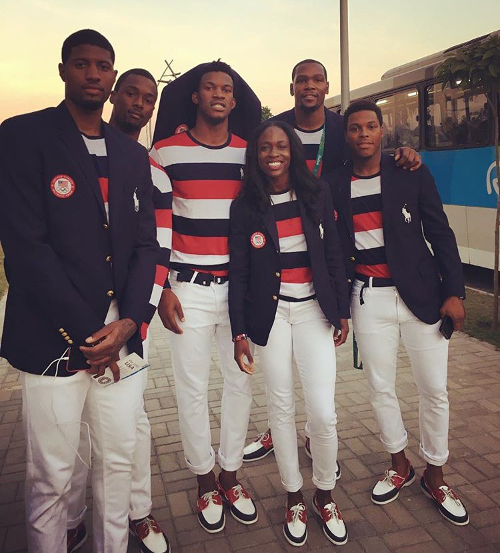 Here's Team USA making their grand entrance: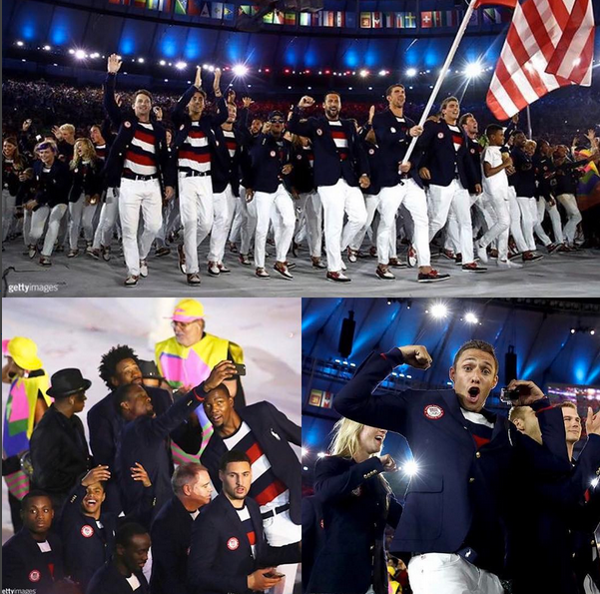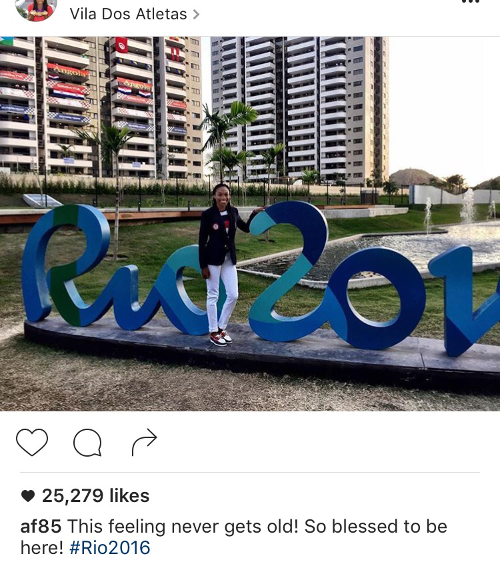 Track and field Olympian Allyson Felix posed it up in her polo uniform in front of a Rio marquee. She'll hit the track to compete on Monday, August 15th.
Carmelo Anthony just joined SnapChat, so he has been busy cutting up with his teammates behind-the-scenes:
Ha! It's obvious it wasn't too early in the morning for Melo. Y'all know he hates early mornings.
Allyson caught up with Serena, dubbing her G.O.A.T.!
And then we saw him....
Anybody else been googling Tonga all night trying to figure out a few things, mainly how to get there and how quickly it can happen? Yes, GAWDT! The Tonga flag bearer is HOT.
In more serious news,
Serena and her sister Venus Williams sat down with the U.S. tennis squad for a press-conference about the upcoming games a few days ago. But things went left when a South American journalist asked the ladies about the "Black Lives Matter" movement.
Here's how it went down (via Yahoo):
"To Serena, Venus … and Sloane, too – …

Some of you have talked about how important it was to represent (the) USA. But I was wondering with the Black Lives Matter movement and the problems you've having right now in the U.S., do you feel like you're playing for something even bigger than Team USA, that you're representing something more important?"
The question was followed by a long and awkward silence.
"Is this a question for the African-Americans on the team?"

"Yes, well…" was the answer.

Venus Williams then looked over at Madison Keys, whose father is African-American, and asked her:

"Do you want to be included in this Madison, at all, or …?

Then Venus looked at the questioner. In her sternest tone, she said, "I didn't understand the question."

It was repeated, more or less, asking whether the three (four?) African-American players up on stage – fully one third of the American squad – believed that they were representing "an even bigger cause."

Again, Venus took it upon herself to deftly juggle that hot potato. In Canadian Olympic parlance, she owned the podium.

"USA Tennis is here to hopefully medal, and who knows, maybe we could take more than one medal home. So I think that's what we're focused on right now. We can't focus on anything, any movement – especially anything happening in the States," she said. "Right now we're focused on the world community, and how we can build that positivity. So if that includes building positivity in the States, we're all for it."
Good answer Venus!
So, we assume this reporter didn't do ANY research to find out Madison's ethnicity before asking this question. She specifically asked Serena, Venus and Sloane, but failed to address Madison, who is in fact African-American.
Thoughts?
Photos: Serena's IG/Team USA's IG/@therealmccorory/@money23green/@klaythompson