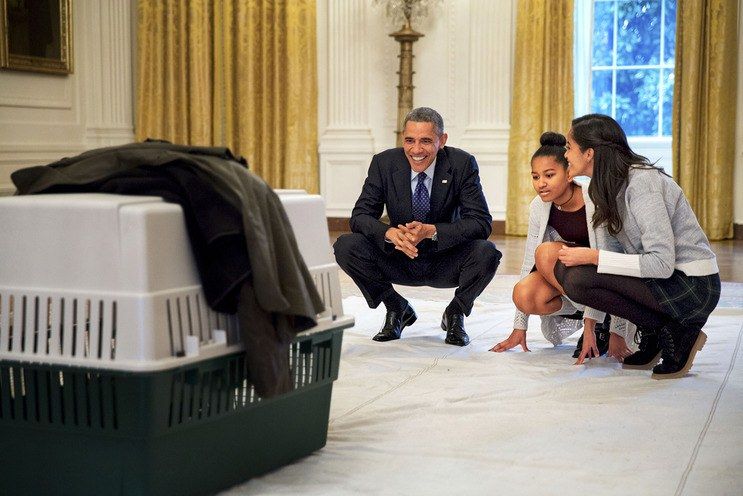 President Obama turned 55-year-old today!  And he celebrated by conducting business as usual.  Get his powerful essay on what feminism looks like, and epic birthday messages from his wife, bestie VP Biden and more...
It's his last birthday inside the White House.  And we're already shedding a tear or two.  Ugh!
President Barack Obama may be older and tad bit more grey, but he's still the ultimate leader of the new political cool.  And one thing hes been extremely vulnerable about during his Presidency is how much the women in his life -- his wife, daughters and mother-in-law -- mean to him Being surrounded by
ALL women indeed will have an effect on man.  A good effect.
America's dad-in-chief penned an essay for Glamour.com where he gave a candid and personal take on his journey to becoming a feminist himself.  He challenged all men to step up to the plate, because "when everybody is equal, we are all more free."
Here's five quotes from his essay that made us love Mr. President even more:
1. "Gone are the days when you needed a husband to get a credit card. In fact, more women than ever, married or single, are financially independent."
2. "One of my heroines is Congresswoman Shirley Chisholm, who was the first African American to run for a major party's presidential nomination. She once said, "The emotional, sexual, and psychological stereotyping of females begins when the doctor says, 'It's a girl.' " We know that these stereotypes affect how girls see themselves starting at a very young age, making them feel that if they don't look or act a certain way, they are somehow less worthy. In fact, gender stereotypes affect all of us, regardless of our gender, gender identity, or sexual orientation."
3. "Michelle and I have raised our daughters to speak up when they see a double standard or feel unfairly judged based on their gender or race—or when they notice that happening to someone else. It's important for them to see role models out in the world who climb to the highest levels of whatever field they choose."
4.  "And yes, it's important that [Sasha and Malia's] dad is a feminist, because now that's what they expect of all men....It is absolutely men's responsibility to fight sexism too. And as spouses and partners and boyfriends, we need to work hard and be deliberate about creating truly equal relationships.
5.  "Now, the most important people in my life have always been women. I was raised by a single mom, who spent much of her career working to empower women in developing countries. I watched as my grandmother, who helped raise me, worked her way up at a bank only to hit a glass ceiling. I've seen how Michelle has balanced the demands of a busy career and raising a family. Like many working mothers, she worried about the expectations and judgments of how she should handle the trade-offs, knowing that few people would question my choices. And the reality was that when our girls were young, I was often away from home serving in the state legislature, while also juggling my teaching responsibilities as a law professor. I can look back now and see that, while I helped out, it was usually on my schedule and on my terms. The burden disproportionately and unfairly fell on Michelle. So I'd like to think that I've been pretty aware of the unique challenges women face—it's what has shaped my own feminism. But I also have to admit that when you're the father of two daughters, you become even more aware of how gender stereotypes pervade our society. You see the subtle and not-so-subtle social cues transmitted through culture. You feel the enormous pressure girls are under to look and behave and even think a certain way. And those same stereotypes affected my own consciousness as a young man. Growing up without a dad, I spent a lot of time trying to figure out who I was, how the world perceived me, and what kind of man I wanted to be. It's easy to absorb all kinds of messages from society about masculinity and come to believe that there's a right way and a wrong way to be a man. But as I got older, I realized that my ideas about being a tough guy or cool guy just weren't me. They were a manifestation of my youth and insecurity. Life became a lot easier when I simply started being myself."
Check out the full essay over at Glamour.
And here's a few bithday tweets from his faves:
55 years young and that smile still gets me every single day. Happy birthday, Barack. I love you. -mo pic.twitter.com/RbrZ7YTyc8

— The First Lady (@FLOTUS) August 4, 2016
Happy 55th, Barack! A brother to me, a best friend forever. pic.twitter.com/uNsxouTKOO

— Vice President Biden (@VP) August 4, 2016
Happy birthday, @POTUS. pic.twitter.com/5u1HAPnDI9

— Hillary Clinton (@HillaryClinton) August 4, 2016
Happy Birthday, @POTUS! I would've sent real balloons, but we used them all last week. pic.twitter.com/D57ZzSPblX

— Bill Clinton (@billclinton) August 4, 2016
BONUS:
This week, @POTUS commuted the sentences of 214 Americans. Here's why he's taking action on #CriminalJusticeReform: https://t.co/bZgWTG5k5e

— The White House (@WhiteHouse) August 4, 2016
Photo: Pete Souza for The WHite House