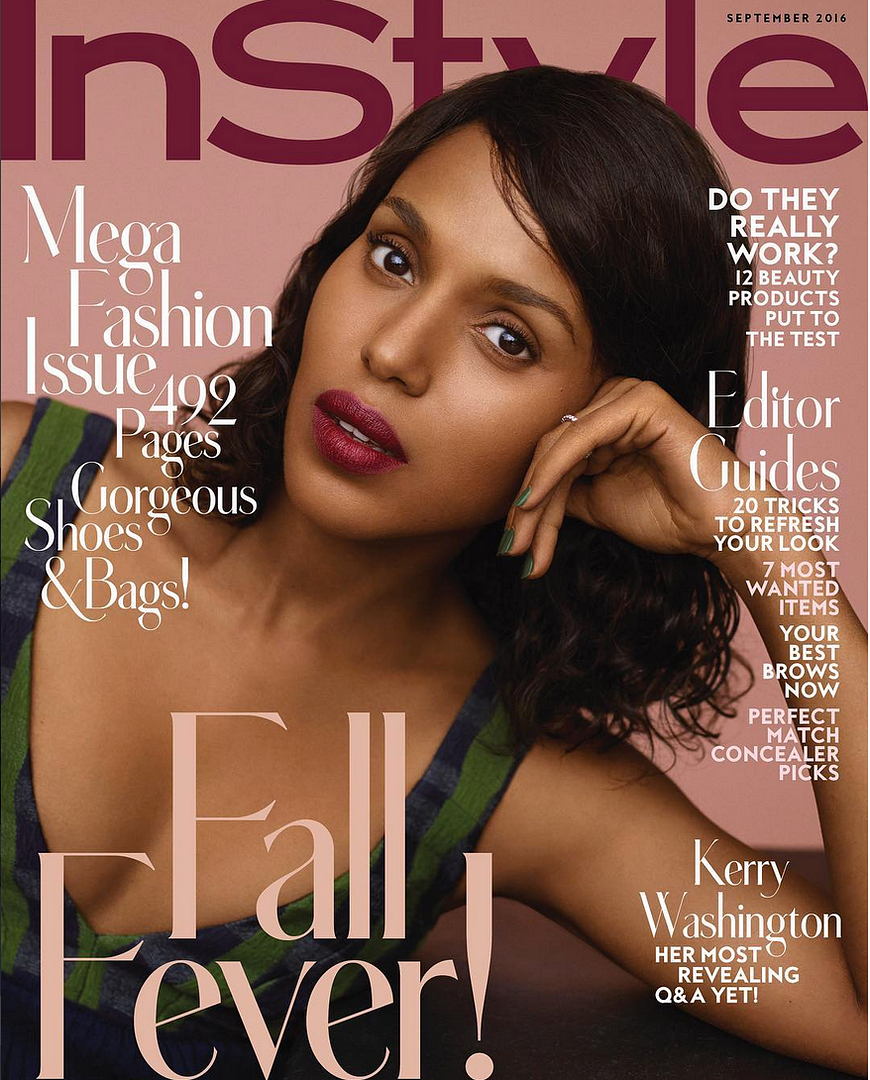 Kerry Washington nabbed the September 2016 cover of InStyle.  Now we get to learn why the "Scandal" queen took that social media hiatus, parenting tips she's learning from her boss Shonda Rhimes, and the beauty secrets we can afford that she uses to slay every red carpet she's on...even while pregnant.
39-Year-Old Kerry Washington is having one of her best years ever.  The Neutrogena Creative Director has her hands in ALL the pots -- from producing and starring in an Emmy nominated HBO biopic to give the world a different view of a berated black woman ("Confirmation"), to starring on ABC's flagship show ("Scandal"), to having titles like said Creative Director and Spokeswoman at major brands (like Movado) to being a wife and mom through it all.
Chick still never misses a beat and a slay on a red carpet.  And we need all the secrets.  The brilliant and beautiful (and unapologetically outspoken and real) actress is dishing about everything going on in the world today, and inside her personal world when it comes to inner peace. She sounds experienced, tried and tested, and inspiringly sure of herself.
Oh, can we talk about these gorgeous pics, shot by Thomas Whitside, from her InStyle cover spread?!  She's expecting her second child, and she's glowing all over the place:
She's rocking Victoria Beckham for the cover, and a Celine sweater above.
Naturally gorge.
Here's a few things we learned from Kerry's cover story about her struggle for inner peace and exuding optimism that had us taking notes:
She gets FOMO thanks to social media (Celebs are just like us!), and she recently had the willpower to cut that ish out for a bit with a hiatus (she's since returned).  "I started to feel overwhelmed, like there was too much noise.  I felt like I had to get back to who Kerry really is....That thing that happens in social media where you're comparing your day or your life or your food or your mood or your kids to somebody else's.  I felt like I needed to create a little more stillness around me."
Pregnancy is liberating for her."There's something about pregnancy," she says, "that willingness to take up more space in the world—that is liberating."

She's taking parenting notes from Shonda Rhimes.  "I consider myself busy," Washington says, "but [Scandal creator and writer] Shonda [Rhimes] has about four of five shows, three kids... She says, 'If you feel like you have just the right amount of help, then you don't have enough.' My therapist said this too. You need a lot of support. Not just logistically but emotionally and spiritually."
She leans in. "I feel like there is a misconception of this catty, competitiveness between women," says Washington, who recently took part in Sheryl Sandberg's campaign urging women to help each other in the workplace. "That has not been my experience, particularly in Shondaland. My mother is one of seven kids…so I have a lot of strong women in my family, and I have supportive, beautiful relationships with all of them." She's also a grad of N.Y.C's prestigious all-girls Spence School, so she's "always believed in the collective power of women." "Being the one woman in the room should not be seen as a victory," she says. "If there's only one of us in the room, we're still a token; we don't actually have an empowered voice. If there's two of us, we're still a minority. If there's three… then we're allowed to have a multiplicity of opinions."
She doesn't want to live in a color-blind world. "I don't want to not be African," she says. "The goal is to live in a world where my race doesn't limit my access, where I can see myself represented in the highest level of society without any limitation."
She feels positive about social change."I choose to feel optimistic, because I don't think I could get out of bed if I didn't," she shares. [Yeah, we started clapping with fervor after reading that!]  "The key will be when we stop allowing our otherness to separate us. Whether it's immigrant's rights, women's rights, civil rights, or LGBT rights, we're all under attack, because none of us belongs to that small group who have held power for a very long time."
She takes time for quiet reflection."You arrive at a certain place of achieving and suddenly you feel like your goals are being dictated by other people," she says. "Right now, as I get ready for this second baby, it's really about me being in touch with what I want. I didn't get here because I was trying to be what somebody else wanted me to be… So for now, I'm leaving myself open to the adventure."
Check out all the fabulosity behind the scenes of Kerry's cover shoot in the video below:
By the way, if you're jealous of that flawless beauty the Bronx-born babe flaunts on red carpets, so are we. Thankfully, she dished on what it takes to get all that for ourselves...in an affordable way:
"I attribute some of my skin to makeup. I attribute some of it to diet and to water intake especially, and to sleep," the 39-year-old tells us in the video above. "I think wearing sunblock is so important... Sunblock is something I am almost religious about." Plus, the Scandal star is all about healthy skin habits. "I never go to bed without washing my face and I always moisturize."
And her secret to her style while pregnant....is big hair.  Of course.  Check it:
Kerrys September issue of InStyle is on newsstands and available for digital download Friday, August 12.
Photos: Instyle