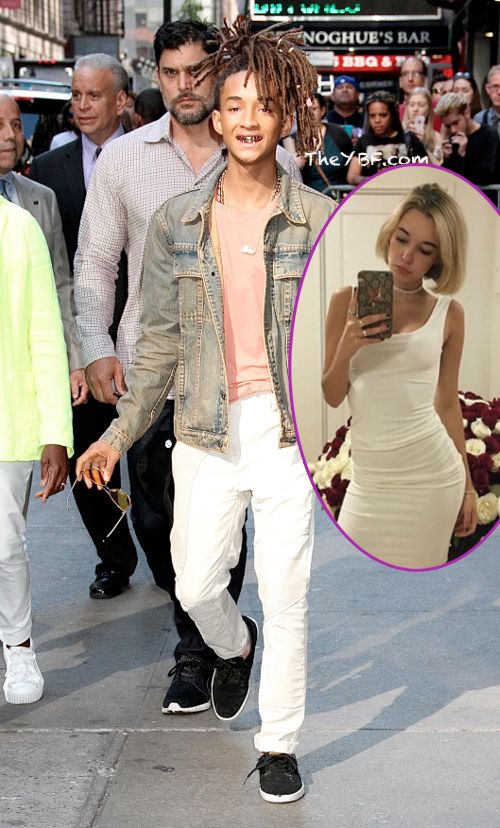 Jaden Smith is all smiles while making media appearances in NYC. But is his relationship with girlfriend Sarah Snyder on the rocks? Get the latest, plus peep new pics of Kyrie Irving and Kehlani's reunion inside….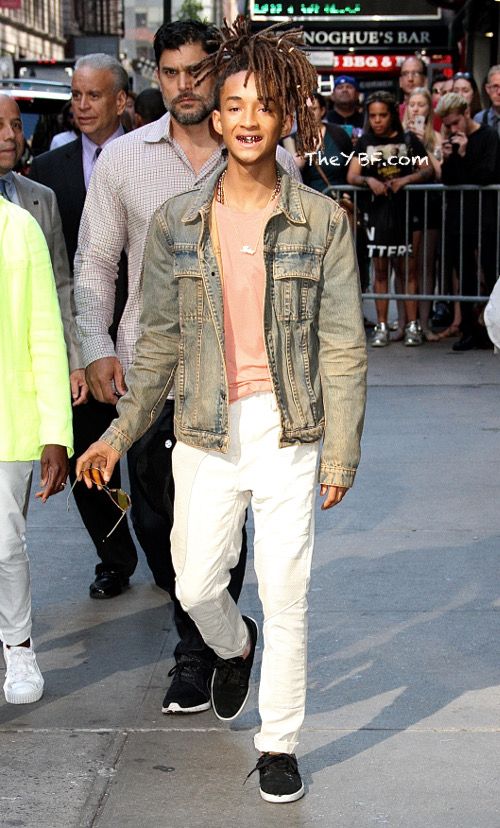 Jaden Smith (and his new grill) is currently on the promo trail to chat it up about his upcoming Netflix original series "The Get Down." The show will follow a group of teens from the 70s that live in the Bronx as Hip Hop begins to emerge on the scene.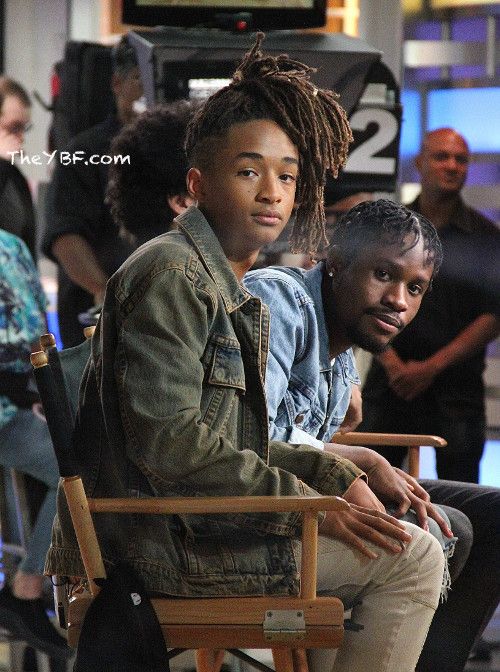 His co-stars Shameik Moore and Justice Smith joined the 18-year-old for an appearance on "Good Morning America" to chat it up with co-anchor Robin Roberts about the new Hip Hop series.The trio talked about how they had to go through bootcamp with rap legend Kurtis Blow, DJ pioneer Grandmaster Flash and more.
Peep their joint interview below:
They closed out their segment with a DAB:
Now this is how you end a segment!!@officialjaden@JusticetheSmith@shameikmoore@RobinRoberts
pic.twitter.com/qaRUFUeFfD

— Good Morning America (@GMA) August 3, 2016
Cute.
The Louis Vuitton spokesman also stopped by "The Tonight Show Starring Jimmy Fallon" and planned a Smith-Fallon vacation:
"The Get Down" premieres August 12th.
Meanwhile...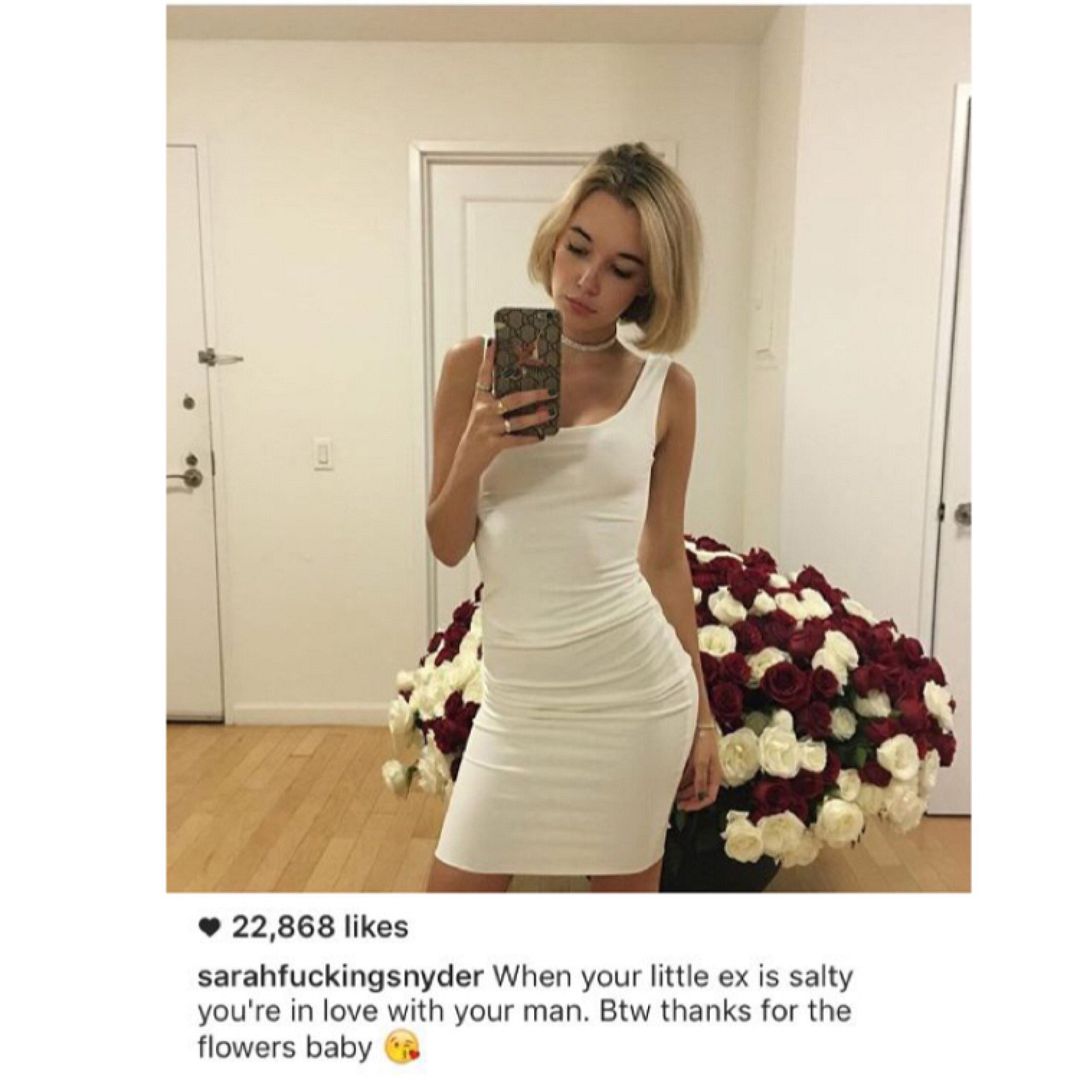 While Jaden did his media interviews yesterday, his name was also in the headlines involving his love life. Apparently, there are rumors that his 21-year-old girlfriend Sarah Snyder cheated on him with her ex!
The rumors started when Sarah's ex-boyfriend, Atlanta photographer Gunner Stahl, posted up a picture laying in bed with Sarah, which he ended up deleting. We hear, he also tagged Jaden's IG handle in the pic. Messy.
Well, Sarah claims he's just jealous of her new man, so she clapped back at him on Instagram, writing, "When you little ex is salty you're in love with your man. Btw thanks for the flowers baby." Hmph. 
A few days ago, Jaden and Sarah were all wrapped up in love at his dad's Suicide Squad NYC premiere. You can peep all of the PDA action here. It appears she posted this IG post on the night she went to the movie premiere as she has on the same white dress.
Then, there are new rumors that say Sarah was in Atlanta last week with Gunner who was shooting Metro Boomin for a magazine cover.
Chile...
In other couplings....
Well look what we have here.
It appears NBA baller Kyrie Irving and R&B singer Kehlani are reuniting (kind of) after calling it quits this past spring.
A camera ready fan caught the former lovebirds together on Friday night in Chicago. Kehlani was there for Lollapalooza and Kyrie was there for a Team USA basketball game.
While in the city, she posted a pic standing in front of downtown:
Spies on the scene say they were all over each other, smiling and hugging through the streets. And if you look closely, it appears she has on the same outfit in the pics as she does in the IG post.
But, it may not be what it seems. A source tells TMZ Sports that Kyrie and Kehlani are NOT back together, and that they're only just friends. At least, for now.
The source told the site, "Things ended badly and they hadn't had an opportunity to see each other ... and they wanted to meet up face to face and make peace."
You'll recall after their break up, Kehlani started getting close with singer PARTYNEXTDOOR. Fans accused Kehlani of cheating and then she attempted suicide. Kyrie did speak out in her defense, revealing they were not together when she was talking to PARTYNEXTDOOR and that he was displeased at the way the Candian singer started all of the controversy.
Hmm…they're just friends…for now. We'll be keeping an eye out.
Photos: Splash/TMZ