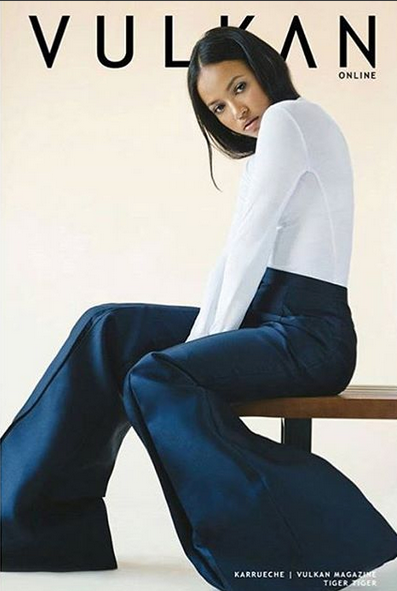 Karrueche is putting in some work! Go inside to see her VULKAN magazine cover and spread and get the deets on her newest TV gig.
Also, check out a new sneak peek at the upcoming film "Hands of Stone" inside...
She's more than just Chris Brown's ex-girlfriend. Karrueche has added model, actress, producer and TV host to her resume. And she's not showing any signs of slowing down.
For her latest feature, the EMMY winner flexes her model skills in the newest issue of VULKAN magazine. Oversized dresses, wide legged trousers and sky high heels- Kae works her magic in front the camera to prove just how much of a model she really is.
For the cover story, the 28-year-old entrepreneur dishes on how she remains humble, her philanthropic efforts, tattoos and what she has coming down the pipeline.
Below are the highlights:
How do you stay grounded despite your fame?

I've always reminded myself to stay humble. I never want to allow any amount of fame or money to change the person that I have been.

Philanthropy is a big part of your life. Can you tell us about some of the causes that are most important to you?

I'm always open to being supportive of different causes. I'm a big believer of giving back, especially to the community. I've done various food/clothing drives in different cities, bringing people together to give back to their community. I think it's important we support one another and give back in whatever way you can, especially when you do it all With Love.

We see that you have quite a few tattoos! What's the total count? Can you tell us the story behind your favorite one(s)?

I have 7 tattoos total. My favorite one is the dragon on my hand. I got it because in Chinese astrology I'm the year of the dragon (year 88). I wanted to get something either on my hand or a full sleeve, and decided to go with the hand. It's a random tattoo and not on a very common place on the body, but I love it.

Have you ever been star-struck? Can you tell us a bit about that experience?

The first time I met Pharrell, I was star struck. It was at a recording studio and it was very brief, but I was at a loss for words.

What do you have planned for the rest of 2016? Any major projects you can tell us about?

I actually just booked an audition today so will most likely be filming that this year. I can't say much but it's a huge life-changing role for me! And KaePop's second collection is coming in August!
Well good for her.
Peep her summery spread below: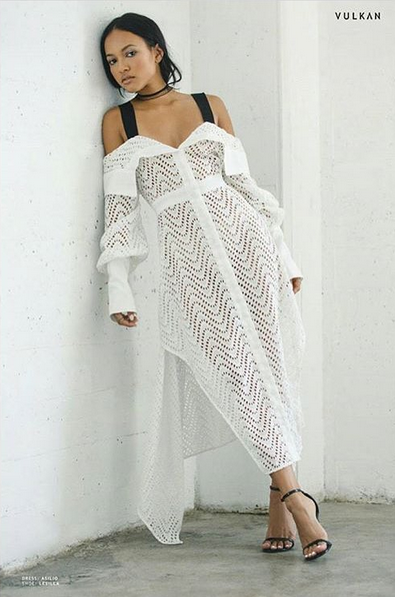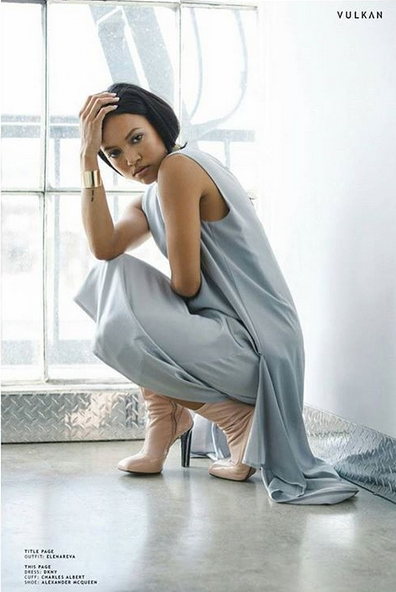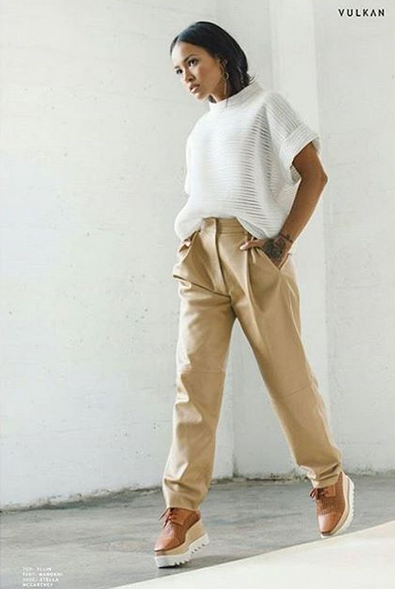 Gorge. 
Along with slaying magazines, she's also nabbing new roles on television.
Kae will be joining Niecy Nash to star in TNT's "Claws" pilot, an hourlong scripted dramedy set in a Southern Florida nail salon, from Rashida Jones and Will McCormack's Le Train Train, according to Deadline. This will be Kae's first regular series role and she's set to star as fiesty manicurist Virginia. Niecy will star as the nail salon owner Desna Simms.
The new pilot will follow the lives of five diverse and treacherous Florida manicurists. It soon becomes clear there is a lot more going on at the Nail Artisan of Manatee County salon than silk wraps and pedicures.
No word on when production starts, but get ready to see Kae on the small screen.
In a new movie preview....
A brand new sneak peek at the upcoming boxer flick Hands of Stone, starring Usher as boxing legend Sugar Ray Leonard has just been released. Hollywood heavy weight Robert De Niro also stars in the film as boxing coach Ray Arcel.
Below is a synopsis (via press release):
Hands of Stone follows the life of Roberto Duran (Edgar Ramirez), the Panamanian fighter who made his professional debut in 1968 as a 16 year‐old and retired in 2002 at the age of 50. In June 1980, he defeated Sugar Ray Leonard (Usher Raymond) to capture the WBC welterweight title, but shocked the boxing world by returning to his corner in their November rematch, famously saying the words "no mas" (no more.) Both Duran and Leonard have a karmic effect on each other's journey. They come of age as only the best opponents can in what many experts consider the biggest rivalry in the history of sports.
The new clip was released exclusively through TIDAL, so peep a quick sneak peek at it below. TIDAL subscribers will be able to see the full vignette.
Hands of Stone hits theaters August 26, 2016. Will you be going to see it?
Photos: Tiger Tiger Studio via VULKAN