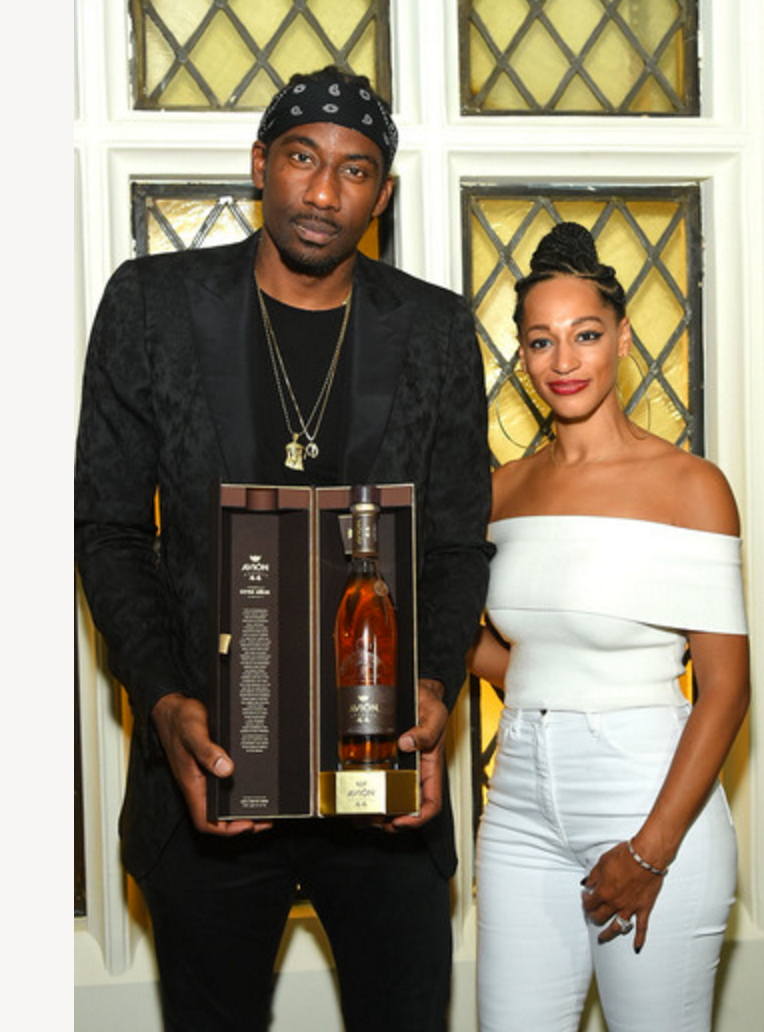 Amar'e Stoudemire has signed up to play ball in Jerusalem, but before he heads overseas, he celebrated his retirement from the NBA. In other sports news, Matt Kemp wrote an open letter about heading to Atlanta....
Last week, Amar'e Stoudemire announced he would be retiring from the NBA after an incredible 14-year career. To celebrate, the NBA baller and his wife Alexis attended his honorary retirement dinner at hotspot, American Cut in NYC, hosted by Haute Time and Avión Reserva 44.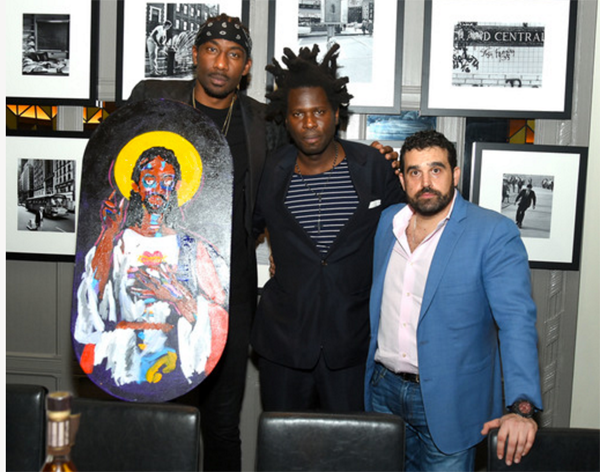 In honor of his legendary career both on and off the field, Amar'e received two special gifts celebrating all of his achievements. Avión Reserva 44 engraved a unique 1 of 1 bottle for Amar'e while, renowned artist Bradley Theodore gifted an original Black Jesus painting to the Amar'e and Alexis Stoudemire Foundation.
As Amar'e hangs up his NBA jersey, he decided to write a passage for The Player's Tribune where he reflected on his NBA career, reminisced about his teammates over the years and announced he will be signing with Hapoel Jerusalem. Below are a few highlights: 
On his time playing in the NBA:

Over 14 seasons in the NBA, I experienced a lot of great basketball. I got to play with my childhood heroes. I helped change the game forever. And I got to feel a lot of love from fans.

That love, that excitement that I felt in New York and Phoenix? Nothing beats it. I'll carry it with me even as I move on to a new stage in my career. I'll always love those cities, how they welcomed me and turned me into the man I am today. Those cities, those people are in my heart forever.

On the 2010 Knicks team:

I swear we single-handedly revived New York's economy. We were rock stars — me and Raymond Felton, Danilo Gallinari, Timofey Mozgov and the rest of the team. Obviously, being celebrities wasn't our job. It was fun, but our No. 1 job was to be great basketball players — to win. Still, you can't beat being a rock star.

On his next step:

I may be retiring from the NBA, but I'm not saying goodbye to basketball just yet. My next step is playing for Hapoel Jerusalem, one of the top teams in Europe. This isn't about collecting a paycheck overseas, though; it's a spiritual journey, too.

The Scripture speaks about Jerusalem as a holy place, and I can feel that whenever I'm in the city. This is a chance for me to be a better husband and a better father, to help me lead my family into righteousness. The opportunity to play there, and grow as a player and person, is a blessing.

As my father used to tell me, "The sky's the limit."

Time to soar.
You can read his full letter here.
In other sports moves...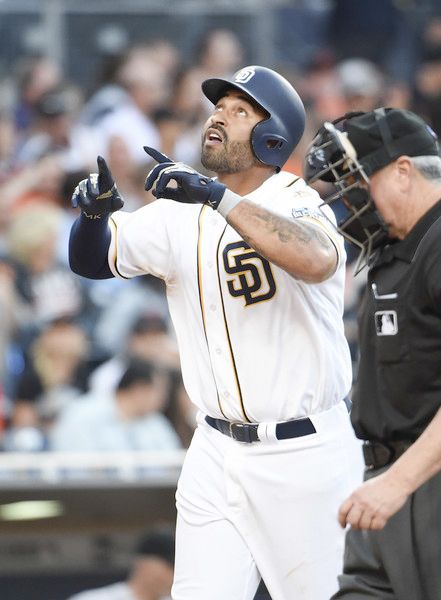 Professional baseball player Matt Kemp has been traded to the Atlanta Braves from the San Diego Padres. And now, he's reflecting on his time with the Padres and being a new player on The Braves.
The outfielder, who once dated Rihanna, talks about being traded to his childhood team, why he'll always call San Diego home and he reflects on his career highs and lows. Below are the highlights:
On being traded to the Braves:

Very few people know this, but as a kid growing up in Oklahoma, I was a huge Atlanta Braves fan. See, I come from humble beginnings, and although me and my mom didn't have a lot of money, I never knew the difference. Our little old TV picked up TBS, which meant I got to watch my Braves, so I was happy. That was my team! I used to rush home from school to finish my homework so I could turn on the TV and watch Chipper Jones, Ron Gant, David Justice, Fred McGriff, Greg Maddux and Jon Smoltz play their hearts out for the Braves.

As a young boy I dreamed of one day suiting up and playing in front of the home crowd in Atlanta. Now, all these years later, I'm going to be able to live out that dream. And I couldn't be more excited.

On his time in San Diego:

While I may no longer be a member of the Padres, San Diego will still be a place I call home, and the city where I plan to start my family. I also want to thank the team's amazing fans. Thank you for welcoming me with open arms, and for being so friendly.

I am truly sorry that I wasn't able to accomplish my main goal as a Padre — to help bring the city its first World Series title. But I genuinely loved playing in San Diego, and I will always have fond memories of those experiences.

On his career and reputation:

After taking some time to reflect on my career, and the ups and downs I've experienced since my MVP-caliber season in 2011, I would be lying if I didn't admit that I had begun to lose some of my love for the game. In so many ways, I got sidetracked from what I loved most about playing the game of baseball — having fun. I let a big contract, the Hollywood lifestyle, injuries and bad relationships tarnish the reputation I had worked so hard to establish. Sadly, I gained a reputation for being selfish, lazy and a bad teammate. While I may not agree with all the criticism I received in the past few years —and while I believe that a lot of it was unmerited — I take full responsibility for my shortcomings. And I promise you, Atlanta: Those days are gone.

The Matt Kemp of old — the kid who was the first at the park and the last to leave, the kid who would take cuts in the cage till has hands bled, the kid who would literally run through a wall for his teammates, the kid who was playing to win … not for a contract — that's the kid who's on his way to Atlanta.
Check out his full letter here.
Photos: Getty Images for Haute Time Magazine /Getty