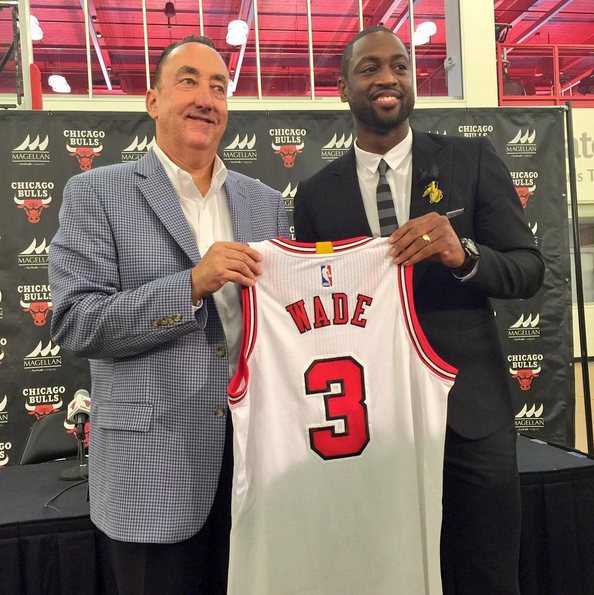 He's home! Dwyane Wade was introduced to the world as a Chicago Bull yesterday. Then, he and his wife Gabrielle Union sat courtside at the Team USA game against Venezuela in Chi-town. Flicks inside….
Back where it all started.
Chicago native Dwyane Wade shocked the NBA world when he decided to leave the Miami Heat after spending his entire 13-year career with the team to join the Chicago Bulls, his favorite childhood team.
Yesterday, the three-time champion and 12-time All-Star was introduced to the media as a new member of the team where he was honored with his new jersey. And he's more than excited to be back home.
During the media conference, the 34-year-old shooting guard expressed his excitement about joining the team saying:
"I'm thankful to be here today. This is one of those moments that is a dream come true. Simply that. I'm a Chicago guy, a Chicago kid. I remember sitting on the floor and watching the Chicago Bulls win their first title. I was 9 years old, watching on an itty bitty TV, and I said, 'That's what I want to do, that's who I want to be.'
He added, "My dream of being an NBA player started here in my hometown. Took a long time to get here, but I'm here."
He also made it clear that he did not come to Chi-town to take over. He said this is still Jimmy Butler's team.
"This is Jimmy's team," Wade said. "Myself and (Rajon) Rondo are here to bring what we bring, as athletes to this team and to this city. He's a young bull on this team. He's a 26-year-old that can play 40 minutes if coach wants him to, and maybe more. I ain't trying to do all that. And we're going to depend on him a lot."
"It won't be a tug and pull whose team it is. We're all playing together. We all have one common goal, and that's to win."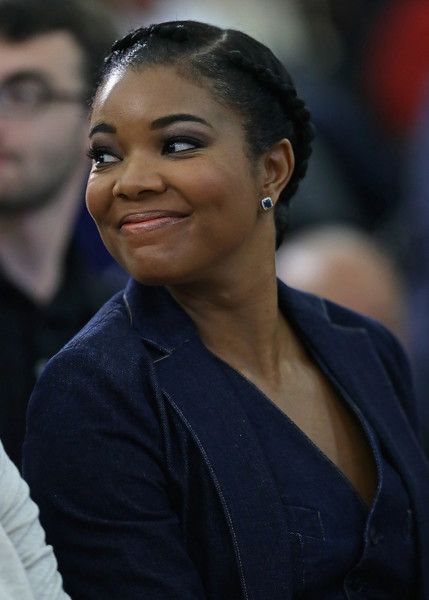 His lovely wife Gabrielle Union, who's rocking new braids, was also in attendance to show her support.
Following the conference, D. Wade posed it up in his new jersey for a photoshoot: 
It was a busy day for Wade as he also stopped by the United Center to check out Team USA battle it out against Venezuela:
During halftime, he hit up the announcing booth to give some commentary on the game and what it's like joining the Bulls. Wade played on Team USA from 2006 - 2008.
He was joined on the sidelines by his wife and his sons:
He's back! @DwyaneWade returns home to the @ChicagoBulls.https://t.co/FQuELEEr54

— NBA (@NBA) July 29, 2016
2008 @DwyaneWade, @itsgabrielleu& fam here to support the #USABMNT in Chicago! pic.twitter.com/0WQ6Jj6I6q

— USA Basketball (@usabasketball) July 30, 2016
By the way, Team USA beat Venezula, 80-45.
After the game, the Wades hit the party scene downtown for some fun:
Love them!
Photos: Getty/NBA's IG & Snap/Bulls' Twitter/Gabby's Snap/D. Wade's Snap