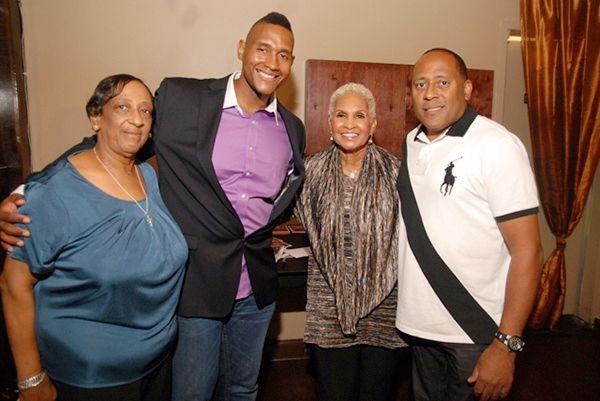 Sweetie Pie's owner Robbie Montgomery is suing her son James T. Norman alleging trademark infringement and theft. Yikes! In other news, a racist white woman was sent a pink slip after attacking First Lady Michelle Obama's look on Twitter. Get all of the details inside….
Maybe Sweetie Pie isn't so sweet. Or she's just serious when it comes to her brand and her money!
Sweetie Pie's owner and reality star Robbie Montgomery is one tough cookie even when it comes to her son.
According to reports, the founder of the St. Louis restaurant is suing her son James T. Norman (who stars on the OWN reality series with his mother), filing paperwork in the Eastern District of Missouri, claiming her son had been misappropriating her accounts and funds maintained in connection with his management of Sweetie Pie's in The Grove, at 4270 Manchester Ave.
It appears James allegedly withdrew "substantial sums of money" from Robbie's accounts and used them to open three Sweetie Pie restaurants; one in North Hollywood, California, one in Berkeley, Missouri and one in Florissant, Missouri. The suit claims James has refused to return the money he withdrew.
That's not all either.
The suit also accuses James of violating Sweetie Pie's trademarks.
The St. Louis Business Journal reports:
"Authorized" Sweetie Pie's locations are located in The Grove and in Dellwood, according to the suit, but TJ's Sweetie Pie's Noho (North Hollywood, California), TJ's Sweetie Pie's Airport (Berkeley) and Sweetie Pie's Kitchen (Florissant) are not authorized. Montgomery's first restaurant, in Dellwood, opened in 1996, and recently reopened. A listed phone number for The Grove restaurant was disconnected Wednesday.

The suit said Norman's misuse of Sweetie Pie's marks, registered with the U.S. Patent and Trademark Office in 2006, impairs Montgomery's ability to operate her restaurants in the St. Louis area and to open any restaurants in the Los Angeles area.

The suit said that because Montgomery and Norman were featured as family members on "Welcome to Sweetie Pie's," an Oprah Winfrey Network reality TV show, there is a further chance of "causing confusion in the market place."

The suit cited negative online reviews for Norman's restaurants as having damaged the perception of Montgomery's.
The suit seeks unspecified damages.
Robbie's best-known location is currently closed, but she operates another Sweetie Pie's location in Dellwood and The Upper Crust in midtown St. Louis.
You can check out all of the paperwork here.
In "when Twitter goes wrong" (or in this case right) news…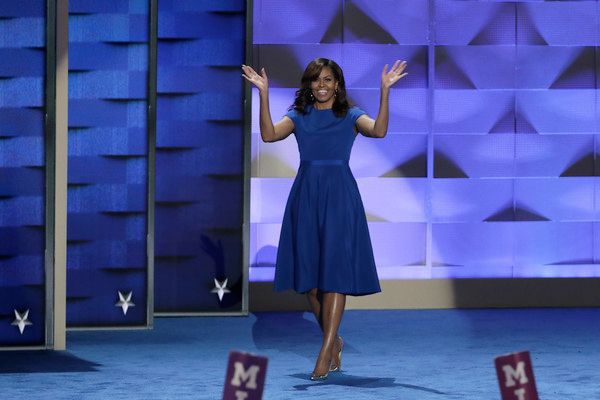 When will people realize when you spew racist and hateful comments on social media it could cost you your job? One white racist woman learned the hard way after she attacked First Lady Michelle Obama's looks after she delivered her DNC speech earlier this week.
Home mortgage loan officer Lisa Greenwood lost her job after tweeting a despicable comment about FLOTUS.
Here's the now deleted tweet: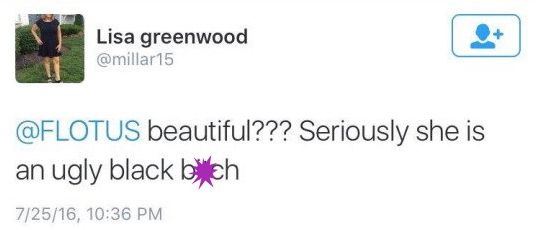 Bishhhhhh where?!  The hate is SO real.
Just another example of racism in 2016 that some people say no longer exists.
Shortly after her tweet, Twitter users started tweeting her employer Home Point Financial to alert them how their employee was behaving on social media. The tweets worked too! A day after she fired off that disrespectful tweet, Home Point Financial FIRED her.
And here's the proof:
See Below for Full Statement: pic.twitter.com/aa8tFXC0av

— Home Point Financial (@HomePointLoans) July 26, 2016
Bloop!
Photos: James Pray/Getty