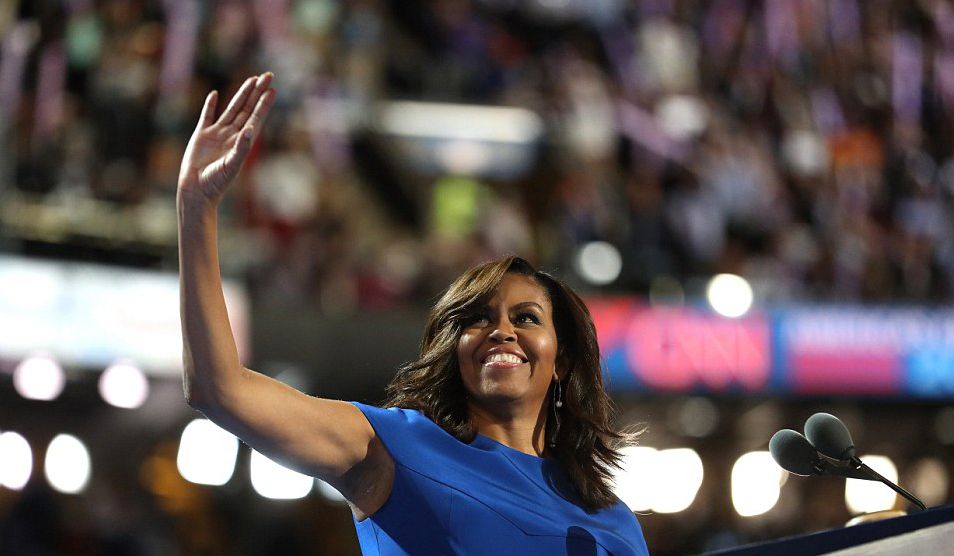 Ughhh!  Could she get any more perfect?  Probably not, so we're going to soak in every last bit of First Lady Michelle Obama's fabness before she exits that FLOTUS position.  Last night, she slayed the DNC witht he perfect speech and even more perfect look.  Get it all inside...
When you have to put on your cape in the form of a royal blue custom Christian Siriano dress and metallic pumps to save the DNC (and this country) from itself....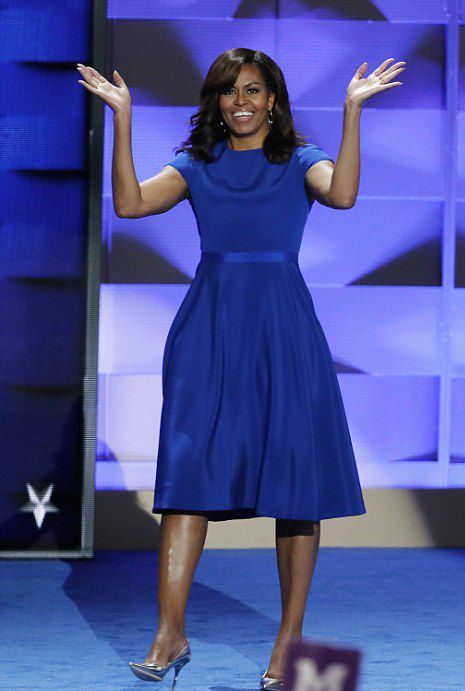 Michelle Obama was picture perfect last night at the first night of the Democratic National Convention at the Wells Fargo Center in Philly.  While the last few days have been a complete circus with the Wikileaks drama spilling all the tea about how DNC chair Debbie Wasserman Schultz and co. really feel about Bernie Sanders, everyone needed a Kumbaya moment.
As Bernie supporters boo'd and protested -- loudly -- all night during the convention, the one time they held off was to watch the flawless First Lady give the most passionate speech of the night.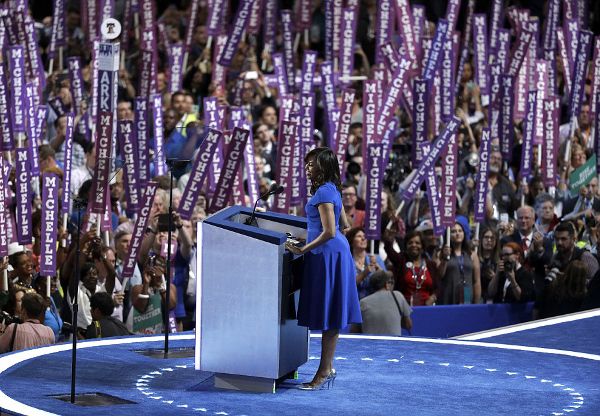 Mrs. O reminded us all that there's no need to MAKE America great again as it already is the greatest country in the world.    She also got emotional while talking about what President Obama did for black Americans' sense of hope and possibility with him winning the election twice, and also what the election of Hillary Clinton will do for women (especially First Daughters Sasha& Malia).
About all the Trump shade, she said "When they go low, we go high."
She reminded folks that the her family is living in a house built by slaves, and how that in itself shows the power of hope, change, and hard work as what those before us do always influence what we believe we can do.
First Lady Michelle made it known she respects Hillary Clinton for her non waivering, never rattled persona that is needed as President.  And, of course, she's with her.
'Someone who understands that the issues a president faces are not black and white and cannot be boiled down to 140 characters,'' she said. 'Because when you have the nuclear codes at your fingertips and the military in your command you can't make snap decisions.' 'You can't have a thin skin or a tendency to lash out,' she added. 'You see, Hillary understands that the President is about one thing and one thing only – it's about leaving something better for our kids,'
Get the First Lady's speech in full below:
President Obama thanked his fab wife giving #MarriageGoals all day with his tweet:
Incredible speech by an incredible woman. Couldn't be more proud & our country has been blessed to have her as FLOTUS. I love you, Michelle.

— President Obama (@POTUS) July 26, 2016
Sweet!
BONUS:
Melania right now. pic.twitter.com/b7zSRA99tN

— Saint Pest (@KidFury) July 26, 2016
Ha!
Photos: AP/Reuters/Getty