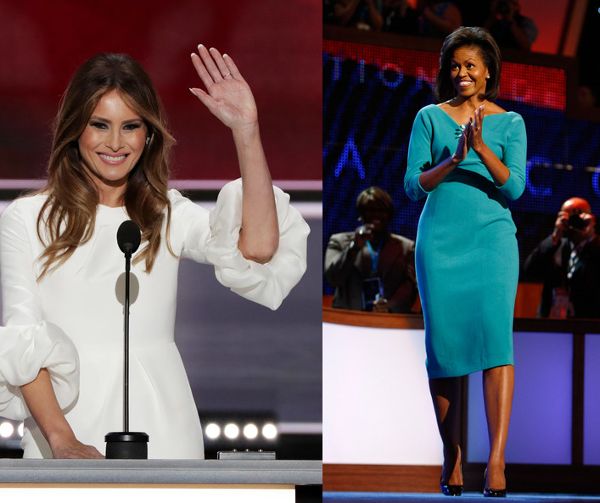 Y'all. Melania Trump apparently thought FLOTUS Michelle Obama's 2008 DNC speech was good, because she basically plagarized it for her RNC speech last night. And the internets are dragging her for filth. Deets inside...
While looking absolutely stunning in a white ensemble by UK designer Roksanda, Melania Trump tried to woo us with all her prettiness to make us not notice she jacked Michelle Obama for her speech. And we also find it interesting she was treated with kid gloves and not questioned by political talking heads or social media about her plans as a First Lady, her own experience and education, etc.  You know, like Michelle Obama was grilled despite being Ivy-league educated twice over....as well as being her husband's supervisor when they met.
But we digress.  A pretty European face apparently makes America forget a lot of things.
Melania's speech sounded eerily similar to FLOTUS Michelle Obama's 2008 DNC speech, right before her husband officially accepted the Presidential nomination.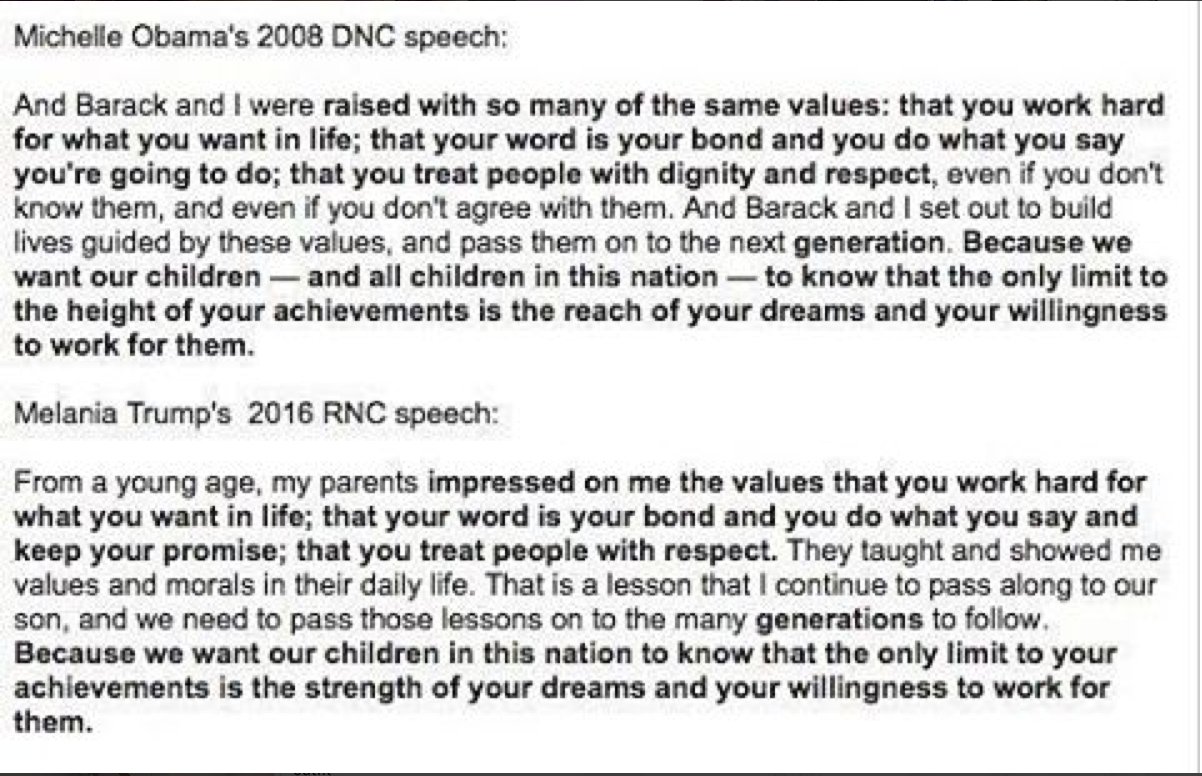 Check out these comparisons, almost word for word:
Some are even making her into the victim saying,"Awww poor Melania.  Fire her writers."
Oh, the writers she claimed last night in an interview she didn't have because she "pretty much wrote the speech herself" according to her?
So what else could she be lying about after she seemingly plagiarized part of her speech?  Her bio on Monday night said she has a degree in Architecture from a University in Slovenia.
Slovenian journalists Bojan Pozar and Igor Omerza wrote in their biography on the former fashion model that she "became ― and remained ― a college dropout" after leaving the University of Ljubljana's architecture school following her freshman year.
In the book, Melania Trump ― The Inside Story: From a Slovenian Communist Village to the White House, it read:


In her freshman year, the 19-year old Melanija Knavs attended lectures on the following subjects: elements of architecture, fine arts, fundamentals of technical mechanics, architectural construction, descriptive geometry, mathematics, and an ideological (read "communist") elective credit called "General Partisan Resistance and Social Self-protection". Melanija would have made it to her sophomore year, even having failed 2 exams, but she was supposed to have gotten and held a 1-month internship and kept a journal about it.

******

Later, in America, after meeting Donald Trump and officially becoming his partner, Melania Knauss told the media that she got her degree in architecture and design. This was almost certainly done in consultation with Trump and his advisors, as they were desperate to give off the impression that the Slovenian model was not just beautiful, but also smart and well-educated.
Trump's campaign refused to comment when asked. 
Donald Trump and co. did respond, of course, about the plagarism accusations.  They called then unfounded and false. And said Melania simply used "common words." Oh?
Anyways, the internet trolling of Melania went something like this:
"Here is a photo of my family and I at home" #FamousMelaniaTrumpQuotespic.twitter.com/hfPqBubt3u

— Brian Altano (@agentbizzle) July 19, 2016
Girl, you know it's true! #FamousMelaniaTrumpQuotespic.twitter.com/WUxBXhTQO9

— April (@ReignOfApril) July 19, 2016
"BEEP! BEEP! Who got da keys to da jeep? VROOOM!"#FamousMelaniaTrumpQuotes#MelaniaTrumpFamousQuotespic.twitter.com/vWexiSuCFR

— Aamon R. Miller (@aamon17) July 19, 2016
"My daddy, Alabama. Mama, Lousiana. You mix that Negro with that Creole get a Texas Bama." #FamousMelaniaTrumpQuotes

— Imani Gandy (@AngryBlackLady) July 19, 2016
Girl, you know it's true! #FamousMelaniaTrumpQuotespic.twitter.com/WUxBXhTQO9

—


"I'm poor, black, I might even be ugly, but dear God, I'm here. I'm here." #FamousMelaniaTrumpQuotes

— Lazer Gun Carrier (@branfire) July 19, 2016

Which one of you did this?! #FamousMelaniaTrumpQuotespic.twitter.com/JhxYFXIFdk

— Ms. Berry, Ms. Berry (@JamelleMyBelle) July 19, 2016
EXTRAS:
1. Tamron Hall had to pop clean off on live TV on Scott Baio for his nonstop sexist and racist comments.  And the people in the backgound cheering on his disgusting comments about Michelle Obama.... STORY