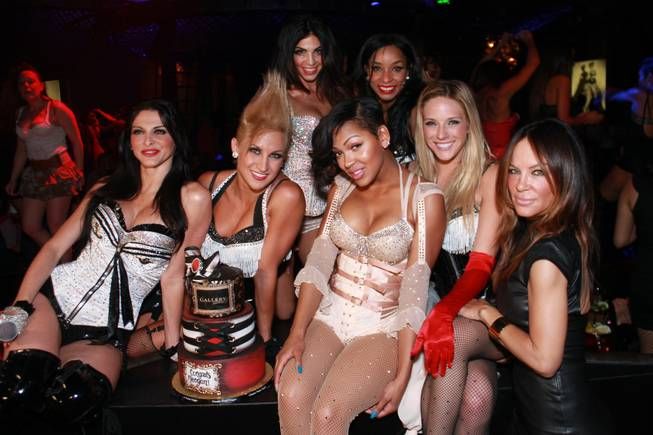 Meagan Good's recent performance as a Pussycat Doll has apparently stirred a pot-o-drama. After THESE PICS surfaced from this weekend's sexy burlesque performance in Vegas (which her mother and future mother-in-law attended), folks had something to say.  Mainly because the 30-year-old actress often touts herself as a bible beating Christian (which is OK).  But many get confused by her overtly sexy images she often portrays for her job--on tv, film, and now, a burlesque show.
Check out her response to the critics inside...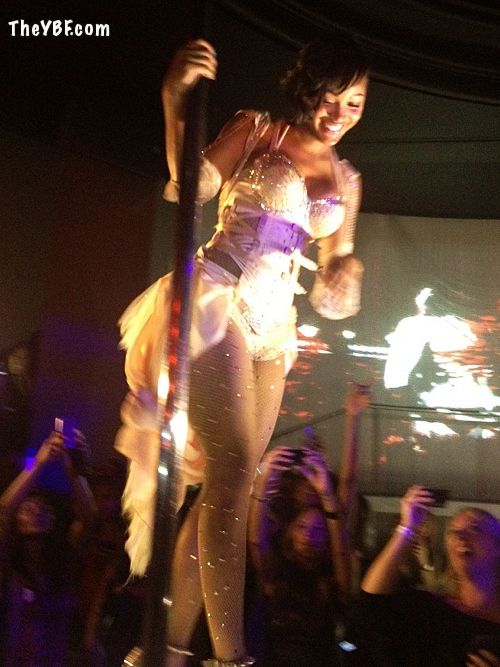 Meagan told the Las Vegas Sun before her show that her fiance', Seventh Day Adventist preacher & Sony Exec DeVon Franklin, wasn't feeling it.  But, while he wouldn't be in attendance, he did concede for her to perform since she would be the "overdressed" Pussycat Doll.  Oh.
"I'm actually not going to undress. I'm going to be a Pussycat Doll, the overly dressed Pussycat Doll. I am only going to be doing some burlesque dancing, but I won't be doing any stripping of clothes. Las Vegas will just see a little bit!

"I am going to wear the feathers and furs, but I am definitely not going to have my bottom or tummy hanging out. I will look sexy, and my clothes will be fitting, but I won't be having any of my prized possessions hanging out. There will be a corset, stockings and high heels. His mother will absolutely report!

"He is not ecstatic about it, but it's a bachelorette party. It's the last time before I'm a married woman, and he understands that. He wants me to have fun and be happy and do the things that I want to do on my bucket list and not let people's opinions of what I should and shouldn't be doing control how we live our lives.
Meagan then took to her Twitter, once folks saw the images, and said:
Let's get something straight ... I wasn't half naked last night ... I was actually very covered up, not showing anymore than I show when I dress up to go to events ...and let's get something else straight .. I'm [an] actress ...there will be many things narrow minded people deem unholy or not 1st lady like ... But this is not so..it's about your relationship with God and your personal convictions ...if you see footage you will see I was covered up having fun dancing and enjoying myself with my friends and family and absolutely not doing a striptease ...smh people are ridiculous .. Can't a [girl] enjoy her bachelorette party in peace
Here's two videos of footage from her performance:
Entertainment Weekly also did an article, which Meagan tweeted out, asking whether overtly sexy images like Meagan's burlesque performance were too hot for Christianity.  Meagan's response--"Hmm, interesting."
So, we have a few questions:
Does it count as "just acting" if she's not on a tv/movie screen and she's not a professional dancer?  Does it matter that she was dancing on a pole--whether she removed clothes or not? Does it matter that she's technically "covered up"...if it's still mostly sheer and putting her breasticles on display (which is fine--but we're talking about does this work for a certain community or example you say you are setting)?  Do we really care or just care because Meagan touts herself as an example to Christians everywhere?  Should she use more discernment in choosing movie/tv roles as well, now that she is about to become a "First Lady"?
Speak on it.