Celebs took to social media to react to LeBron James and the Cleveland Cavaliers winning the 2016 NBA Championship. Find out how Rihanna trolled Steph Curry, Dennis Rodman throwing some shade and more inside…
While several celebs jetted to the Oracle Arena to check out Game 7 of the 2016 NBA Championship, many more were at home watching on the big screen. ABC scored a ratings record with early estimates putting the game at 18.9 in overnight ratings. The NBA match up was the highest rated sports telecast on ABC in decade and the top score from an NBA broadcast for ABC.
Rihanna is currently half way around the world, but she made sure to check back in on what's going on in the States. If you didn't know RiRi was a huge LeBron fan, you know now.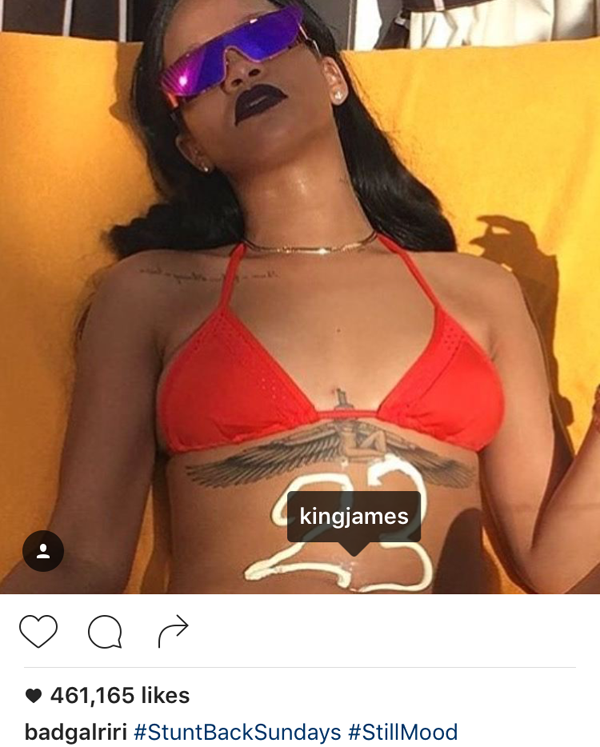 The "Work" singer was all about No. 23 after the Cavs clenched the NBA Title last night. In fact, she even came after Golden State Warriors baller Steph Curry in a series of Instagram posts: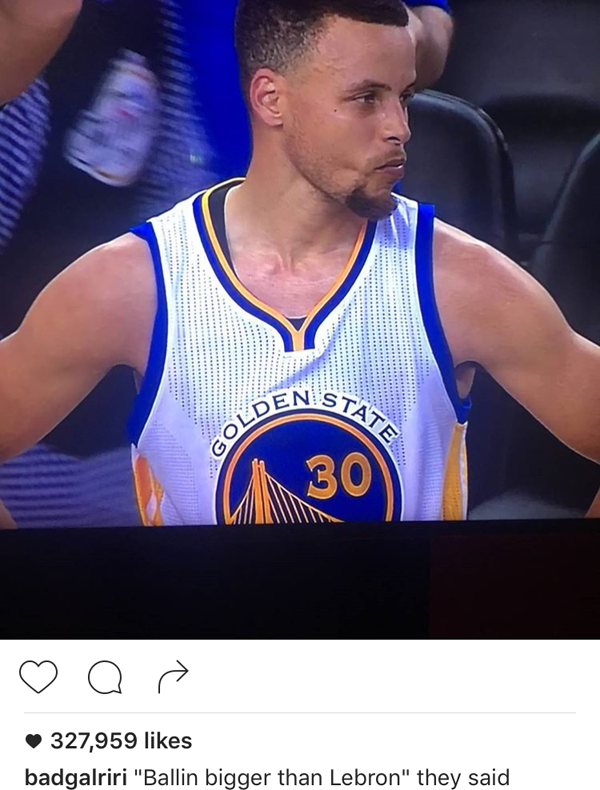 Damn Rih!
It's clear she was super excited about the win.  And yes, there's actually a debate on social media about whether her social media stanning (the way she did it) was...appropriate...seeing that she knows LeBron and his wife Savannah personally.
In tour news, the Pop princess will hit the stage at the Aviva Stadium in Dublin tomorrow night (June 21st).
Retired NBA baller Dennis Rodman sent out a congratulatory tweet, with a touch of shade thrown. He said:
Petty or nah?
The last time the Cavs won a NBA title was 52 years ago. The last person to bring that championship to Cleveland (in 1964) out of all 4 major sports was NFL Hall of Famer Jim Brown and he was uber excited about it:
Several other celebs - including Kevin Hart, Kobe Bryant, Ayesha Curry, President Barack Obama, Dwyane Wade, Gabrielle Union, Magic Johnson, Shaq, Chris Bosh and Lil Wayne - hit up Twitter to show love to LeBron and the Cavs on their epic win. Peep their tweets below: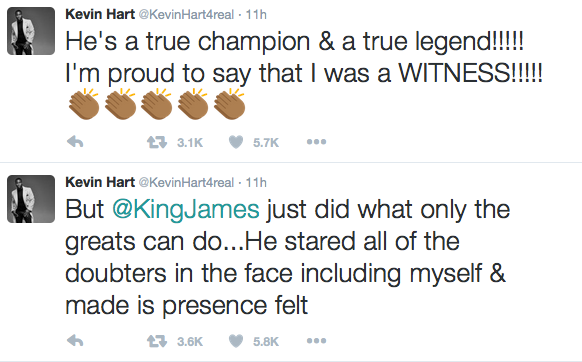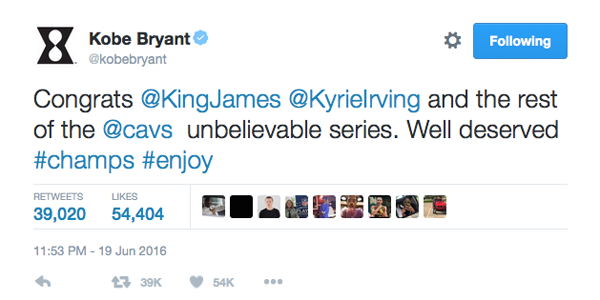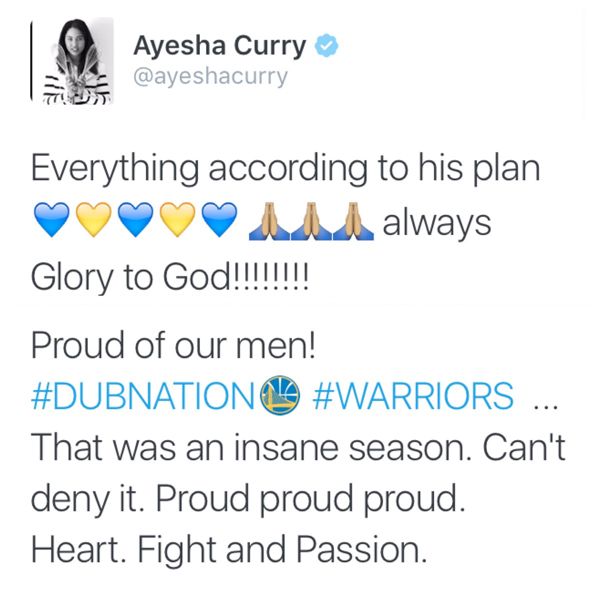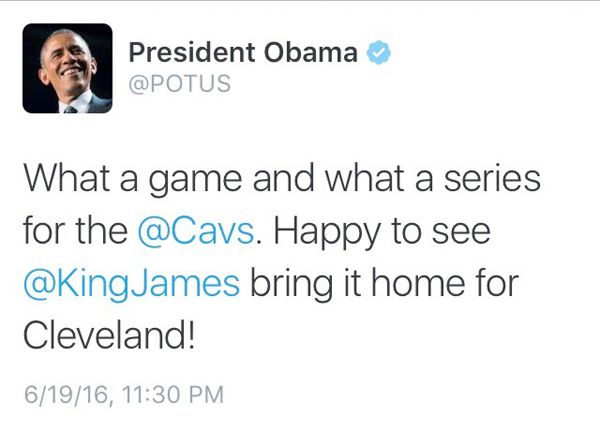 And POTUS made sure he wasn't going to miss one minute of the game. He stayed aboard Air Force One for an extra 10 minutes after landing from his Father's Day weekend vacay just to catch the end of the NBA Championship game:
WH confirms Pres Obama stayed aboard Air Force One 10 mins after landing to watch end of the NBA Championship Game. pic.twitter.com/Nq8MX9nZtn

— Mark Knoller (@markknoller) June 20, 2016
Ha!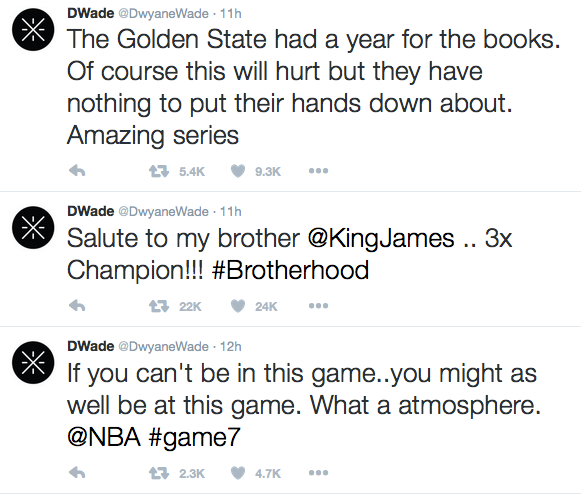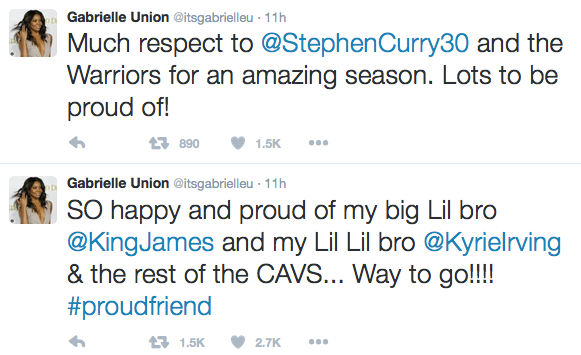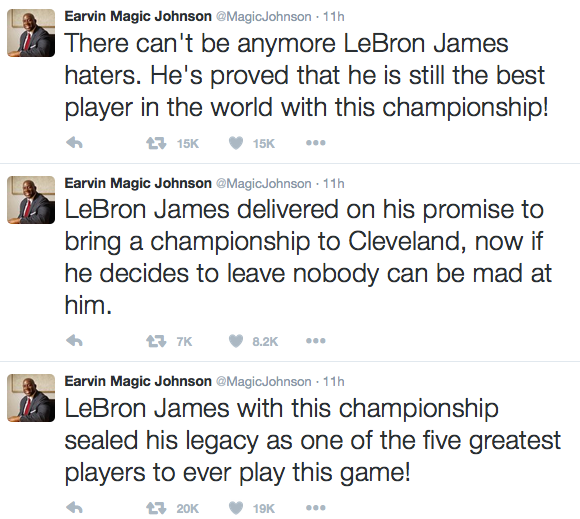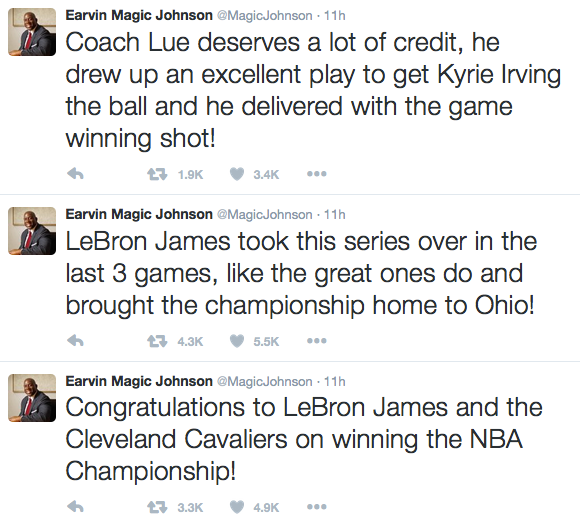 Lordt.
Ohio folks Steve Harvey (he moved there as a young boy), Yvette Nicole Brown and Arsenio Hall were over the moon that their home team brought home the NBA Title: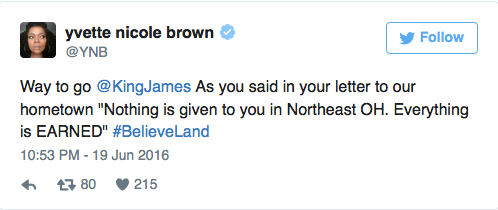 And Giants baller Odell Beckham Jr. saluted the champs too: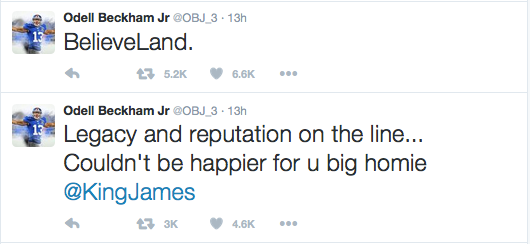 Nice!
Photos: Instagram/Twitter