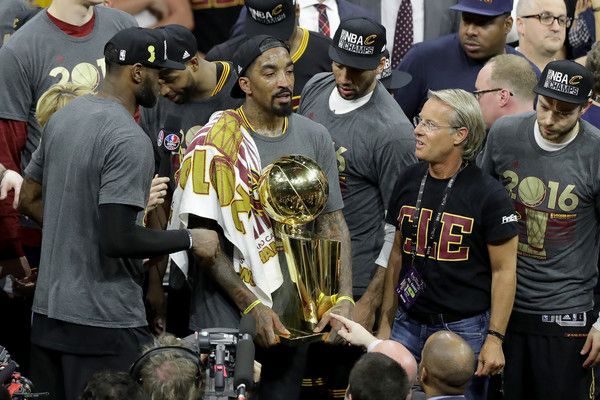 J.R. Smith's post-game interview is one for the books.  Grab your tissues and watch him get real about losing hope in his career and how his father helped him gain it back...
J.R. Smith's name was once synonymous with 'bad boy' in the NBA.  But he's seemed to grow up over the last couple of years.  After getting into plenty of trouble on and off the court while playing for the Knicks a few years ago, he's now matured into a husband, father and now a champ who helped the Cavs go hard in the paint this series.
With tears welling up in his eyes and his father watching on, J.R. talked about how much he thought about winning a championship during his post game press conference Sunday night:
"I thought about it a lot honestly. But the more my career went on, it kind of dwindled. It was more about playing the game. But i've been playing this game since I was 3-years-old.

That's one of the reasons why this game is so special to me and today is so special to me. It's on Father's Day. My dad put the ball in my crib."
He broke down into inconsolable tears.  Then gave one of the realest, emotion driven statements we've ever heard from a player:
"My parents, my family, they're the biggest inspiration in my life. I been in a lot of dark spots in my life. I it wasn't for them I wouldn't be able to get out of it. But they are who they are. They fought with me, yelled at me, screamed at me...they always stuck by my side no matter if I was right or wrong. I know a lot of people don't have their parents in their life. But I have the best two you could ask for, I swear. It's 6 of us. And they didn't treat any of us different. They treated us all the same. I just want to be like them when I grow up."
He continued:
"My dad is easily one of my biggest inspirations to play this game. To hear people talk bad about me it hurts me because I know it hurts him and that's not who I am. And I know he raised better and I know I want to do better. Everything I do is for my parents and my family. The cars are nice, the houses are nice. but none of it matters without them. If it wasn't for them I wouldn't be here. I don't know where I would be, honestly. If it wasn't for them and the structure and backbone that I have, I wouldn't be able to keep coming back and sit in front of you as the world champion."
See his whole post-game interview, and that tearjerker of a hug with his dad, below:
EXTRAS:
1.  After Sunday night's win, Richard Jefferson says he'll likely retire.  STORY
Photo: Getty