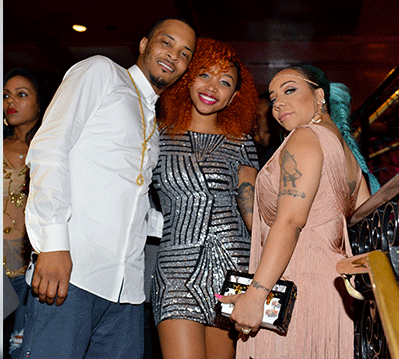 Aww damn.  T.I.'s stepdaughter and Tiny's daughter Zonnique got arrested Thursday night on a weapons charge.  Details inside...
Apparently, her stepdad didn't warn her about what happens when you bring your gun to a place you're not supposed to.  Zonnique Pullins, Tameka "Tiny" Harris' 20-year-old daughter, got caught trying to carry a weapon or long gun through security at Hartsfield-Jackson International Airport in Atlanta.
She was arrested on the scene, charged with carrying a gun, then released a few hours later.
CBS News reports:
A source tells CBS46 News Investigative Reporter Karyn Greer exclusively that Pullins, 20, was transported to Clayton County Jail for trying to carry a gun through airport security.
Records indicate Pullins was charged around 10 p.m. Thursday and released later at 2:09 a.m. on Friday.
T.I. has remained mum on it all, and was busy in Chicago last night at WGCI's Summer Jam:
Tiny nor Zonnique have yet to comment yet either.
Photo by Prince Williams/WireImage