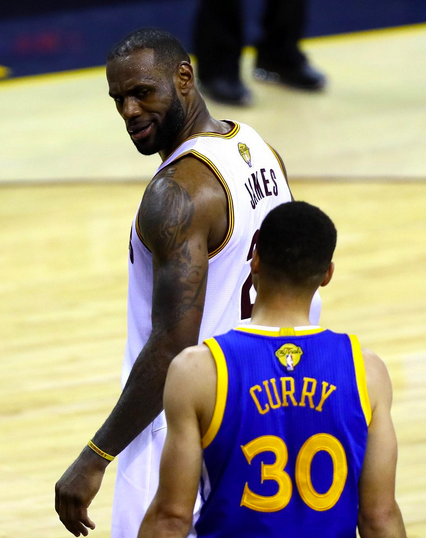 Ayesha Curry just showed what happens when kitchen fingers turn into Twitter fingers. Get the latest inside on her going OFF on the NBA after Game 6 while supporting her man Steph Curry, and why Twitter flipped out and dragged her in return....
Ayesha Curry ain't having it!  The budding chef and domestic diva had a case of twitter fingers Thursday night right after her husband Steph Curry got EJECTED for the first time in his career! 
Refs called a few arguably bogus fouls on the MVP starting early on, and when he fouled out (something he hasn't done in several years) with a few minutes left in the 4th quarter, then uncharacteristically lost it by throwing his mouthpiece and cursing everybody out, he was ejected.  Ayesha went berserk.  She opened up her Twitter app and slammed the NBA calling it rigged:
Despite saying she wouldn't be silent, she deleted the tweet minutes later. 
Riley & Ryan's mama then explained she had a really rough day in Cleveland (again) due to mistreatment of her family by Cavs fans.  Even some racial profiling issues: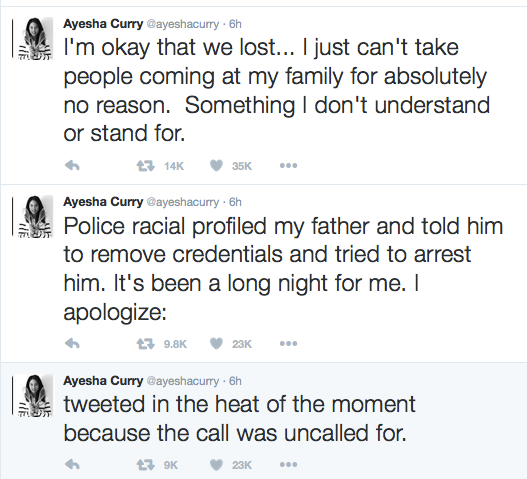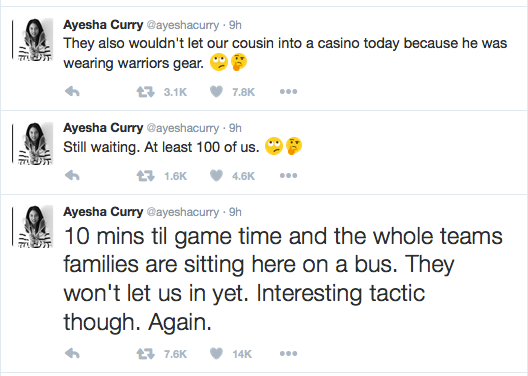 There's been all kinds of talk floating around about the NBA setting up this 2016 Finals series to have a Game 7, no matter what.  Seven games means more money, more viewers, more everything.  When the Golden State Warriors appeared to be dominating the series early on, some wind was taken out when their star player Draymond Green was suspended for Game 5 after a flagrant foul ruling, something that hasn't happened really ever (possibly once) in NBA Finals history.
When Draymond returned in Game 6, some folks think the refs' calls were one sided in order to give the Cavs a better chance at extending the series.  And that, they did.
During last night's game, Steph had two fouls before the end of the first quarter.  That's something else that rarely happens and caused him to be taken out the game earlier than usual. 
When he got his 6th foul, dude uncharacteristically lost it.  He threw his mouthpiece (and apologized tot he fan he hit) which got him a technical and an ejection, something else that rarely happens on 1 Technical. He was clearly frustrated with what he likely perceived to be an NBA vs. Warriors situation.  Not to mention, many folks believe LeBron is still getting away with doing whatever he wants while not getting called for it.  That includes severe trash talk that others get techs for.
Here's video of what happened:
If you're having trouble viewing, click HERE.
Check out Ayesha Curry and the rest of Steph's fam's reaction:
But the crowd was relentless:
Some of Twitter co-signed Ayesha's frustrations, but some of Twitter dragged her for filth. 
Ayesha Curry would be singing a different tune if they was on that court celebrating last night..

— Misha Carter (@QueenBKC_81) June 17, 2016
@ayeshacurry may be the biggest whiner on twitter which says a lot. Just a heads up, you're not on the team. Control your temper tantrums

— MCS (@Emcees86) June 17, 2016
@ayeshacurry you're such a fool backpedaling like crazy now cuz you know your lil man has the refs in his back pocket 99 times out of 100

— Troy (@collarcitysv) June 17, 2016
Ayesha Curry is starting to wear really thin on my patience. Like I use to really like her but she's becoming the Azeliea Banks of NBA.

— Bee (@BritBratAlexis) June 17, 2016
Good morning @ayeshacurrypic.twitter.com/ywtCwHTf3R

— @Gumbino (@derekt529) June 17, 2016
"Next, add my favorite ingredient: salt." #NBAFinalspic.twitter.com/xmKrHtVxzf

— King Favre (@KingFavre) June 17, 2016
Last nights tweet showed how much more classier @KingJames wife is then @ayeshacurry...can't keep ur composure is a big no no..

— rachel (@crazyray425) June 17, 2016
Steve Kerr and Ayesha Curry must have gotten lost on that high road after game 5.

— Dima (@suckatsports) June 17, 2016
Here's Steph, Coach Kerr (who said he's not mad at Steph for getting pissed), and Klay Thompson (who ALSO fouled out) during the postgame conference explaining everything that went down:
Welp, the Cavs won 115-101, and the Warriors admit they were outplayed.  They also seem to think those unfair fouls likely played a part though. 
The stage has been set for one of the most tension filled Game 7's ever.  Back to the Bay...
Photos: Ayesha's IG/NBA's IG