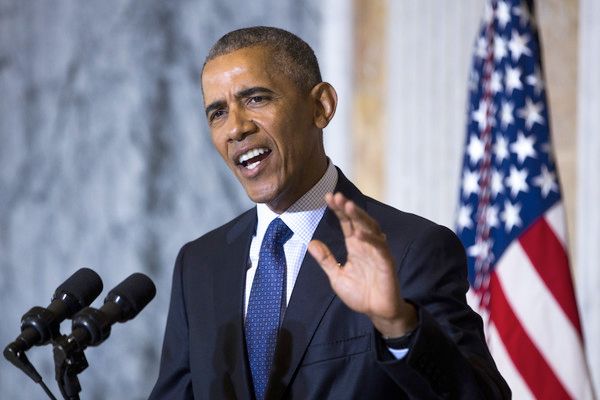 President Barack Obama has a few words for Donald Trump (and anyone who thinks like him) about the use of the labels like "radical Islam." Get the deets on POTUS' response, plus new details about the Orlando shooter inside…
President Barack Obama isn't holding anything back as he concludes his final year of presidency. And we've been waiting for him to go IN for the longest.
Our Commander-In-Chief held issued a direct attack on presidential hopeful Donald Trump's proposal to ban Muslims from entering the United States (during a speech on Monday about the Orlando shooting) at the Treasury Department today.  And also countered Trump's criticism -- that most folks read as a thinly veiled accusation that Obama had a hand in the Orlando attacks -- about how America is handling terrorists.  And by America, we mean those who keep opposing every single action the President has called for that could help prevent, at least in part, the constant mass shootings.
During his speech, President Obama was visibly angry as he talked about the dangers of the "radical Islam" label and how using that label will NOT accomplish anything.
"What exactly would using this label "radical Islam" accomplish?," said POTUS. "What would it change? Would it make ISIL less committed to trying to kill Americans? Will it bring in more allies? Is there a military strategy that is served by this? The answer is none of the above. Calling a threat by a different name does not make it go away. This is a political distraction. Since before I was President I've been clear about how extremists groups have perverted Islam to justify terrorism.
He reminded folks about what he's already done, including nailing Bin Laden, so how could he be accused of not knowing who the enemy is? 
"As President I've repeated called on or Muslim allies around the world to work with us to reject this twisted interpretation of one of the world's great religions. There's not been a moment in my 7.5 years of being President that we haven't been able to pursue a strategy because we didn't use the label "radical Islam." Not once has an advisor of mine told me 'Man if we use that phrase, we're gonna turn this whole thing around."
Totally agree. This has been one of the most direct (and hopefully effective) addresses from POTUS about terrorism and we love how he broke down why wording is important.
You can listen to President Obama's full speech below where he outlines more measures being taken and challenges Republicans yet again on their refusal to enact stricter gun laws.  He also makes it clear that it's hate speech like Trump and others that fuel the fire of terrorists as those blanketed hateful words are used in their recruitment videos.
New details are emerging about the Orlando shooter that may shock you.
While he claims he's saddened by his son's actions, the shooter's father posted a message on Facebook that said "God will punish those involved in homosexuality," but "it's not an issue that humans should deal with."  He attempted to "explain" that statement today, but it didn't help. Many feel this is insight into the environment the shooter grew up in.
It appears the shooter had been scouting which club to attack using a gay dating site and chat application to message people about the popular gay clubs in the area. In fact, he was a regular at Pulse nightclub with several witnesses saying they had seen him inside the club before.
"He (the shooter) was a homosexual and he was trying to pick up men," said Pulse nightclub customer James Van Horn.
It's unclear if he simply joined the apps and visited the club to get info (as one person he contacted on the app says he asked him specifically about which gay clubs are popping).
The gunman's current wife may have known something about the incident in advance, but claims she tried to talk him out of the assault. Sources tell ABC News the gunman's wife was with him when he bought ammunition and a holster recently. She could possibly face criminal charges in the mass shooting.
EXTRAS:
Brenda McCool, 49, raised 11 children, beat cancer, was dancing with her son when she died https://t.co/VyBRWl9l6tpic.twitter.com/j0Undy35xk

— Colin Jones (@colinjones) June 14, 2016
Our thoughts and prayers are still with EVERY person affected by this tragedy.  Absolutely heartbreaking.
Photos: Getty