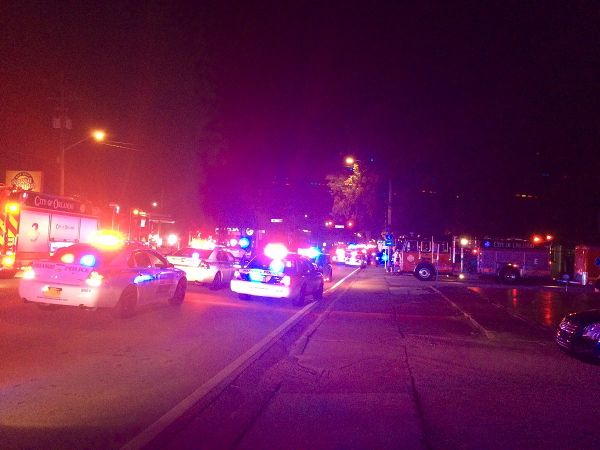 The horrific mass shooting that occurred early this morning at an Orlando nightclub is being called the deadliest shooting in U.S. History. We have the gut wrenching details and statements from eye witnesses and the White House inside.
50 are now dead and 53 injured after a mass shooting at Pulse Nightclub in Orlando, a popular nightclub that caters to the LGBT community.  The shooter, Omar Mateen, was killed during a shoot out with police early this morning.  It's reported he targeted the nightclub specifically. His parents have told U.S. officials he has expressed anti-gay feelings.  His father said Mateen saw two men kissing in Miami and it enraged him.
It is currently PRIDE month as designated by the federal government.
Around 2AM ET this morning, Mateen began shooting at the club, reportedly outside, and shot patrons before a police officer ran out of the club to confront him.  The shooter then ran inside the club, with approximately 300 people inside, and started to take hostages while shooting many more.  Many club goers were hiding in bathrooms and anywhere they could find.  The shooter was armed with several military style weapons and it appeared to be a pre-planned attack.
The gunman reportedly called 911 before or during the shooting, claimed allegiance to ISIS and also mentioned Boston bombers during the call.
Police used an armored vehicle to knock down the door to the nightclub.  Police stormed the nightclub and took down the shooter.
There was a handgun and an assault rifle found on the shooter.  There was also a battery pack found next to the shooter once he was shot and killed, which authorities say could mean he had explosives on hand.
Ricardo J. Negron Almodovar, who says he was there at the time of the shooting, commented on the Pulse nightclub's Facebook page about what occurred. He states:
"I was there. Shooter opened fire @ around 2:00am. People on the dance floor and bar got down on the floor and some of us who were near the bar and back exit managed to go out through the outdoor area and just ran. I am safely home and hoping everyone gets home safely as well"
In response to a question about whether he saw the shooter, Ricardo said:
"No, sorry. My eyes were on the floor and as soon as there was a break, people started running out the back, including myself."
He also stated the club did not check people for weapons upon entry:
"No, there's no checking for weapons. But there's barely even bad looks in there. It had been, from my experience, always nice and very safe in the club"
The shooter rented a car and drove to Orlando to carry out this mass attack.
Mateen, who worked as a private bodyguard for a private security firm (possibly even did work at federal buildings at one point), was from St. Lucie County, Florida. He was 29 and American born with Afghani parents.  He was also "on the radar" of the FBI, but not prohibited from purchasing weapons.  Those on terrorist or FBI watch list often do not pop up in background or criminal history checks, which is problematic.
[Editor's Note: We will not post his picture here and will not mention his name again in any subsequent reports on this site.]
Pulse Orlando posted on their Facebook page during the shooting, urging clubgoers to run out and away from the club:
As of noon EST, there are still unidentified bodies on the floor of the nightclub. Authorities told ABC News that 39 died inside the nightclub, 9 died en route to hospital and 2 died outside of club.
The White House has issued the following statement:
The President was briefed this morning by Lisa Monaco, Assistant to the President for Homeland Security and Counterterrorism, on the tragic shooting in Orlando, Florida. Our thoughts and prayers are with the families and loved ones of the victims. The President asked to receive regular updates as the FBI, and other federal officials, work with the Orlando Police to gather more information, and directed that the federal government provide any assistance necessary to pursue the investigation and support the community.
President Obama will address the nation about this shooting at 1:30p ET.
This is now being called the worst, deadliest mass shooting in U.S. history. 
It is unclear if Mateen was self radicalized (ISIS-inspired) or if he actually had direct ties to ISIS (ISIS-directed).  Interestingly, terrorism analyst Paul Cruickshank says the ISIS head called on American ISIS supporters a few weeks ago to carry out attacks during Ramadan because they would get "ten times the rewards if done during that period." 
Ramadan began June 5th and ends July 5th.
Authorities and media are indeed calling this a terrorist attack.
The Orlando Police Department has been giving constant updates since telling people during the shooting to stay away from the area:
Mayor Dyer: 50 dead in Pulse nightclub shooting. @ChiefJohnMina Suspect had handgun and AR15 type rifle.

— Orlando Police (@OrlandoPolice) June 12, 2016
Pulse shooting: In hail of gunfire in which suspect was killed, OPD officer was hit. Kevlar helmet saved his life. pic.twitter.com/MAb0jGi7r4

— Orlando Police (@OrlandoPolice) June 12, 2016
Here is the info if you were at the club last night and left before the shooting, or if you're looking to identify family members:
Pulse Shooting: If you have any information, call @FBI Hotline: 1-800-CALL FBI

— Orlando Police (@OrlandoPolice) June 12, 2016
If you are looking for a family member. Please call the city's crisis hotline at 407.246.4357 pic.twitter.com/iJxdD3QAHG

— Orlando Police (@OrlandoPolice) June 12, 2016
Blood donors are also needed:
Please do not come to local hospitals to donate blood, and instead work with local blood banks to arrange donations.

— Orlando Health (@orlandohealth) June 12, 2016
UPDATES:
1:34p ET: Mateen's ex-wife says he was horribly abusive and repeatedly beat her.  They met eight years ago online and were married for a few months.  STORY
1:54p ET:Suspect Arrested En Route To West Hollywood Parade With Explosives, Assault Weapons.  Authorities say it is unrelated to the Orlando shooting. STORY

2:14p ET: G4S security company, who is contracted to protect federal buildings, put out a statement confirming Mateen was employed by them as of today, and since September 10, 2007.
Our thoughts and prayers are with the victims and victims' families at this completely devastating time.
Photos: Twitter/Facebook