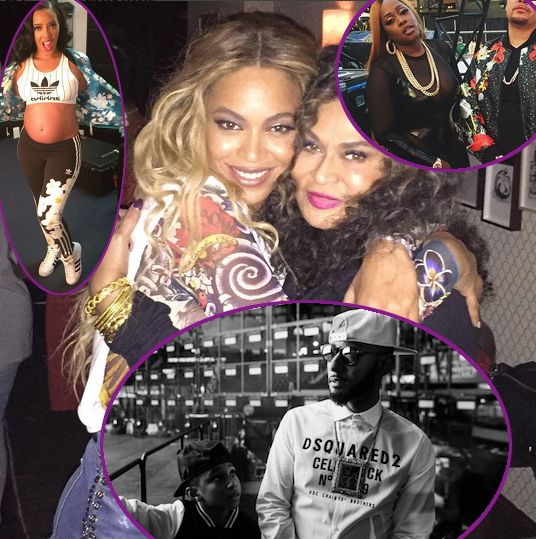 Beyoncé is taking the stage in Baltimore tonight, but she killed it earlier this week in back-to-back performances in New York.  And it was everything, despite the Queen being slightly under the weather.  Go inside and backstage of her extra lit celeb-filled shows inside....
Everybody and their mama (literally, Tina Lawson and a few other celeb moms) hit up Beyoncé Formation tour in New York City this week.  It was two back-to-back shows full of lit behavior and a backstage Lituation (as Fab would say) that looked like an awards show.
Bey's opener DJ Khaled brought out T.I., Fabolous, Tinashe, Swizz Beatz (who brought his cute son Kasseem out on stage with him to steal the show with his dancing), Remy Ma, Fat Joe, Yo Gotti, Kent Jones, and more on Tuesday and Wednesday nights to get the crowd on 100 before the Queen hit the stage.
Backstage and in the crowd -- even more celebs waiting to get their fill of Lemonade and Yonce.  The standom is real for celebs and non-celebs alike.  So we rounded up the best pics and videos from the fabness that went down in NYC this week.
Check out all the videos, plus our gallery of pics, below:
Mama Tina was there to give her daughter kisses and hugs after the show. She revealed Bey threw a surprise party for her band and dancers after the shows to say Thank You.
The "Hold Up" diva actually sneezed and blew her nose throughout the show almost every time the lights dimmed, and even sneezed once mid performance.  She seemed to have a cold, but no one could even tell the way she killed those vocals and dance moves all night.
Angela Simmons backstage:
Yo Gotti was there and backstage too, so we're dying to know what that meet up was like.
Swizz & Fab backstage:
Swizz & Kaseem performing:
Tinashe:
Beyonce:
Remy & Fat Joe and French:

/>
Recap from Khaled:
Beyonce Prince tribute:
HBO will be doing an encore presentation of "Lemonade" on Saturday, June 18 (10:00-11:00 p.m. ET/PT).  Check out the gallery with plenty of ics from the celebrity Beyhive below...
EXTRAS:
1.  Future is being sued AGAIN!  This time by Monica's baby's father and rapper Rocko, who says he discovered Future.  STORY
2. Troy Ave. has been indicted by a grand jury in the Irving Plaza shooting. STORY
Photos: Snapchat & IG of KodakLens, Khaled, Angela Simmons, Fabolous, Kasseem Dean/Andrew White for Beyonce.com