Today we lay to rest "The Greatest" boxer of our time: Muhammad Ali. More inside….
It was a total celebration as Muhammad Ali's body rolled through the streets of his hometown of Louisville, Kentucky before his memorial service at the KFC Yum! Center.
Thousands of fans, family and friends filled the streets to say their final goodbyes during Ali's procession as they loudly chanted "Ali! Ali!" while throwing flowers and t-shirts at the hearse that drove his body through the city, making a stop by the three-time heavy weight champion's childhood home.
The processional continued making stops at the Ali Center, the Center for African American Heritage and then down Muhammad Ali Boulevard.
Check out one fan showing his respect in a cute video below:
Will Smith, who is one of Ali's pallbearers, greeted the thousands of fans lined the streets to say their final goodbyes. Ali's wife and widow Lonnie Ali, his nine children and two of his ex-wives and other family members made up the motorcade that followed the hearse through the Louisville streets.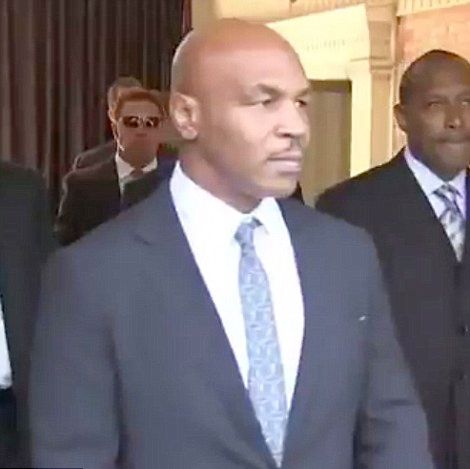 Former heavy weight champion Mike Tyson was a last minute addition as a pallbearer for Ali hopping on a red-eye flight from Las Vegas to Louisville. Other pallbearers include former heavy weight champion Lennox Lewis and members from Ali's family.
The great Kareem Abdul-Jabbar honoring the life and legacy of the greatest: Muhammad Ali.@kaj33@EdgeofSportspic.twitter.com/kaLRUsLtvm

— John Nichols (@NicholsUprising) June 10, 2016
NBA legend Kareem Abdul Jabbar came out to pay his respects to the legendary boxer as well.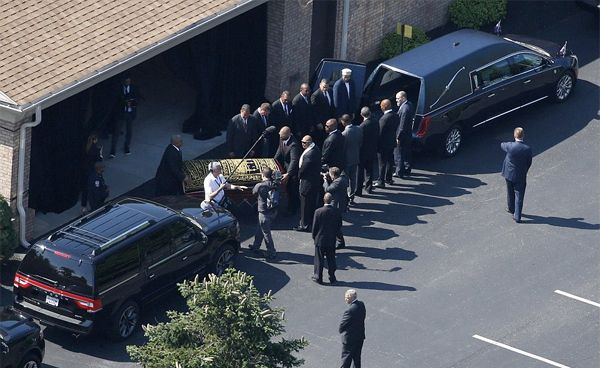 The pallbearers placed Ali's casket, a cherry-red casket covered by an Islamic shroud, in a hearse outside of the funeral home this morning ahead of Ali's private burial and memorial service.
About 15,000 people filled the KFC Yum! Center to celebrate the life and legacy of Muhammad Ali. The chants continued inside the Yum! Center as mourners chanted the boxing legend's name as Muslim religious leaders welcomed the audience to "the home of the people's champ."
The public memorial service was attended by several celebrities, including former President Bill Clinton, who gave a eulogy, rapper Common, filmmaker Spike Lee, former NFL Baltimore Ravens linebacker Ray Lewis, NFL Hall of Famer Jim Brown, NBA Hall of Famer Kareem Abdul-Jabbar, and Rev. Jesse Jackson (above).
President Barack Obama and First lady Michelle Obama were unable to attend the memorial service due to Malia Obama graduating high school, so they sent senior advisor Valerie Jarrett to read a personal note penned by POTUS. Poetry was read by Malcolm X's eldest daughter Attallah Shabazz.
You can check out the live stream of the public memorial below: 
Photos: Getty/Reuters/ABC News