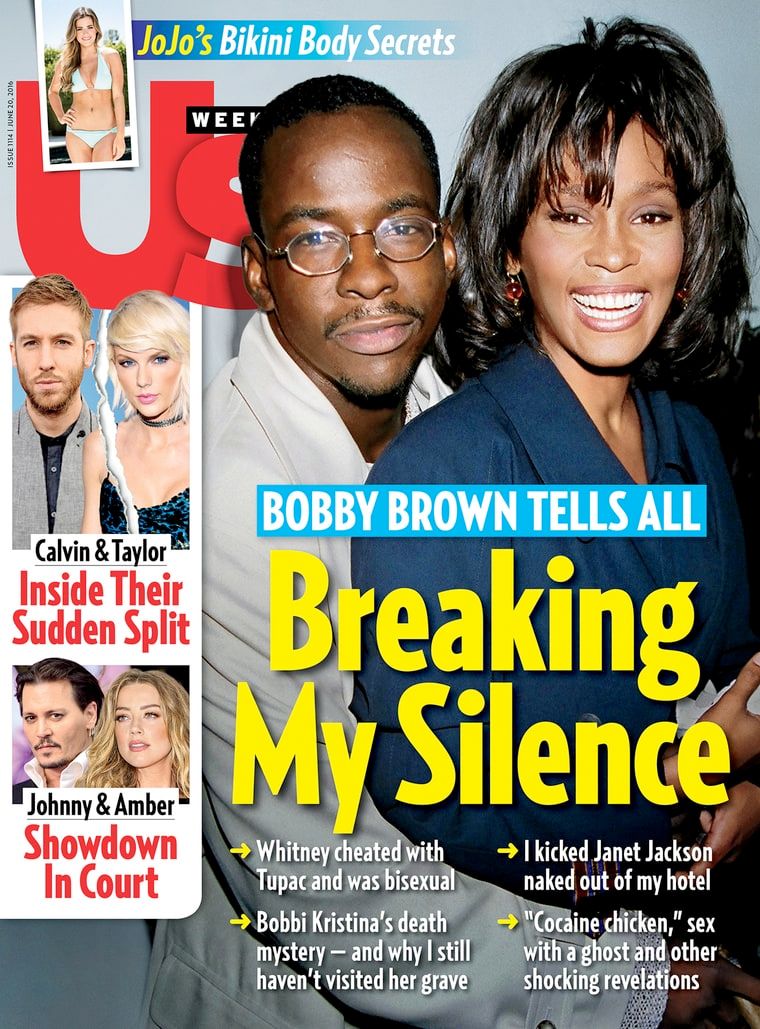 Bobby Brown is opening up like never before dropping some explosive bombshells about his late wife Whitney Houston's sexuality and how he had sex with a ghost. Chile…
More inside….
Bobby Brown is ready to tell-all in a new memoir he's gearing up to release titled, "Every Little Step."
In the book, the New Edition singer reveals his late wife Whitney Houston was bisexual! He claims Whitney had a secret relationship with her best friend/assistant Robyn Crawford. There were rumors about Whitney and Robyn all throughout her career but she repeatedly denied it.
The 47-year-old singer tells US Weekly:
"I know. We were married for 14 years. There are some things we talked about that were personal to us."
Whitney and Robyn met ass teenagers in East Orange, New Jersey. As Whitney's career took off, Robyn became her assistant and later her creative director.
Bobby says Whitney's family, including her mother Cissy Houston, did not approve of their lesbian relationship and wanted Robyn fired.
"I really feel that if Robyn was accepted into Whitney's life, Whitney would still be alive today," Bobby says. "She didn't have close friends with her anymore."
Damn.
Bobby also opens up about Whitney allegedly having an affair with late rapper Tupac Shakur while they were married. Oh? Delving into his personal life, he reveals in the book that he and Janet Jackson once dated back in the 80s and says they broke up because her father (Joe Jackson) would not allow her to be with a black man. Chile…this book is MANY things.
"Every Little Step" is expected to hit newsstands June 13th. We'll be grabbing a copy.
By the way, Bobby Brown sat down with ABC News anchor Robin Roberts for a special edition of "20/20" last night where he opens up about a plethora of things that happened in his past.  It was many things.
The New Edition frontrunner told Robin he slept with many high-profile celebrities like Janet Jackson and Madonna, but he also revealed he had sex with a ghost. Yes, you read that right…a ghost.
ABC reports:
"I bought this mansion in Georgia," said Bobby. "This was a really, really spooky place," Brown told Roberts. "But yes, one time, I woke up and, yeah, a ghost — I was being mounted by a ghost. I wasn't high ... I was not trippin'."

He wasn't high? Oh…OK.

He also revealed the first time he witnessed Whitney Houston doing drugs was during their 1992 wedding in her backyard at her mansion in New Jersey.

"I was deeply in love with her," Brown said. "For the rest of my life, I think, I will have that feeling towards her because she was that one person that knew me, that one person that had no judgment."

Brown broke with tradition and saw the bride before the ceremony. That was when, he said, he saw Houston do hard drugs for the first time. He said she offered him a hit of cocaine but he didn't indulge at that moment.

"She did drugs, but drugs didn't do her. She knew how to handle herself," Brown said. "It only made me, you know, love and want to protect her more at the time."

Brown said that he was not the one who started Houston's drug habit and that they never allowed their daughter, Bobbi Kristina Brown, to see them doing hard drugs.

"I always made a point to not let her see me or my wife in that type of situation, in that type of feeling," Brown said. "It's hard when, you know, you're doing it every day."
Sheesh!
Peep a few clips from the sitdown below:
Photo: US Weekly