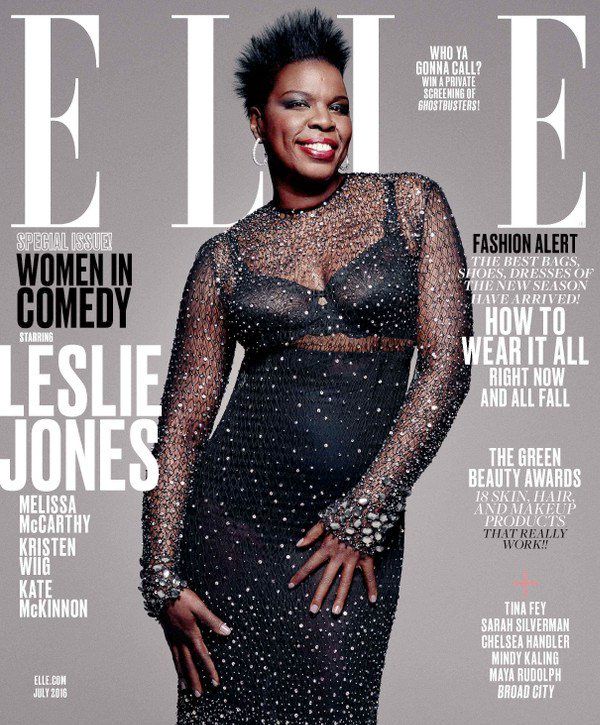 Funny lady Leslie Jones is rocking the newest cover of ELLE magazine while "Power" ladies Naturi Naughton and Lela Loren are heating up UPSCALE magazine. Peep their covers inside….
One time for the brown girls taking over the world!
Super funny "SNL" star Leslie Jones is giving us Holiday in July feels on 1 of 4 covers for the newest ELLE magazine issue.
The comedienne, who's gearing up for the premiere of her new movie Ghostbusters (July 15th), graces the cover of the inaugural Women In Comedy issue along with her co-stars Melissa McCartney, Kate McKinnon and Kristen Wiig.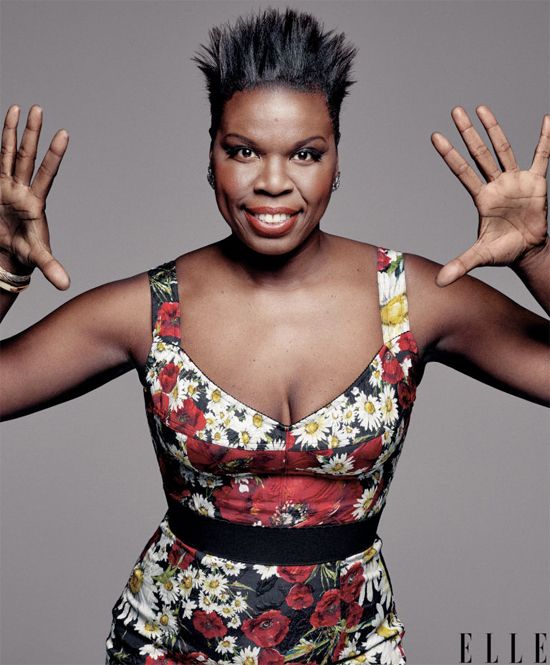 The 48-year-old actress is proving there's more to her than just comedy. She can slay a magazine cover with the best of them because face it, she looks gorgeous.  And she's slapping "traditional beauty" (rolls eys) in the face with her utter fabness.
For the cover story, she sat down with ELLE magazine writer Ben Dickinson to dish on being the funny girl. She said,
"I just knew that I was funny, and I knew that it was just a matter of time. I didn't know what was going to actually happen—this is definitely way bigger than I thought—but I knew there was no way I was going to be that funny and nobody was going to notice it."
You can read her full interview when it hits newsstands on June 21st.
Leslie got plenty of love from her fellow comedians on social media who made it known that what looks like an overnight success is anything but:
I told you she was funny. pic.twitter.com/nnbQX8AFZN

— Chris Rock (@chrisrock) June 8, 2016
Hitting the streets in L.A.:
Leslie was spotted heading inside the studio for an appearance on "Jimmy Kimmel Live!"
And here she is all dressed up for the ELLE's Women In Comedy event held at Hyde Sunset to celebrate her new cover.
On another magazine front....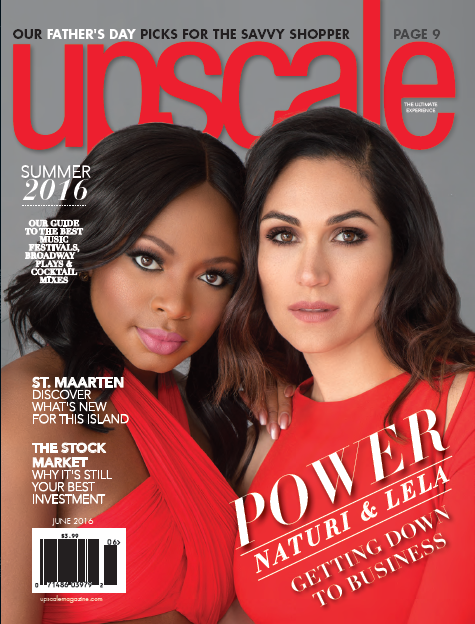 "Power" stars Naturi Naughton and Lela Loren are heating up the magazine circuit with their new UPSCALE magazine cover. Both ladies are looking smoking hot in all red ensembles as they gear up for the season 3 premiere of the hit STARZ series that's set to debut July 17th.  By the way, this is about as close as we'll see these two get -- we all know wives and mistresses don't kiki it up.  Ha.
Below are a few highlights from the cover story:
On how they nabbed their roles:

Naturi: "One minute I thought I wouldn't get this job, mainly because in casting, they thought I would read young opposite Omari. I got a callback a month and a half later and went through about three or four auditions total. I left it all on the floor in my last audition and got a call the next day saying I got the job of Mrs. St. Patrick."

Lela: "After my first audition, I will never forget Courtney kicking everybody out of the room, turning to me and saying, 'Okay, I think you're f***ing great.' I had heard so many nos up to then that I didn't even know how to absorb it."

On how the word "power" relates to both the show and their personal lives:

Naturi:"Power is seeing, believing and loving all that is you, your life and your existence. It's a marriage of strength, fearlessness and success. It's looking at yourself and being pretty damned okay with what you see."

Lela: "I don't know if there is a succinct definition. I certainly don't have one. Something about the word 'power' feels isolating and greedy. I find myself shunning the idea of it. At best, power is simply a byproduct, harnessed energy; the power of love, the power of teamwork, etc. Pursuing it on its own, well, my best definition of it is, a black hole."
And here's a little behind-the-scenes action:
Work!
Photos: Mark Seliger via ELLE/UPSCALE/WENN/Getty