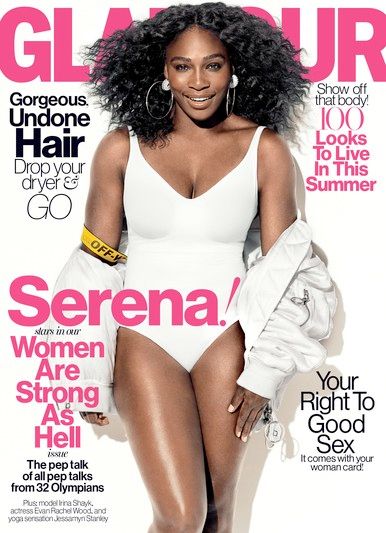 Serena Williams is considered the world's greatest athlete, but she's more like our best friend in our head. Get the inside scoop on how she feels about unequal pay for women, playing tennis after 30 and Drake in a new cover story. Get it all inside….
Tennis champion Serena Williams has literally been "serving" life on the tennis court for the last 20 years. Although she missed out on nabbing another grand slam title under her belt at the 2016 French Open, she still holds more Grand Slam titles than any man or woman currently playing. And that in itself is a true testament of her determination and will to be great.
The 21-time Grand Slam winner is looking fit a fabulous on GLAMOUR magazine's July 2016 cover, laced in "tennis white." In the cover story, with the interview by Melissa Harris-Perry, Serena's humble and joyous spirit shines through as she talks about unequal pay for women, what it's like playing tennis after 30 and rumors that Drake was the reason she was defeated at the 2015 U.S. Open.
Below are the highlights:
MHP: You have been called "the world's greatest athlete." Do you welcome that label? Does it feel accurate to you?

SW: Oh my gosh, I don't know. That's so hard to say. I try to be the best that I can be every day. I have bad days. I had a bad day the other day. I hit for only, like, 30 minutes, and I stormed off the court. But that was the best I could do on that day. So am I the greatest? I don't know. I'm the greatest that I can be.

MHP: You and Venus were the original black-girl magic. People who do not know you feel a personal stake in every match you play.

SW: That's something. I meet people who say, "Girl, I watch every match, and I pray for you." I feel that energy and those prayers. Sometimes when I'm down on the court, in the back of my mind, I'm thinking, "They want me to win. Is there anything else I can give?" It encourages me to do better, to fight harder.

MHP: Does it also make losing harder?

SW: No one takes a loss harder than I do. In any sport. I hate losing more than I like winning.

MHP: Twitter ate Drake alive after your loss at the U.S. Open [then rumored to be her boyfriend, he was accused of having distracted her]. Is that fair?

SW: No. I don't think that was fair. I'm the one who's playing, who's making mistakes or making winners. I'm not one to blame anyone else for anything. And I don't think anyone else should either. I played a really good opponent that day. And I wasn't at my best.

MHP: You're going to be 35. Some folks believe your thirties, especially for athletes, are meant to be this time of wrapping up. What about being in your thirties makes tennis harder, or easier?

SW: Who says that your thirties is when you're supposed to be done? I would like to know who made that rule! I was talking to my mom one time, like, "Gosh, I'm 30." And she's like, "In your thirties you're even stronger than in your twenties." I didn't believe her, but I have played better in my thirties. And I played pretty well in my twenties, don't get me wrong! But my consistency is better, my momentum is better, my wins are quicker

MHP: The U.S. women's soccer team has been challenging inequity in women's sports, fighting for equal pay. It's an issue facing NCAA women in multiple fields [including tennis, where women make 80 cents for each dollar men earn]. Want to weigh in on this?

SW: These sports have a lot of work to do. And I really hope that I can be helpful in that journey because I do believe that women deserve the same pay. We work just as hard as men do. I've been working, playing tennis, since I was three years old. And to be paid less just because of my sex—it doesn't seem fair. Will I have to explain to my daughter that her brother is gonna make more money doing the exact same job because he's a man? If they both played sports since they were three years old, they both worked just as hard, but because he's a boy, they're gonna give him more money? Like, how am I gonna explain that to her? In tennis we've had great pioneers that paved the way—including Venus, who fought so hard for Wimbledon to pay women the same prize money they pay men, and Billie Jean King, who is one of the main reasons Title IX exists.

MHP: What is the legacy that you want to leave?

SW: I never thought about leaving a tennis legacy. I always thought about leaving a legacy of fulfillment, living out your dreams, and giving back. I'm proud to have opened [two] schools in Africa and one in Jamaica [through the Serena Williams Fund and its partners]. I was given a lot. I was given two parents. That's already starting above a lot of kids. And then I was given the opportunity to play tennis and parents who supported that. I feel I can give back.
So profound.
You can read her full interview here. Serena's issue hits newsstands June 14th.
For a fun clip, Serena takes it to the court to let off her frustrations (and women all around the world) about the obnoxious things men sometimes say about women.
Check it:
And in true "Sorry" fashion, she twerks a lil sumthin' behind the scenes of the shoot:
Get 'em Rena!
Photos: Norman Jean Roy via GLAMOUR