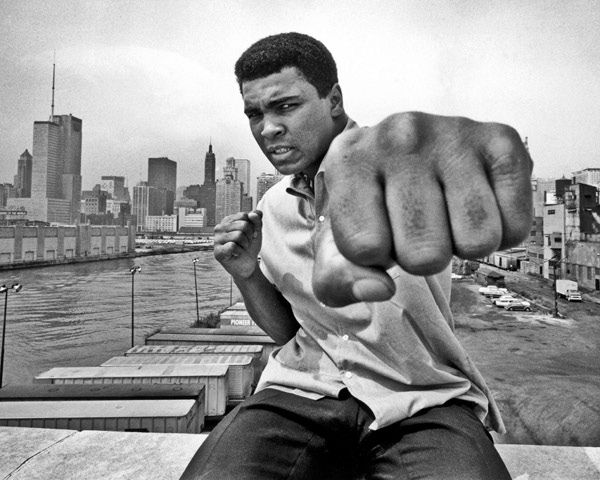 In extremely sad news, Muhammad Ali has passed away at the age of 74.  More inside...
He will forever be the GOAT, the ultimate fighter, and simply The Greatest.  Boxing legend Muhammad Ali died Friday evening at a Phoneix-area hospital, this confirmed by Bob Gunnell, a family spokesman.  In a statement, he told NBC News:
"After a 32-year battle with Parkinson's disease, Muhammad Ali has passed away at the age of 74. The three-time World Heavyweight Champion boxer died this evening."
Reportedly, Muhammad was admitted to the hospital days ago for respiratory complications. 
A funeral service is being planned in his hometown of Louisville, Kentucky.
Born Cassius Clay in 1942, Ali floated like a butterfly and stung like a bee from the time he was 12-years-old.  He won his first Golden Gloves match at that age in his hometown of Louisville, Kentucky, then went on to win the Gold medal as a light heavyweight at the 1960 Olympics.
He was a heavyweight both in and out of the ring from that point on.  He never minced his words and was often called arrogant and reckless for the way he spoke his mind.  It caused folks to either love his ish talking or hate him for being able to back it up.  NBC explains the barriers broken by Ali saying:
"He [was] supported at first by Louisville business owners who guaranteed him an unprecedented 50-50 split in earnings. His knack for talking up his own talents — often in verse — earned him the dismissive nickname "the Louisville Lip," but he backed up his talk with action, relocating to Miami to train with the legendary trainer Angelo Dundee and build a case for getting a shot at the heavyweight title."
The Heavyweight champ not only constantly talked up his own talents and made sure his own voice was the main one heard when his talents were being measured in the court of public opinion, but he spoke up about social injustices and race relations in America and beyond.
He denounced what he called his "slave name" Cassius Clay at 22, and was renamed Muhammad Ali by Nation of Islam founder Elijah Muhammad. 
The move was a bold one and sparked a major change in the way Ali's accomplishments and talents were reported throughout America.  NBC summed it up perfectly saying:
"The move split sports fans and the broader American public: an American sports champion rejecting his birth name and adopting one that sounded subversive."
Ali used his well-earned glory and his champion title to speak up for injustices everywhere.  He constantly spoke against wars, namely the Vietnam War where he was drafted and refused to serve due to his faith prohibiting it, white "devils" who suppressed the rights of blacks, and against racial inequalities.
A year after he retired, Ali revealed he was diagnosed with the neurological disorder Parkinson's Disease.  For the first time, the world saw a man who was an untouchable giant to so many become human.  It didn't stop him from traveling non-stop to speak about humanitarian causes, including trips to Lebanon and Iraq to urge the release of American hostages.  He met with the Pope, numerous heads of state, and made up for lost time as the father of nine children.
Even as his health declined and he was confined to a wheelchair, barely able to speak, he made it known through a statement just this past December that Donald Trump is a threat to humanity saying,
"We as Muslims have to stand up to those who use Islam to advance their own personal agenda."
The Presidential Medal of Freedom recipient will always remain the GOAT of the boxing world and THE inspiration for any fighter of any kind.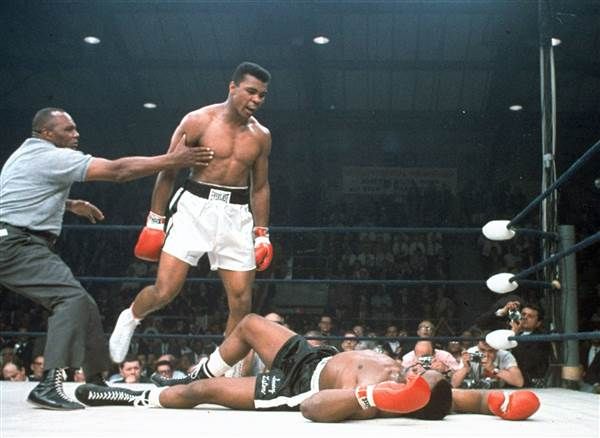 R.I.P. Ali.