A judge has ruled in Derek Fisher's divorce to ex-wife Candace and it is MANY things. Get those deets, plus the latest in the Chris Brown vs. Nia Guzman custody battle inside…
Details from former NY Knicks coach Derek Fisher and his ex-wife Candace have come to light. According to TMZ, Derek and Candace have decided to destroy the embryos they had frozen during their marriage.
While it is a hot topic of discussion in the media about whether or not destroying is moral, both Derek and Candace have agreed to have the embryos terminated.
And get this…
The divorce was finalized yesterday (May 24th) after they called it quits just one month after their 10-year anniversary.
Details on their spousal agreement have been released and Derek is shelling out a BOATLOAD of cash a month. According to the docs, Derek has to pay Candace $109,000 a month. You read it right. It'll end up being about $1.3 million a YEAR. Sheesh!
Derek, who's currently dating Matt Barnes' ex-fiancée Gloria Govan, also has to pay $15,000 per month in child support for their 9-year-old twin sons. Hmm…will he be able to afford all of this being that he no longer coaches the Knicks?
In other legal woes….
After Chris Brown called his baby mama Nia Guzman out for dressing Royalty inappropriately on social media recently, he's thanking his lucky stars after an appearance in family court.
Apparently, Nia dragged Breezy to court requesting the judge limit the "Loyal" singer's time with their 2-year-old daughter Royalty because he's unfit. She wanted monitored supervision after claiming the R&B crooner uses drugs and has a gang affiliation.
Well, she didn't get her wish.
TMZ reports the judge ruled that Chris and Nia will continue to have joint legal and physical custody. His time with Royalty will remain unmonitored and he will get to see her 12 days a month as written in the existing custody order.
There's that.
We'll see how it all unfolds when they head to court to work out their child support situation since she wants $16,000 a month. She's currently receiving $2,500 a month.
Following the verdict, Nia hopped on her Instagram page to tell her side of the situation. She claims she never tried to take Royalty away from Chris and alludes that Chris' mom was the one who told her to go court. Her words, not ours.
Check it: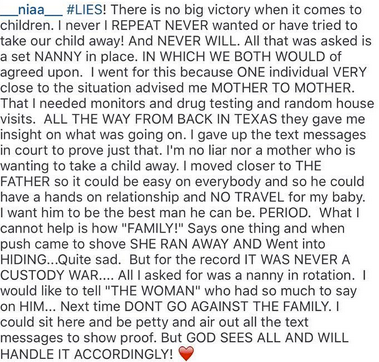 Then, a fan popped off in her comments section and she responded again: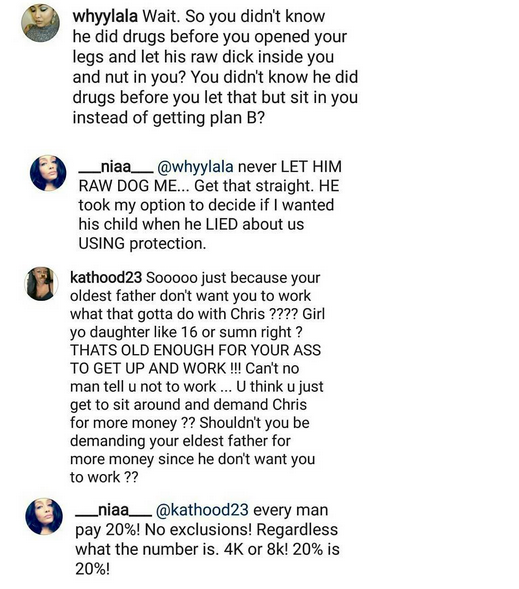 Have to be careful who you lay with….on both sides...
Photos: Getty/Chris' IG