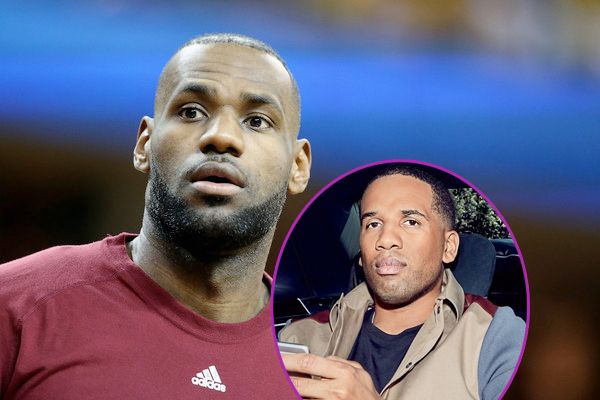 LeBron James' empire is steadily growing and the man behind it all Maverick Carter is dishing on his biggest deal yet. Come inside to get deets on LeBron's lifetime deal with Nike and peep Carmelo Anthony hitting the running man on late night TV inside…
Say what you want about LeBron James. You can love him. You can hate. But, you can't deny that he's making major move on AND off the court.
A few months ago, we learned the Cleveland Cavalier inked a LIFETIME deal with NIKE. It was reportedly the first lifetime deal the shoe giant has ever done and is the largest single-athlete guarantee in the company's history.
So how much exactly is this deal worth? According to his business partner Maverick Carter, the deal is worth at LEAST $1billion! Yes, a BILLION. Maverick, who is LeBron's longtime business partner, dished the deets to GQ.
Here's what he said:
GQ: So you just negotiated an unprecedented lifetime contract for LeBron with Nike. What's your secret to being a great negotiator?

Maverick: You have to go into the room understanding a couple things. You have to know what you want. You have to know how to clearly articulate those things. You have to know what's important to the other side and what they want. Be able to articulate those things, too. And then you have to be willing to not take everything. If you go into the negotiation like, I'm gonna get every dollar, every piece of real estate—I'm just gonna take this guy's fucking pants off—you may be able to do that once, maybe twice, but after that, people aren't going to want to do business with you. When you're negotiating something like the Nike deal, it's gonna last a lifetime, literally. The minute this negotiation's over, we're gonna work with these people every day. So you don't want to leave them with a bad feeling.

How much was the deal for?

I can't say.

Come on, Mav! Can you ballpark it?

What are people saying?

Kanye said a billion. So a billion.

[Maverick smiles and points one finger skyward.] Actually, but that's just the baseline.

Holy sh*t.

Yeah. It's a fantastic deal. Nike feels great about the deal. That's the most important thing. As great as I feel, as great as LeBron feels—Nike feels fantastic about it. It's the largest deal in the history of the company. Their hope is he makes even more. And our hope is that, too, obviously.
WOW! Congrats to Bron!
In basketball news, LeBron and the Cavaliers suffered their first lost in lost in the NBA Conference Finals against the Toronto Raptors last night. The Raptors beat the Cavaliers 99-84 in Game 3.  The series is now 2-1.
Game 4 will kick off tomorrow night at 8:30PM EST.
In other baller news...
NY Knicks baller Carmelo Anthony has been enjoying his time away from basketball after the Knicks missed this year's playoff season.
A few nights ago, the NBA baller popped up on "The Tonight Show Starring Jimmy Fallon" for a fun segment. The late night host read a fan request about hitting the #RunningMan challenge. At first Jimmy was playing coy. Then, he went behind a door, Ghost Town DJs track "My Boo" started playing and he popped out with Carmelo hitting the newly revised running man. It was hilarious.
Check it above.
The doting dad also gushed about his son Kiyan Anthony and and his role in the upcoming role in the Ninja Turtle move that's coming out this June. Check it below:
Speaking of Ninja Turtles...
Carmelo hit up Macy's Herald Square to celebrate the launch of his kids clothing line TMNT x Melo yesterday in NYC. He snapped it up with life-sized Ninja Turtle characters in the street.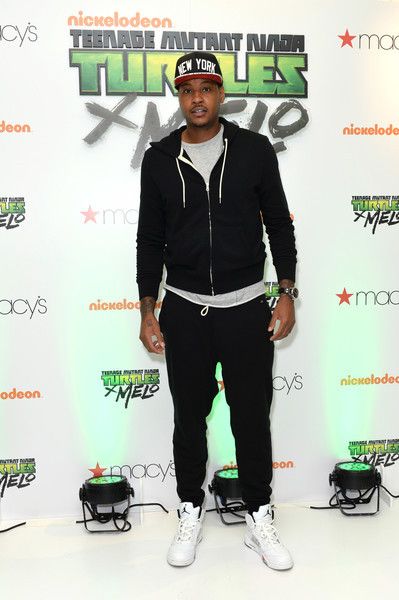 The kiddie collection will include T-shirts, hoodies, shorts, pajama sets, socks, basketballs, and an over-the-door basketball hoop to practice their b-ball skills.
Melo was all in for the new project helping to pick out fabrics, textures and colors for the new line. He told WWD a few months ago,
"I was basically involved in the whole creative process — the colors, which are kind of obvious considering they're turtles, and the slogan, and the textures. I was involved in every step. We really took our time to narrow it down and figure out what we wanted. I feel good about all the pieces."
Sweet!
Be sure to check out Melo's cameo in the Teenage Mutant Ninja Turtles: Out of the Shadows when it hits theaters June 3rd.
Photos: Getty/GQ