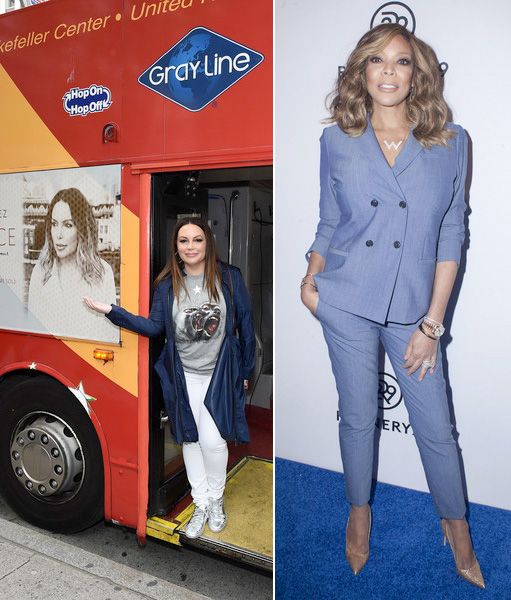 We've heard the rumors about a brawl at HOT 97 before involving Wendy Williams. Now, Angie Martinez is spilling the tea! Deets inside….
Grab your mugs! Angie Mar is spilling hot tea.
In case you missed, radio personality Angie Martinez, who currently works for Power 105, released her new memoir "My Voice: A Memoir" where she details her days back at HOT 97. She worked for the company for 25 years before leaving in 2014.
It was PLENTY of drama going on behind the scenes.
It all started back in 1997 when Wendy (who was/is known to be messy) started taking jabs at Angie on air and online. Apparently, Wendy took it upon herself to write about one of her co-workers dating rapper Q-Tip on her website. She allegedly wrote, "One of my co-workers is dating Q-Tip from A Tribe Called Quest. Oh well. I guess some women like men who like men."
In the book, Angie said Wendy would call EVERY rapper gay:
"Everybody was gay to Wendy," Martinez writes in the book, out Tuesday. "Every rapper you could think of in that era, I had heard Wendy Williams call them gay. Not one or two. Like every one of them."
One day, Angie got fed up with Wendy's snide commets and decided to confront her at the HOT 97 offices in Tribeca. That's went ISH hit the fan.
"I lost my f–king mind," Angie said in the book. "Before I knew it I was swinging at her. It was a quick scuffle. It took only a few seconds for me to realize that she wasn't really hitting me back — she was just trying to get me off of her."
Luckily, a co-worker stepped in the break up the fight. But get this, after the two were separated, Wendy grabbed a MOP to defend herself. Angie said she "just stood there with it like she wanted to have some sort of sword fight or something. It was actually kind of funny, even in the moment."
Ha!
Following their scuffle, both ladies were suspended from the station. Angie said she started receiving threats from loyal Wendy listeners that made her feel awful and insecure.
Later, Wendy was eventually given her pink slip and that was the end of that. Angie then took Wendy's afternoon slot. Womp.
"The truth is that if it wasn't me it was gonna be somebody else," Angie wrote. "She was disrespectful to so many people all the time."
While the ladies have not spoken since, Angie said there are no hard feelings towards her former nemesis. She said,
"I watch her TV talk show sometimes and she has really mastered her lane. I find myself watching and laughing out loud. I don't have any ill feelings toward her."
We wonder if Wendy would say the same...
In other news:
#WhatWendyWore@elizajny@stetsonusa@topshop@oreliajewellery@manoloblahnikhttps://t.co/uEcuxrTEdppic.twitter.com/VIbpVtalJ5

— Wendy Williams (@WendyWilliams) May 18, 2016
Rihanna's new boots are making their rounds.
For Wendy's Makeover Week, she decided to rock RiRi's Manolo Blahnik Denim Desert boots. The funny part? She SAT down the entire show! Including having the staff bring her chair into the audience during "Ask Wendy."  Clearly chick's feet were on fire.
EXTRAS:
1.  That couple who made the news for offering up a $10,000 reward for their lost Boston Terrier...just found their pup.  And a lucky student is the recipient of the reward. STORY
2.  Chris Brown reportedly got kicked off a private plane this week for smoking weed aboard the flight. STORY
Photos: Getty