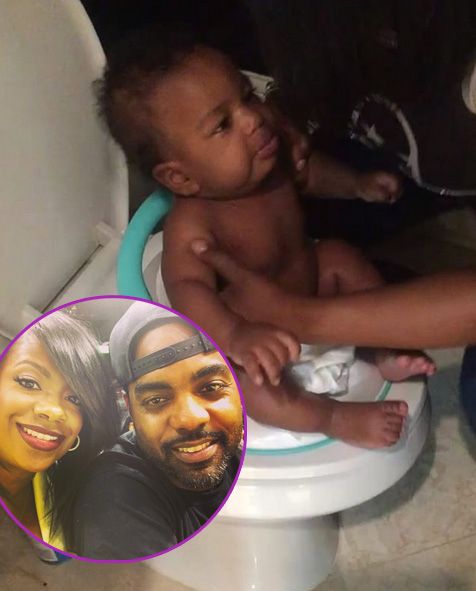 How soon is too soon to start potty training your child? Kandi Burruss Tucker is coming under fire for starting the potty training process early on 4-month-old Ace Wells Tucker. Too early? Decide for yourself inside….
Can you believe baby Ace Wells Tucker is already 4-months-old? We sure can't. Time is flying.
Anywho, his mom "Real Housewives of Atlanta" star Kandi Burruss Tucker is being criticized for a few Instagram videos she posted recently. In the clips, she attempts to start the potty training process on her baby boy, placing him on the toilet (with a baby seat) so he can get used to sitting on the toilet.
Here are the clips she shared:
Cute.
Well, Kandi became a Hot Topic on today's episode of "The View" (where Jimmy Kimmel was a guest co-host) and here's what the hosts had to say about her potty training technique. (Check it at the 3:00 minute mark):
Whoopi Goldberg's commentary and/or Jimmy's line about "not taking advice from a housewife" must have gotten under Kandi's skin.
The reality star/singer got wind of their comments and decided to respond to their critique. She hopped on Instagram and posted: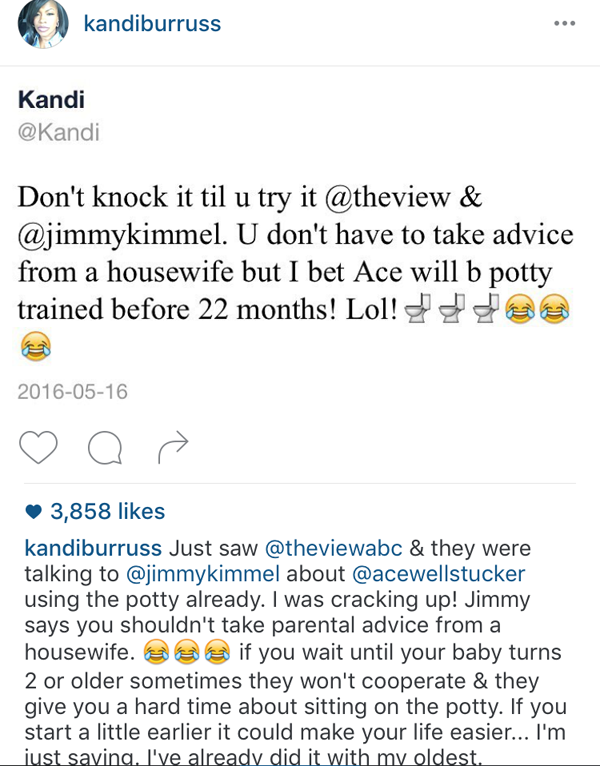 Some are saying 4-months is way too early while others have flooded Kandi's comments section thanking her for the parenting tip.
So what do you all think? Is 4-months-old too soon to potty train your baby? Speak on it in the comments! 
EXTRAS:
1. "Rush Hour" television series, starring YBF actor Justin Hires, has been cancelled after just one season. STORY
Photos: Kandi's IG