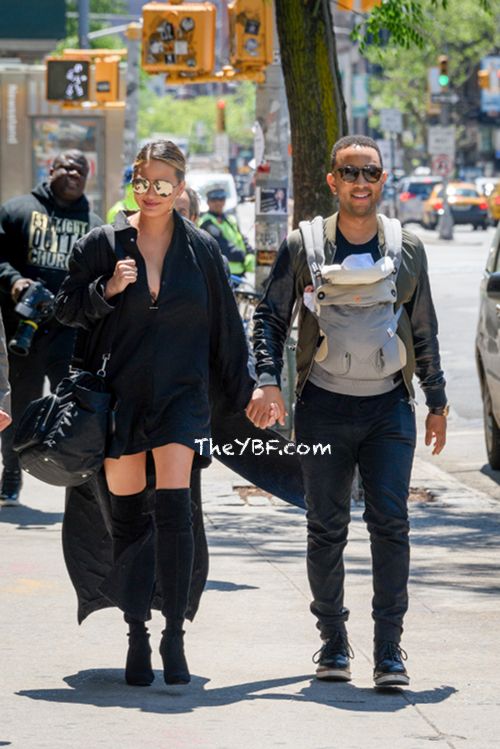 John Legend, Chrissy Teigen and their daughter Luna were the picture perfect family as they strolled through NYC today and this weekend. Meanwhile, the Wests lunched together in Malibu and Nori brought her usual cuteness. Pics inside…
Baby's day out!  Today in NYC, John Legend strapped baby girl Luna Stephens to his chest, mama Chrissy grabbed the chic diaper bag, and the family of three headed out for a walk in the sun.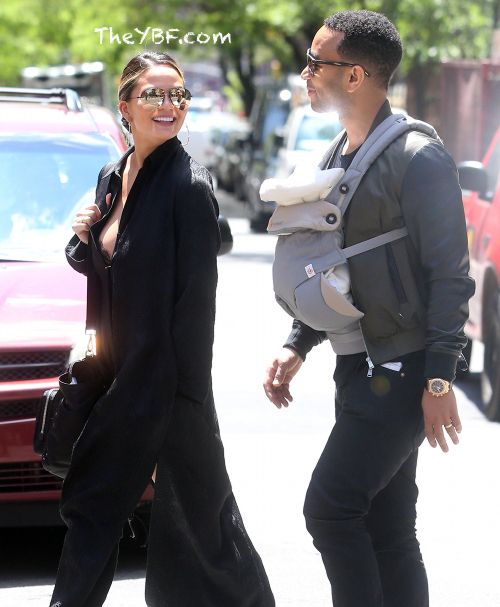 Of course, Chrissy effortlessly looked like she just stepped out of the pages of an editorial. 
Their baby girl was all wrapped up to brave the cooler spring temps today.
The new parents also took baby out for a stroll over the weekend. And the happy family looked like they stepped right off a photoshoot set. The Sports Illustrated model was all smiles as her hubby pushed the baby's stroller down the street.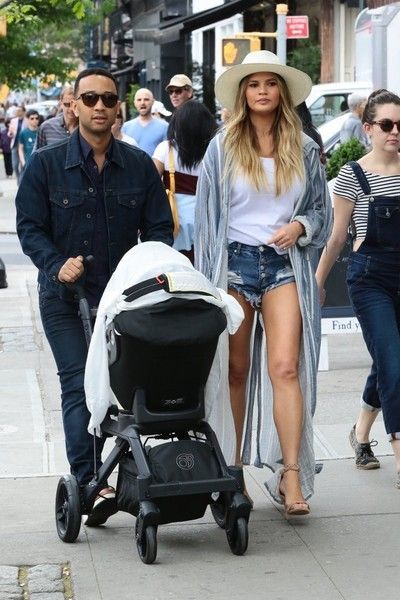 Baby Luna was covered up under a blanket as they trekked through the Big Apple streets on their way to lunch. We've seen a few flicks of their new bundle of joy (who just turned 1-month old) thanks to pictures both parents have shared on social media. And she's the absolute cutest.
After lunchin' as a family….
The happy couple headed out to dinner for a night out on the town. We've spotted them out on date nights a few times since welcoming Luna last month. We've spotted them out on date nights a few times since welcoming Luna last month. We see they're keep the relationship extra spicy and we're not mad, but some folks are.
Apparently, Chrissy has come under fire on social media for going out on dates with HER husband. The R&B crooner wasted no time to come to his wife's defense pointing out the double standard women face that just never seems to happen to men in the exact same situation. He tweeted:
Funny there's no dad-shaming. When both of us go out to dinner, shame both of us so Chrissy doesn't have to take it all. We'll split it.

— John Legend (@johnlegend) May 11, 2016
Facts!
On another family outing...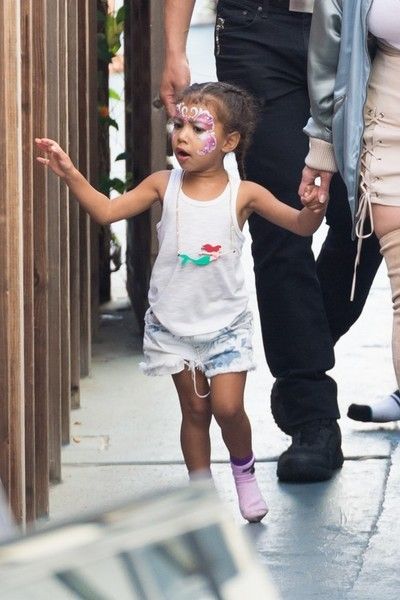 Who needs socks when you're North West?
Little Nori escorted her parents Kanye and Kim Kardashian West out to lunch over the weekend where she was spotted walking around shoeless in Malibu. It appears the tot may have come from a party or an amusement park since her face was painted.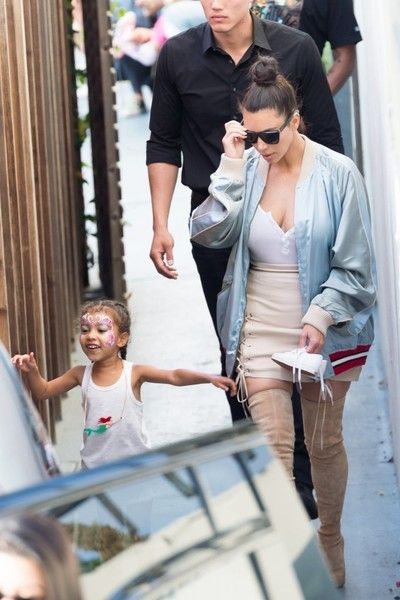 That smile!
It didn't take long before big sister Nori needed a nap after all the festivities: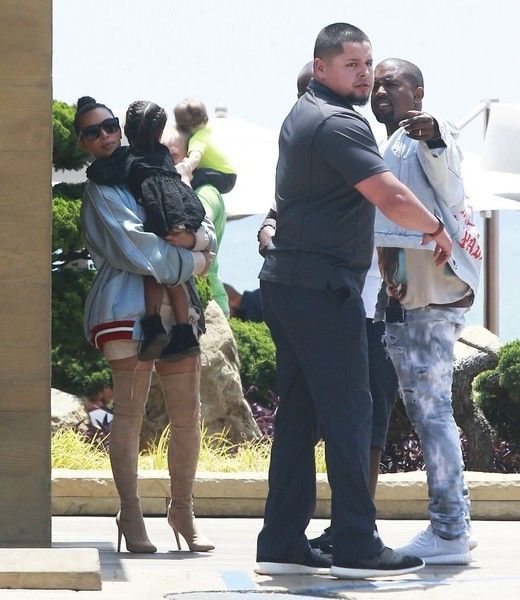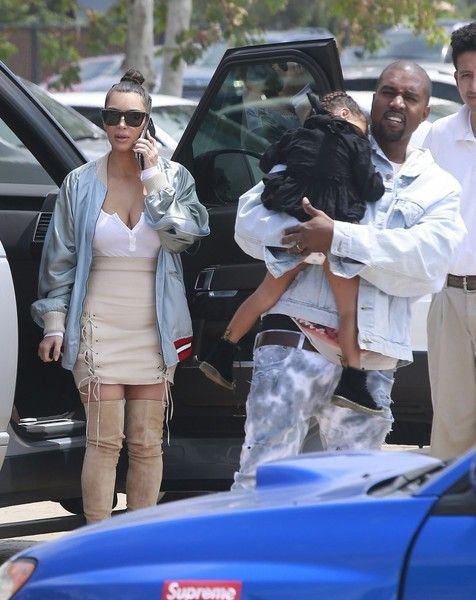 And Papa Ye was there to hold his baby girl while she caught up on a few Zzz's. Aww!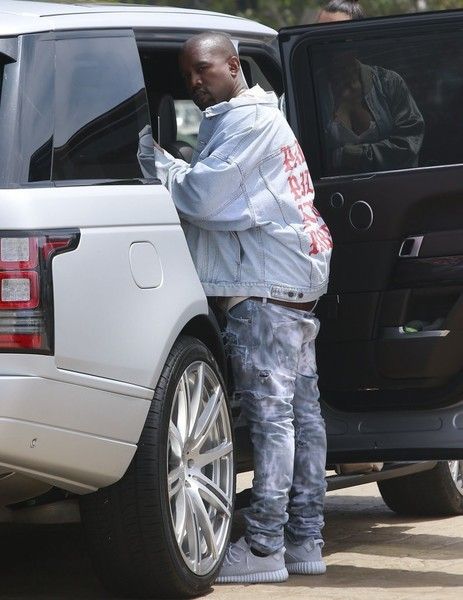 After securing North in their ride, Yeezy started posing it up for his own personal photoshoot in the parking lot: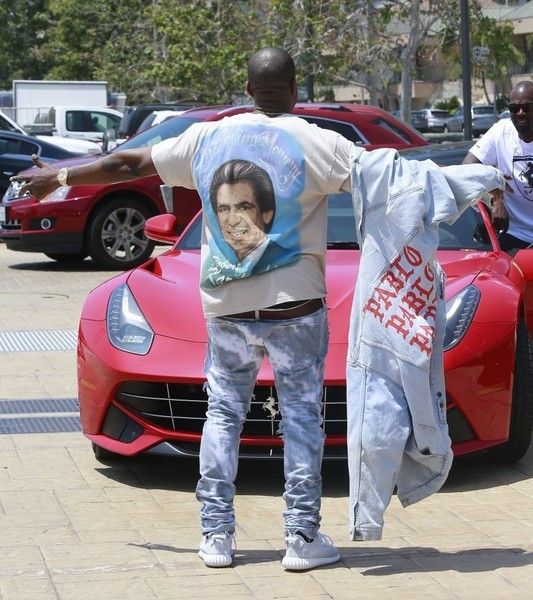 He showed off one of his favorite pieces from his season 3 collection: A t-shirt with his mom Donda West's face on the front and his wife's father Rob Kardashian's face on the back.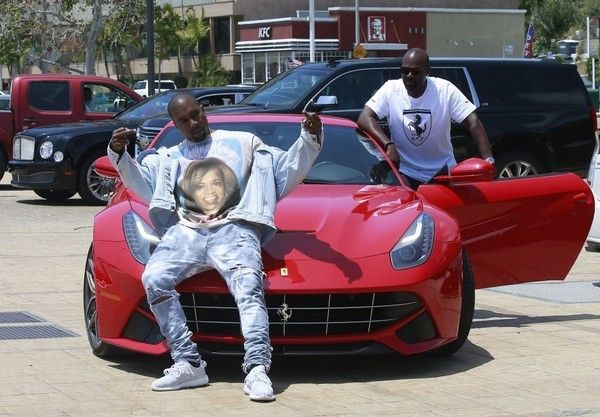 Oh, and Kris Jenner's boyfriend Corey Gamble wasn't far behind.
Photos: FameFlynet/Splash