A "Love & Hip Hop" wedding is on deck!  Lil Scrappy just proposed to longtime girlfriend Bambi, and we've got the first look at her HUGE diamond ring inside...
They've been off and on and off again.  And now, they're making it official.
"LAHH: ATL" star Lil Scrappy popped the question to his co-star and rapper Bambi tonight.  The twosome had a romantic dinner at a creole restaurant, and this happened as well: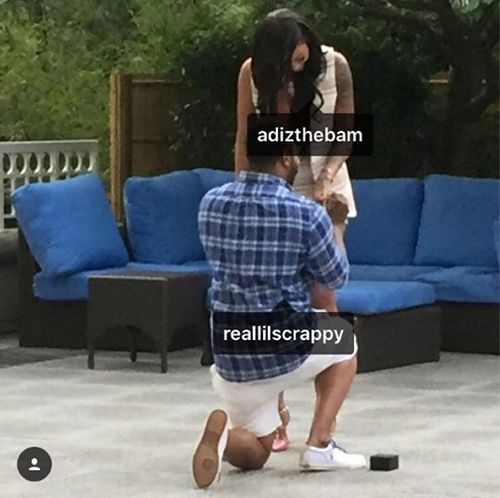 Awww.
Bambi's bestie and co-star Tammy Rivera let the cat out of the bag showing off Bambi's huge ring on Instagram:
Tammy said she was super happy for her friends as she unveiled the news before the couple had the opportunity to.
Both of the above pics from the proposal have been removed (Bambi's stylist posted and deleted the one of Scrappy on one knee), but we caught them first.
Bambi did post her and Scrap having some fun before they dug into their lobster and crab dinner tonight:
From bikes to baguette diamonds....
Congrats to Scrappy & The Bambi!
Phoos: Instagram/TrueLifeByLarry.com