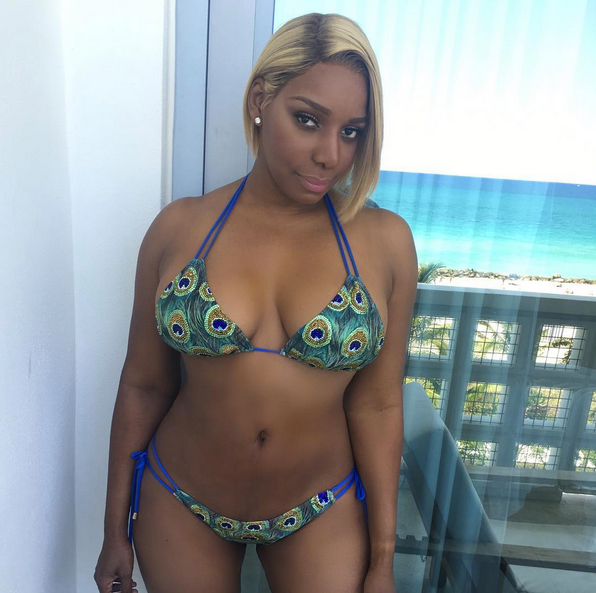 NeNe Leakes is flossing her new banging bod and now she's dishing on how she achieved her new trim figure. Find out how she did it inside….
"Real Housewives of Atlanta" star NeNe Leakes shocked us all when she posted a new Instagram pic showing off a new tight and toned bod. In the new pic, she's flossing her curves and her washboard abs in peacock bikini. Ok NeNe! We see you.
If you're wondering how 48-year-old reality star shed a few extra pounds, she dished about it all. The self-proclaimed HBIC, who's currently traveling on her One Woman Show stand-up comedy tour, spilled her diet secrets to E!
She credits her weight loss to eating smaller portions and going on a no-alcohol cleanse.
"Well, you know, I'm a funny eater," she said. "I'm a small-portion eater. I don't like to feel full. A lot of people when I meet them, they say, 'I thought you were this big woman.' I'm, like, 'I'm curvy, honey, but I am not real big.'"
NeNe opened up about what she struggles with as she tries to lose weight.
"My biggest problem has always been and will always be that I work all day and forget to eat and then I eat late at night with some cocktails," she said. "And I don't eat breakfast! Lately, I've been trying to be good and eat something small for breakfast to kick start my metabolism and I'm eating smaller dinners earlier in the evening."
"We all know what our weaknesses are and what we overindulge in so it's all about being mindful about what we eat and PORTION CONTROL," she added. "That's the key...because hunni, we like to eat! And having to deprive myself of anything is a no-no for a girl like me! Summer fun and sun is right around the corner so that's a great motivator for me!"
We can all relate.
Well there you have it. Make sure you eat breakfast, eat smaller portions and lay off so much alcohol and you too can look as good as NeNe in a two-piece bikini.  Allegedly.
Photos: NeNe's IG